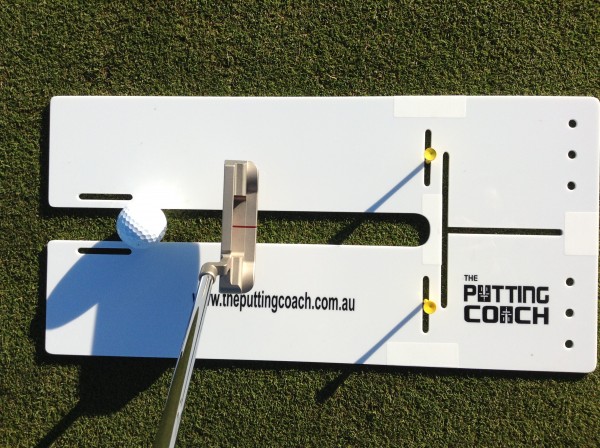 Whenever I am giving a putting lesson, I always start by watching the player putt outside on the practice green. This allows me time to see firsthand their routine, the accuracy of their read of the slope, the types of questions or comments they make as well as seeing their technical fundamentals such as posture, ball position, putter face alignment, swing path, etc.
When discussing what could possibly be causing their missed putts, it is common for the golfer to have misdiagnosed the problem. The player will say it's their alignment when it's actually a misread, or it's their ball position when it's actually the fact that they are not starting the ball on line consistently.
In the photo, I am using the Putting Coach (training aid) with my client to allow them to "discover" for themselves what the putting stroke needs to feel like (for them) to consistently start the ball on the correct line.
This was an interesting lesson, because this player thought that they actually took the putter back inside in the backswing and pushed the ball to the right, when in actual fact they took the club back slightly outside in the backswing and the face was open at impact, causing the ball to start to the right.
As soon as I introduced the Putting Coach to our lesson, he noticed immediately that he was hitting the yellow tee on the outside (not inside as he had assumed), this in turn encouraged him to swing the putter back more on a straight line (in his mind) missing both yellow tees, he was impressed at how his ball was not hitting the right-hand side of the tunnel through the middle of the Putting Coach anymore.
After the lesson he stayed around and practiced for another half hour or so using the Putting Coach and he said to me afterwards that he was shocked just how wrong his own diagnosis was and how much better he was putting his shorter putts after such a short session.
This proves once again that with a correct diagnosis by a PGA Member and purposeful practice that we can all improve more rapidly and putt more consistently.