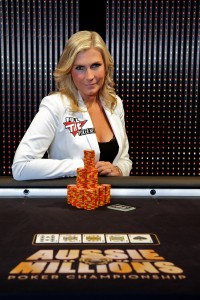 Over the past 10 years, I have had the privilege of being a mental game coach to some of the best up-and-coming golfers in Australia. Over the past 4 years, I have also been heavily involved the game of Poker, as I not only coach a large number of poker players, but I also happen to be married to Australia's Number-1-ranked female poker player.
On the surface, Poker may seem as far from the beautiful fairways of the golf courses as any other game in the world, but actually has an enormous amount of similarities. Poker is the most emotional game on the planet, while golf is the most mental game that we play.
This correlation became abundantly clear during our recent trip to Las Vegas for the 2011 World Series of Poker.
The Las Vegas 'summer of poker' has hundreds of tournaments you can buy into over the June/July period. This is similar to, say, a golf tournament where there are 18 holes a day, over 4 days culminating in the pressure-packed back-nine  on Sunday.
I work closely with my clients and my wife, Jackie, to stay focused on what is needed to help them play their very best. No matter what happened in 'yesterday's event' or the last hand they played. This is very similar to what I work on with my golfers.  In poker terms, 'Yesterday' is like the last hole in golf; while the 'last hand' in poker is the same as 'last shot' in golf. Your ability to reset after every hand/shot and just focus on being completely in the moment and focus on the shot at hand, is the key to your success as a golfer or a poker player.
Poker tournaments are similar to golf tournaments in other ways: if you don't make the cut, you don't make any money. With many expensive buy-ins for the various tournaments, it can be quite a challenge to keep your emotional stability if you get off to a slow start in the series, which is exactly what my wife did during the first 5 events of her schedule this year. This is similar to a golfer getting off to a slow start in their round. But we focused on Jackie staying positive, acknowledging the good quality of her play, fine-tuning her game and knowing that sometime during the series she would get an opportunity for a deep run.
The next two events saw Jackie in the cash in both of them, which was great for her confidence. Jackie then bought into the $1K Buy-In at the Venetian Casino, where there would be $72,000 up for grabs. After two days of play, Jackie made the Final Table of 8 players, albeit with a very short chip stack.
This is where she really needed to focus and knuckle down to work her way through the field.
Jackie played solid, focused poker and got a few nice breaks over the next few hours. She dominated the table and soon found herself in the final 2… heads up.
Jackie had 2.4 Million in chips, compared to her opponent's 2.3 Million. Her opponent asked Jackie if she wanted to 'do a deal' – in essence split the combined 1st and 2nd-place money and play for the trophy (a common occurrence).
In Jackie's mind, she perceived she was a better player and could grind down her opponent's stack over time. So, she politely declined.
Over the next 90 minutes, Jackie dominated heads-up play, winning the tournament and taking home the $72,000 and the Championship trophy.
Even though Jackie got off to a slow start in the series, as well as being behind the 8-ball all day, she kept her mind clear, took advantage of her opportunities and always believed she could win.
This mindset is crucial on the golf course. Every round of golf consists of ups and downs, good breaks and bad breaks. You should always let go of the past shot and focus on the present. This mindset will help you to keep a clear and calm mind, which will help you to make the most of any situation and take advantage of the opportunities that present themselves.
So, the next time you tee it up, make sure you have your poker face with you!