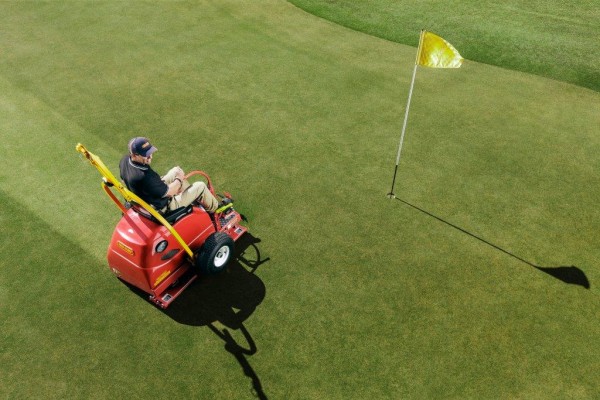 WHAT do St Andrews, Augusta National, Pebble Beach and Royal Melbourne have in common?
They all use Tru-Turf greens rollers to produce perfect putting surfaces.
The Gold Coast-based company has revolutionised the way greens are cared for and even has the US PGA Tour singing its praises.
Mind you, it wasn't always smooth rolling.
"When my wife and I started the company 30 years ago people and the industry were hesitant about changes," said Tru-Turf managing director Ray Dufty.
"As a manufacturer it was a hard slog trying to convince people we had a great product that could improve golf greens.
It wasn't until Dr Tom Nikolai from Michigan University got behind the rolling of golf greens through many years of study, in which Tru-Turf helped support.
"He took it out, preached it and told superintendents at seminars 'if you aren't rolling your greens you are going to get left behind'."
Today, Tru-Turf is rolling along nicely and for the past 12 years has had a close working relationship with the US PGA Tour and its tournaments.
"It came about through a PGA agronomist who saw our machine working on a golf course in Hawaii," Ray explained.
"He said to the superintendent who was preparing for an event 'what are you going to do with that toy'.
"After the superintendent demonstrated the greens roller's capabilities, the PGA agronomist recommended the PGA Tour use Tru-Turf products to prepare greens at their tournaments.
"It's a serious tool because it's compact and light and doesn't have those big, awkward rollers to produce a smooth, true surface on the green.
"The lighter the machine the better the result because it has the least amount of compaction issues and is ideal for superintendents."
Tru-Turf sold its first electric greens roller in the US to Augusta National – home of the US Masters. They now have four, Royal Melbourne has six electrics and St Andrews "has a shed full of gasoline models".
Tru-Turf products are used in more than 50 countries including Australia, Canada, China, England, France, Germany, India, Italy, Ireland, Japan, Netherlands, Spain, Mexico, New Zealand, Scotland, South Africa, South America, South East Asia and USA.
"There are many golf courses that use them and never get a mention for the great job they do," Ray said.
So, what are the advantages Tru-Turf greens rollers help prevent?
"There is less disease, better ball roll, no creases, no irregularities, less mowing, less soil compression, less stress on the grass and healthier greens," Ray explained.
"Anyone looking for a way to improve the greens can learn a lot from how they do things at Augusta, Pebble Beach, St Andrews and through university research.
"At the world's finest courses, near enough is not good enough."
For the record, Tru-Turf products were used to roll the greens at the Royal Melbourne GC for the Presidents Cup.
Ray said good results were achieved through the lightweight design and precision engineering.
"Ordinary greens rollers are designed around a 36-inch roller," he said.
"When a 36-inch roller meets a curve or variation in a grassed surface, there are two likely outcomes.
"The ends of the roller exert far more pressure on the green than the centre does leaving uncompressed 'slow' patches in the greens or the ends dig into the grass wherever they make contact, causing channels, lumps and other irregularities in the playing surface.
"Tru-Turf machines feature much smaller 22-26-inch rollers in separate heads, each independently pivoting, which follow and manicures a green's contours far more accurately, producing a perfect, even surface.
"The low weight of a Tru-Turf roller makes for a highly maneuverable machine.
"The joystick system delivers much better control than the steering wheels used in other machines. In fact, the greater leverage provides a power steering-like level of lightness and precise control particularly when rolling grained greens."
It seems superintendents using Tru-Turf greens rollers are more content not only because of the pure putting surfaces they produce, but they receive fewer complaints from club members.
Club golfers rarely praise superintendents for pure greens but if there's a hint of unevenness after the ball leaves the putter face, the poor old superintendent ends up in the firing line.
Well, many superintendents the world over are resting easy safe in the knowledge their Tru-Turf greens rollers are keeping members happy, with healthier smoother greens and, more importantly, keeping them off their back.
For more information, contact Tru-Turf on (07) 5594-7199 or visit the website www.truturf.com