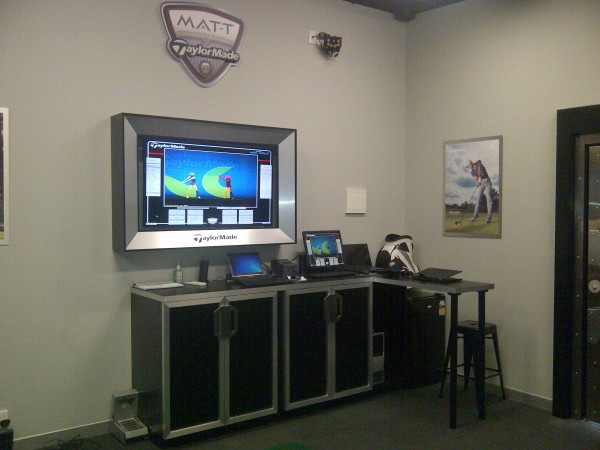 TaylorMade adidas Golf recently announced the opening of their second Performance Lab at the new Golf Central Brisbane Airport complex within the Brisbane Airport Skygate and DFO shopping precinct.
The new purpose-built fitting centre is only the second of its kind in Australia and will provide golfers of all ages and abilities access to state-of-the-art 3D motion capture technology once reserved for PGA Tour Professionals.
Utilising motion capture technology, the same technology used to make today's video games and movies, reflective markers are placed on strategic points of the golfer's body as well as the shaft and head of the fitting club to capture a number of swings with the driver, iron wedge and putter. Six specially-designed high-speed cameras detect the reflectors and display a 3D computer animated image of the golfer viewable from every angle, allowing the certified TaylorMade club fitting professional to make accurate club and ball recommendations.
Managing Director of TaylorMade adidas Golf, Troy Swainston, said he was very excited to announce the opening of the second TaylorMade Performance Lab in Australia.
"The success of the first Performance Lab in Melbourne has been overwhelming and we're thrilled to now offer golfers in Brisbane access to TaylorMade's custom fitting experience technology within the new world–class facilities at Golf Central," Swainston said.
Avid Sports Management has overseen the site build of Golf Central and Managing Director, James Cooper, is thrilled that the second Australian TaylorMade Performance Lab will be housed within the complex.
"We believe that Golf Central Brisbane will set a new benchmark in golf entertainment facilities in this country and we are delighted to partner with the industry leading TaylorMade Performance Lab to deliver a first class golf club fitting experience – it is a perfect fit," he said.
Two hour customised club fittings at the TaylorMade Performance Lab cost $150. Bookings can be made online by visiting www.taylormadeperformancelab.com.au
Following the swing analysis and club recommendations made in the TaylorMade Performance Lab, your new TaylorMade clubs can be ordered at the Golf Central Golf Shop, or via your referring Club Professional.