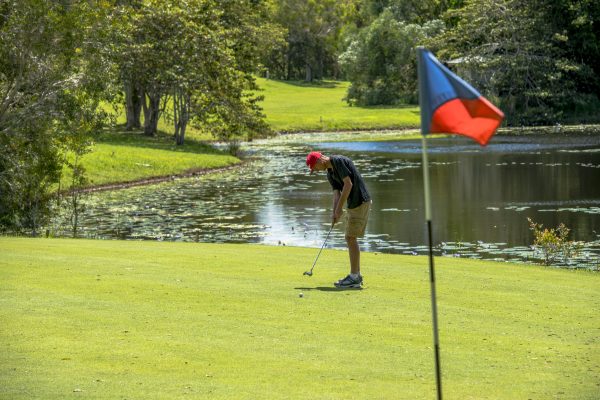 AUSTRALIA'S only organic golf course is up for sale.
Originally created to provide a place for recreation while preserving the environment, Kabi Organic Golf Club (KOGC) at Boreen Point in the Sunshine Coast hinterland, has matured into a challenging and picturesque golf course.
Designed by renowned golf course architect Graham Papworth, the golf course is a scenic 25-minute drive from famed Noosa Beach.
As one of the world's first fully certified organic golf courses, KOBC is completely different from most golf courses world-wide.
Native vegetation plantations surround the golf course on all sides and a mixture of native trees and orchards divides the fairways.
Hook your tee shot here and you could find yourself among non-indigenous fruit and nut trees. Then again, a slice will see your ball sailing towards herb and spice gardens.
The new, full-length Orchard 9 complements the original 18-hole layout (par-54), which makes it a 27-hole facility.
The golf course is no pushover.
There are many challenging holes ranging from 100 to 200 metres, which means you can give all your clubs a good workout.
Water carries, trees, bunkers, wetlands all have to be negotiated before reaching the superb putting surfaces.
When Papworth designed the course, he catered for all levels of golfers.
"It's not too easy for the proficient player while the average golfer can get around it and enjoy it," he said just after completion.
This provides golfers with variety in a unique setting amongst fruit trees.
The trees play a role and considered hazards.
There is also natural rough, which provides habitat for many species.
And the natural wetlands and water courses allow KOGC the privilege of being water self-sufficient.
The clubhouse is a relocated Queenslander and is steeped in local history.
It has all the facilities with two commercial kitchens, bar, restaurant seating for around 150 people and a pro shop.
The upstairs balcony provides a pleasant outlook over the golf course and conservation areas.
The property is 300 acres (121ha) with 120 acres (48.5ha) of forest forming a buffer zone.
All of this area is devoted to the conservation of the native flora and fauna.
The course is offered for sale with Peter Douglas of Ray White Rural on a walk-in, walk-out basis.
"The property presents in magnificent condition and is a credit to the owner and staff," Mr Douglas said.
So, if you think you would like to own your own golf course and get back to nature, breathe fresh air in pleasant surroundings then call Peter Douglas of Ray White Rural on (07) 3231-2222 or mobile 0407-172-101.