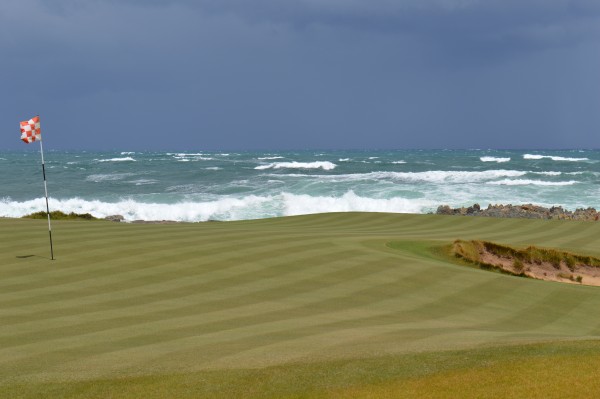 The gates at Ocean Dunes on King Island will swing open before the end of the year, according to the man responsible for building the stunning 18-hole golf course.
Graeme Grant – former long-time superintendent at Kingston Heath in Melbourne and one of several directors at Ocean Dunes – said the front nine and the 18th hole have already been completed.
He anticipated the course – on King Island's west coast – would be finished by September at the earliest and open for play before the end of 2015.
"It's going to depend on how the turf responds but we really need to be open at the end of the year," Grant admitted.
"We just need to be able to trade. We can't just let all our money sit there until anything is picture perfect. There's also the credibility thing about it, you want to get it finished. There's been quite a lot of talk about King Island. In saying all that, we're not going to rush it but that's our aim to do it by the end of the year."
Grant has spent recent weeks cutting the greens on holes one to six and 18.
He revealed golfers could expect the greens to be no faster than 10 on the stimpmeter once they're open for play.
"I've got to work out what height I need to have them in order to highlight the contours but not have the ball roll off the green. I don't want to make them slow but I can't have them ridiculous. Ten feet (on the stimpmeter) would probably be the highest speed that you'd get them to. If the wind is blowing and you know you're going to have a week of wind, then you just don't cut them. It's a matter of managing that."
Grant said his plans to build accommodation and a clubhouse on the site have been put on hold after he acquired a hotel in King Island's township, which he said has sparked heightened interest in recent months from investors.
"It's been brilliant because we've just bought the pub in town and, with the town only five minutes from our golf course, we now have the capacity to bring people to the island, feed them, let them drink our beer, eat our food, stay in our pub five minutes from the golf course and we don't have to build anything out here on the basis that it 'might' work."
Grant revealed there isn't enough money in the venture to build a clubhouse and accommodation but said both would go ahead as originally planned if golfers flock to the course after its opening.
He said the decision to purchase the local pub leaves the directors in a far stronger financial position.
"If it doesn't work out for us, we've done our money building the golf course, but we've got a pub to sell and we haven't got a white elephant in a clubhouse and accommodation sitting out here."
Grant has been living full-time on King Island since June 2013. He spent six months on his own before his wife joined him, which he admitted has made the grind of 12-hour work days much easier.
"In the winter, you get up and start work in the dark and then you finish in the dark. I'm looking forward to the finish of it," Grant said with a chuckle.
Grant predicted temperatures on the Island would make summer golf far more enjoyable than on the mainland.
"A lot of the days that we're down here, it can be absolute magic on the coast. It's a temperate climate. We don't get the heat that you get in Melbourne, which is a great thing in summer."