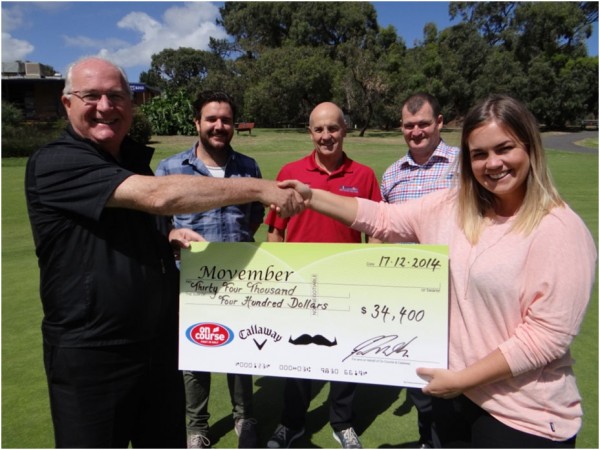 ON COURSE Golf members partnered with Callaway Golf in 2014 to raise funds for Movember – the organisation that raises vital funds, promotes awareness for prostate and testicular cancer and supports mental health through Beyond Blue.
The tally was an impressive $35,000 making the two-year combined total $85,000.
Members from both companies joined forces to conduct a variety of fundraising activities throughout the month of November.
The campaign started with the sale of a limited edition Callaway MoBag together with logoed Callaway golf balls.
On Course members conducted a variety of fundraising events such as club competition events and social golf days to raise funds for the cause.
"We were very pleased to support the Movember cause again in 2014" On Course Golf CEO Geoff Zarth said.
"Movember do a wonderful job in raising funds for men's health issues.  It is a cause that resonates with our golf pro members who put a lot of fundraising effort into it at their own golf club.
"On Course Golf are proud to have raised $85,000 in two years and expect to exceed our three year target of $100,000".