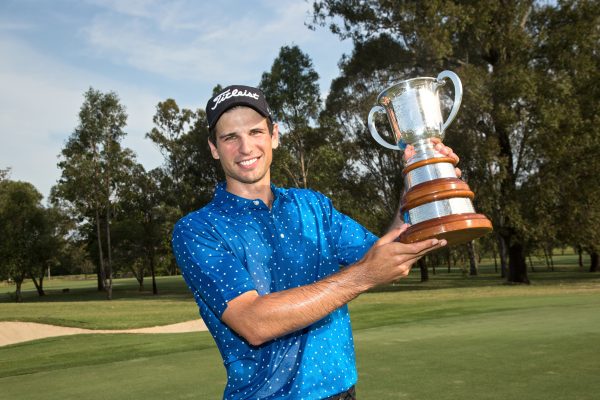 JUST prior to Jordan Zunic sinking the winning putt at the Isuzu Queensland Open at The Brisbane Golf Club, news filtered through of another victory … this time for Queensland golf.
The good news for golf fans is Australia's premier truck brand, Isuzu, extended its long-term sponsorship of the Queensland Open until the end of 2021.
The new three-year agreement will extend Isuzu Australia and Brisbane Isuzu's position as naming rights sponsor of the Queensland Open to nine years.
Golf Australia CEO Stephen Pitt said the new arrangement would help foster continued development and growth of the tournament.
"The support from Isuzu over the past six years has ensured the continuation of the Queensland Open and has seen the Open go from strength-to-strength," Pitt said.
"Isuzu is a highly successful organisation and has been a great partner for Golf Australia in our efforts to grow our game.
"The 2018 Isuzu Queensland Open has been the most successful on record with interest in the event and crowd numbers up and very importantly and excitingly, the first female in Becky Kay qualifying to play in the championship."
Isuzu Australia dealer sales manager Queensland Graham Miller said Isuzu Australia, along with Brisbane Isuzu, were pleased to confirm ongoing support of the tournament.
"We look forward to working with Golf Australia to ensure that the tournament remains a pre-eminent event in the Australian summer of golf," he said.
In case you missed it, Zunic finished on 11-under par after rounds of 67-68-65-73.
The New South Welshman finished one shot clear of Rhein Gibson with Steven Jeffress a further shot back.
Zunic dedicated the victory to his late grandmother.
"This one (tournament) was a little different for me," he said.
"I lost my grandma a couple of weeks age and I told my fiancée and caddie Olivia the event would be in memory of her.
"It really means a lot.
"Funnily enough it was like my own Happy Gilmore moment where I was saying 'grandma' over the ball.
"I literally said to myself going into that par putt (on the last hole) that this was for her."