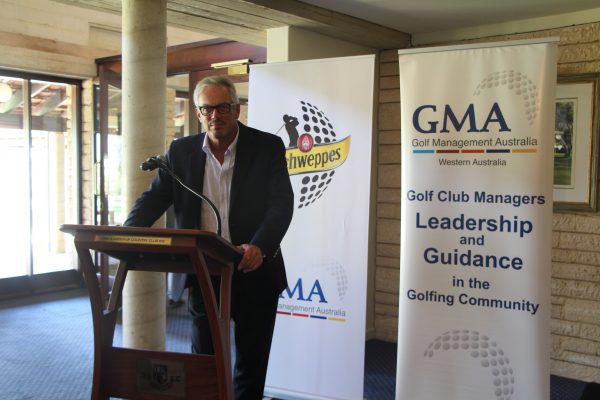 One of the most common items of feedback received from golf clubs relates to clubs being able to positively plan their futures.
With this in mind, GMA has undertaken a great deal of work with corporate specialist Tony Sernack to create and publish "The Green Book – The Essential Guide to Strategic Planning for Golf Clubs".
"Strategic planning has always come up as a high priority when we survey our members asking where their clubs most need assistance," said GMA President Damon Lonnie.
"The Green Book takes golf clubs through the whole strategic planning process from thought to facilitation to developing a blueprint and then reaching the final outcome.
"It is a perfect way for club boards and managers to achieve the finished product.
"We are confident that this publication will be an essential guide for both managers and their club boards".
The Green Book was launched at GMA organised national roadshows held throughout March and April around the country with Surfers Paradise, North Ryde, Metropolitan, Lake Karrinyup and Glenelg Golf Clubs hosting these events.
With more than 500 golf club officials (Presidents, Captains, club board members and managers) attending the Roadshows, many hundreds of books were delivered to the industry and were supported by keynote speakers at each event.
The Green Book author Tony Sernack delivered strong presentations on "Strategic Planning, you're your Golf Club" and "Board Governance", while JBAS director Jeff Blunden provided a great deal of information and update on GMA's exciting Benchmarking project.
Also in attendance was Golf Australia's Cameron Wade who updated officials on Golf Australia's Club Support and Participation Initiatives.
Each session finished with State Golf Association CEO's, Lindsay Ellis (Queensland), Stuart Fraser (NSW), Simon Brookhouse (Victoria), Gary Thomas (Western Australia) and Chris Luz-Raymond (South Australia) providing strategic planning initiatives at their own state sessions.
"We didn't really know what the takeup for our Roadshows would be" said Damon. "To our delight,  golf club management and boards responded very positively and to have more than 500 attend exceeded our expectations.
"Based on this response, it is highly likely we will consider future Roadshows with topics geared essentially to the feedback we receive from managers about the major items of concern on their agendas."
Copies of "The Green Book" can be obtained for a cost of $29.95 each (or $250.00 for a pack of 10) and can be ordered by email to eo@gma.org.au