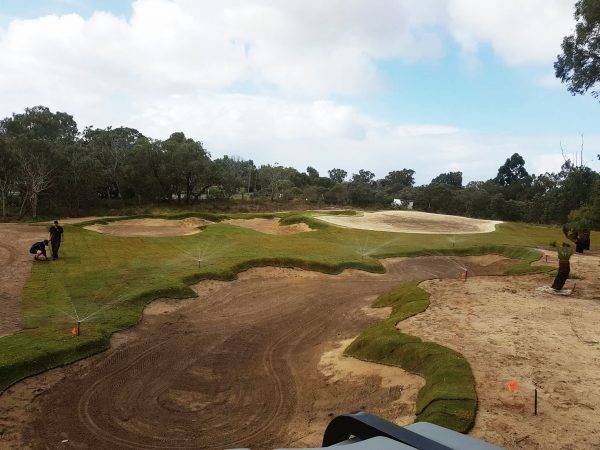 A 'hole' new game at Mt Lawley
IT'S all happening at Mt Lawley Golf Club in Perth, West Australia.
The club's general manager Troy O'Hern told Inside Golf an additional hole, the 19th, would open for play at the end of November.
It's more of a short-game practice area, but it will give the club flexibility to bring it into play if another hole needs urgent repairs.
"We can still play 18 holes by bringing that hole into play," O'Hern said.
"What we are doing is using the 19th as a showcase hole for the members to be able to touch and feel and see some of the principles of the design that we may or may not take out on to the golf course."
Ogilvy Clayton Cocking Mead designed the new hole/practice area.
Meanwhile, Mt Lawley recently appointed superintendent Trevor Strachan and he is "kicking goals".
"He came from Lake Karrinyup and is probably the best superintendent in the country," O'Hern added.
In other news, the club is weighing up its option to develop an al fresco area, while on the membership front Mt Lawley has introduced a nine-hole membership category.
"It will suit members who feel playing 18 holes has become out of reach," O'Hern said.
"The new category will keep them engaged and participating in golf.
"It's also a good category for the younger demographic, who are a bit more time poor."
Changes afoot at Pelican Waters
PELICAN Waters Golf Club on the Queensland Sunshine Coast will next year revamp its golf course to accommodate 270 new homes.
The local council last month approved the development of a mix of 200 detached homes on blocks ranging from 400sqm to 700sqm as well as 70 units and townhouses.
The Greg Norman-designed layout will remain 18 holes, but there will be significant changes.
"We are bringing in four new holes and changing one of the holes from a par-4 to a par-5," general manager Andrew Kenny said.
"As it stands, the current back nine holes will become the front nine and that will remain unchanged.
"We have been working with the Greg Norman design team for quite some time now and he (Norman) will get involved in the process at some point.
"It's very important we have Greg and his team involved."
Work on the changes will begin around September 2018 and will take between 7 and 12 months to complete, weather permitting.
Part on the new development will include a new driving range, a mini golf course, pro shop, children's play area and clubhouse redevelopment.
"I think it's very positive and we are really excited about the changes," Kenny said.
"The current first tee box will become the 18th finishing hole and it'll be encouraging to look out from the redeveloped clubhouse over the 18th green."
Proserpine GC fighting back
THINGS are looking up at Proserpine Golf Club in north Queensland after Cyclone Debbie made a mess of the place earlier this year.
The club's new head professional Roger Vandenberg said more than $500,000 was being spent to repair the clubhouse, pro shop and golf course.
"All the repair work will mean we will basically have a new clubhouse as all the inside is being renovated and the pro shop fitted out," Vandenberg said.
There has also been a marked improvement to the golf course, which was virtually under water.
The greens are coming back nicely and this month two greens received a complete makeover.
Vandenberg said the club was working on growing its membership base and junior program.
"I'm going to the schools doing the MyGolf sporting schools program so we can hopefully further develop the junior program," he said.
Vandenberg has employed promising junior Matt Bower two days a week.
"He won the junior open and I have taken him under my wing and we hope to offer him a traineeship in 2019," he said.
Awaiting visiting golfers is a friendly welcome, warm atmosphere and a challenging golf course.
Brisbane course renamed
BRISBANE has a new golf course. Well, not exactly a NEW golf course, but an established golf course with a new name.
Peter Huang, who owns Kooralbyn Valley Golf Course, last month purchased Karana Downs Golf Course and immediately changed the name to Brisbane River Golf Course.
"The new logo and website will be launched soon and the golf course will be further improved," Peter Huang said.
"Our target is to make the Brisbane River Golf Course a top-25 course in Queensland and top-10 in Brisbane. That is our mission.
"The golf course has magic river views and that's why we changed the name. It's a magic location."
Huang has another goal – to move Kooralbyn Valley golf course into the top-3 in Queensland.
And he is offering membership.
"We will offer the incredible dual membership of both the championship courses at Kooralbyn Valley and the Brisbane River golf courses from $49 to $69 per month," he said.
Karana Downs is a locality 22 kilometres west of Brisbane's CBD.