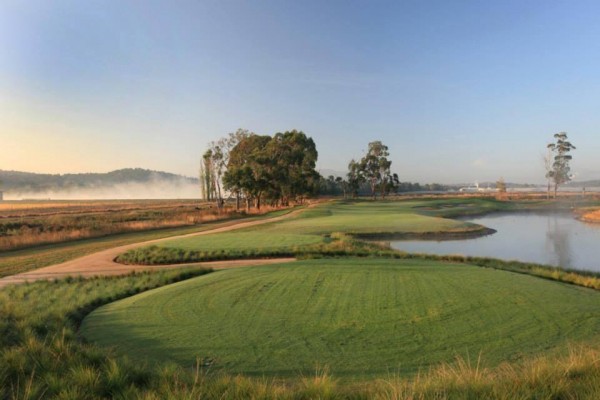 It's no longer a major surprise to hear that golf courses in Australia are selling, moving or merging in what is an unsettling time for our golf industry. Melbourne clubs like Chirnside Park and Eastern, which have relocated their courses further away from the CBD, may be set up for brighter financial days but their moves are symptomatic of what is an unsettling time for the game.
The changing landscape of our golf economy is particularly visible in the Victorian capital. Highly sought-after property in Melbourne's suburbs has – for a number of years – been considered better served to have houses built on it than golf courses. Croydon, Eastern, Chirnside Park and Kingswood Golf Club have all sold or plan to sell massive portions of their land to finance a move further out of town.
But there is a simple truth that remains. There are too many courses in and around Melbourne and not enough golfers.
"The Melbourne (golf) market is fairly saturated in certain areas," says Golf Industry Central's Mike Orloff. Golf participation levels in Australia are slowly declining at present and this spells greater risk for privately-owned courses. In April, Heritage Golf and Country Club in the city's northeast was sold for $17.8 million – well below its $30 million book value.
Meanwhile, Eagle Ridge and the owners of Peppers The Sands Resort in Torquay and Moonah Links are continuing their efforts to sell. Orloff says golf clubs and privately-owned courses are finding it increasingly difficult to remain financial.
"The other route that you'll probably see a lot more of is the amalgamations or mergers," Orloff speculates.
Housing, accommodation and other amenities have become part and parcel of modern day golf course developments. New courses in the works like Mandalay Golf Course (Beveridge, Vic) and Black Bull Golf Club (Yarrawonga, Vic) are good examples of these.
Orloff admits stand-alone golf courses in Australia are almost a thing of the past.
"From an investment standpoint, anybody that knows what they're doing with golf, to just build a golf course stand-alone is probably not a smart thing to do in this environment. You need housing, you need other things to build it and then you need a good business model to sustain it," Orloff says.
Heritage's sale, however, reinforces the fact that offering on-course properties will not always guarantee the long-term profitability of a golf course or club.
"The new courses that we are seeing be built, they're being built to sell homes and once the homes are sold, what's going to happen to the golf course? They're probably going to be in the same position five, ten years from now," Orloff states.
Orloff believes, in Melbourne in particular, courses moving further away from the CBD will become a growing trend but warns it is far from simple.
"Some have done it well, some haven't and then five years later they're back in the same position. A big move, you're taking the risk of losing a lot of your current members if it's going to be too far for them. I think it's a good investment if you find the right location and you have enough of a catchment for people that will support you and what you purchase it for."
Last month, Chirnside Park Country Club officially shifted from the north-eastern suburb of Chirnside Park just a few kilometres away to Lilydale. Its new stand-alone 18-hole golf course – Gardiners Run – is a semi-private course open to the general public six days a week. The club's General Manager Barbara Kelly says the move made sense from both a financial and logistical perspective.
"The main reason that we looked at relocation, we had a small debt that the club needed to distinguish and the course had lots of issues with boundaries and neighbours. We didn't have enough water storage on site so during the drought that became a nightmare because we couldn't water apart from greens. The course was very hilly. When it was built, it was never drained properly. We didn't have irrigation on the front nine, only the back nine."
While relocation appears logical, Kelly warns that it's an extremely difficult strategy to implement and one that can easily send a club into a heavy financial downturn.
"It appears that it's easy because so many clubs have done it in the last 10 years," Kelly says. "Waverley tried and they're still trying. It's a real challenge to do this. It took us 10 years to get our current site rezoned from special use to residential and that's a massive commitment. If we hadn't have had a developer, we would have gone broke doing it."
Chirnside Park only needed to sell part of the land at its Kingswood Drive address to fund the move to Gardiners Run. It has retained 11 acres in Chirnside Park, which will continue to be used to offer members tennis, lawn bowls and a clubhouse with gaming and a bistro.
Gardiners Run manager Garrick Aird concedes that partial land sales are complicated but says they could be a wise choice for other Melbourne clubs.
"I've seen a few courses that have done that and then they've had houses encroach onto their boundaries and then that creates boundary issues, then courses get re-designed and when you re-design something, it tends to cost a fair bit of money to redesign a fairway or a green or a hole. It depends what your model is. I've been a little bit of an advocate for being a little bit different. If you go back to where it all started, there was 13, 14, 15-hole golf courses. With people being very time-poor at the present stage, maybe that's an option you can look at. The six (holes) out, six in. If you need to play 18, you could play one of the six again."
AT A GLANCE

Recently listed For Sale
Moonah Links/Sands Torquay
Eagle Ridge GC

Recently Sold
Capital GC
Heritage Golf & Country Club
Links Hope Island
Noosa Springs
Cypress Lakes
Lakelands GC

Moving or Merged
Kingswood (to Peninsula) GC
The Eastern GC
Chirnside Park/Gardiners Run
Horton Park GC

Closed
Capricorn Country Club
Ipswich GC (Receivers)

New developments
Eastern GC
Black Bull GC
Ocean Dunes GC
Cape Wickham GC
St Andrews Private (Stalled)
Bingara Gorge (NSW)
Kooralbyn (to reopen)