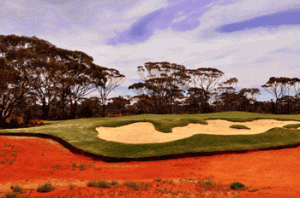 Summertime is a great time to play golf in Australia, and the Golf Course Architects encourage you to dust off your clubs and get back on the golf course. Golf needs you, your family and friends to make the most of the opportunities this summer and help rekindle the spirit of Australian golf.
The Global Financial Crisis has hit the golf development industry fairly hard with course openings and project start ups at their lowest ebb in two decades. In the USA — where course openings peaked at 510 new golf courses in 2004 — they are now experiencing negative growth with golf course closures outnumbering course openings. In 2009 in the USA there were 120 course closures and only 40 course openings. In Australia over the past year, we have seen new courses opened in Kalgoorlie, Western Australia; Bridport, Tasmania; Hamilton Island, Queensland and in Ballarat, Victoria.  All these courses are of an international standard and are set in a variety of landscapes. All are accessible to the public golfer and add to the increasing competition between courses for patrons and members.
The Kalgoorlie Course was designed by Graham Marsh and is Australia's first desert course since the Alice Springs golf course was built by Thomson Wolveridge back in the 70's. The lush fairways at Kalgoorlie contrast brilliantly with the harsh red desert surrounds. It will become the new home of the three existing Kalgoorlie golf clubs, and an exciting destination for many tourists that visit the famous gold mining town.
Lost Farm, the second golf course at Barnbougle, has been designed by American architects Coore & Crenshaw and has opened to rave reviews. It is set in spectacular coastal dunes adjacent to the Tom Doak-designed original Barnbougle Dunes. Developer Richard Sattler directed that Lost Farm be tailored more for the average player and is relatively short with generous landing areas. It is supported by quality accommodation, an upmarket Restaurant and a Heath Spa.
The Hamilton Island Golf Club is built on an uninhabited rugged island in a World Heritage Marine Park and offers golf for players of all levels by the use of tees that suit the player's ability. Access to the island is via a 10-minute ride on a purpose-built ferry. The golf course is stretched out over the flatter parts of the island and most holes enjoy views of the surrounding Whitsunday islands.
The Ballarat Golf Club is one of the oldest clubs in Australia and has been rebuilt on land adjacent to the former golf course and was funded by a residential development. The golf course is a traditional parkland style course. The project was developed by Integra, a local firm and has secured a new beginning and a sustainable future for the historic club.
As well as these new offerings, there have been other significant developments taking place. These include the complete regrassing of Royal Melbourne in preparation for next year's Presidents Cup. It has been a challenging project but Manager Paul Rak and Course Superintendent Richard Forsyth and their team have it all on track and Royal Melbourne is set to resume its place amongst the world's great golf courses. Ahead of the regrassing, some minor tweaks to the course were undertaken and overseen by Dr Martin Hawtree from the United Kingdom.
Michael Clayton and his team have given The Lakes Golf Club in Sydney a total makeover in preparation for The Australian Open to be played this month. The St Andrew's Beach golf course on The Mornington Peninsula has been bought by foreign investors and is now back in great condition and open for play. The popular Yarra Bend Golf Course near the Melbourne CBD is under new management and has recently opened a Bann Lynch Golf Academy with course upgrades and mini golf planned for 2011.
There are very few new golf courses under construction and/or in the planning phases. This is to be expected as Australia is a mature golfing market that may be nearing a saturation point — given that we are still coming to grips with the fallout of the GFC. Also our planning environment is not encouraging of new golf developments. Many of the Australian Golf Course architects are surviving by working in Asia, particularly China where golf development is still booming.
We are blessed in Australia with so many wonderful golf courses to play and the variety of golf experiences on offer has never been better, with many attractive deals available. The secret is out, and inbound golf tourism is increasing and will hopefully continue. Following a wet winter and a tropical spring, most golf courses will be in excellent condition for this Summer and Autumn.
Golf is a game with nature, and it is to be enjoyed with others. It can be played by all ages and by golfers of all standards. So make a commitment with your mates, your wife, your grandfather and/or your children to get back on the golf course and have some fun. The industry needs you.