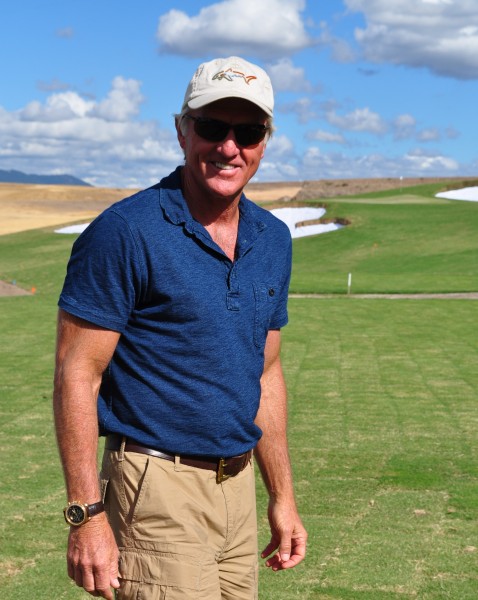 With two Open Championship titles, 91 professional victories, 20 US PGA Tour Titles and 30 Top-10 finishes in major championships, Greg Norman is certainly no stranger to success.
But for a man who spent 331 weeks as the number-one-ranked player in the world, was inducted into the World Golf Hall of Fame and who was also the first person in PGA Tour history to surpass $10 million in career earnings, it would appear that he is just getting warmed up.
Aside from Norman's numerous victories inside the ropes, Norman has also notched up many wins outside of the ropes, as his Great White Shark Enterprises has been scoring birdies in everything from golf course design, to golf apparel and eyewear, to turf, wines, food…the list goes on. He even has a line of "Australian prime" Wagyu beef.
With his Greg Norman Golf Course Design firing on all cylinders—with seven courses on the go in Australia, and some three-dozen courses globally either in planning or under construction—it appears that The Shark could very well become more famous for his spectacular golf courses than his remarkable playing history.
Visiting Melbourne to oversee the construction and design of The Eastern Golf Club's new 27-hole facility in Yering, just east of the city in the Yarra Valley, Norman spoke to members, guests and selected media about the course, his design philosophies for the site and the pure enjoyment of the opportunity to design a golf course without the confines of a housing estate around the course.
"The great thing about Eastern is that we're building it for the members," he said, referring to Eastern's design brief that the new course be designed primarily as a member-friendly layout.
"[Usually] We get stuck with so many stipulations… a tournament, a made-for-tv event, or things like that, and you get into this dilemma of how to blend it all in. But when you build a golf course for members… oh my gosh, it's such a treat!"
"You'll get a golf course that is extremely playable. It's not about how far you can hit a golf ball. It's about members like [99-year old Life Member] Les Smith here, who comes out every week and keeps playing the game of golf."
So how does a designer like Greg Norman approach a bare piece of land, and begin crafting a world-class golf course that is challenging to members of all abilities, while also making the best use of the sweeping views and unique landscape?
For Norman, it all begins in the dirt.
"It starts six metres under the ground, and evolves up," Norman explains.
"A lot of people take it for granted, you look out [at the construction site] and you see grass, and a bit of dirt moving around, but what makes a really good golf course—I learned this from Pete Dye—is what happens underneath. What happens with the drainage, what happens with getting water off the golf course.  All that—to me—is the most important thing about building a golf course. Building tees and greens and fairways with beautiful green grass—ok,  we all end up enjoying that—but [what's more important] are the complexities of what's going on underneath."
"If someone asks a question about drainage, and whether you can move something or position something. You ask 'well, what's going to happen underneath? And you find that it may not work, so you may need to shift it four or five metres because of the drainage. And all of a sudden things change, and it becomes a domino effect."
So it may come as no surprise that the first thing Norman addressed in his initial design of The Eastern project was the Yarra River, which abuts the northern corner of the course.
"You look at the Yarra River, and understand what your setbacks are, what constraints, how much the Yarra backs up in a heavy flood…those are the first things we look at because it's key. Once you understand how it flows, then you can work your way back. There are a lot of interesting issues here because of floodplain. But when we build a golf course we want it to be playable no matter what comes out of the heavens."
Additionally, Norman explains, a designer needs—very early in the design phase—to keep a close eye on the long-term financials.
"Most of the time, you need to get your logistics in shape, your civil engineering, and stuff like that. The simpler you can keep all that, the cheaper it is at the end of the day. It's all about fiscal responsibility, fiscal sustainability, and being environmentally sustainable. We have to build this golf course to go on for generations and generations. When we build it, we take into consideration ongoing maintenance. When you spend $100 on something for a year it doesn't sound like much, but $100 for 100 years is a lot of money."
Above the ground, Norman is a believer in making the best use of what Mother Nature provides.
"If you look out there at the horizon, look at how the mountains and hills flow…Mother Nature has a really great, unique feel about her. And I love to look at the 'long views', and pull those into the golf course. Those 'long views' give you the undulations and the flow and all that. I don't like seeing a straight line—to the green or straight line on the edge of the fairway or a bunker—so [it's important] to make sure that we bring all the long views in to the course.
"If we can take a golf course and blend it in with what mother nature gave us, then Touché to all of us."
Mother Nature, however, can also provide interesting challenges of her own.
"You're going to have about a thousand kangaroos out here by the time this golf course is built," laughed Norman. "You've got water, green grass, and that's what they love. I've seen that at golf courses built around the world. In Dubai, we were plagued by camels. Another golf course, in Colorado, at about 9000 feet of elevation we had to do 300-foot corridors for the wild Elk to transition out of the wilderness country when the snow fell to the low country.
"But [as designers] we have to embrace the native flora and fauna. They've been here a lot longer than we have! "
In addition, there are many other aspects that a designer like Norman must address. When asked about the tendency for some designers to introduce "forced carries" (which can be difficult for distance-challenged juniors, seniors or beginners to contend with) Norman explained that these areas are often a necessity.
"Sometimes [a forced carry] is dictated by the environmentalist. Sometimes we have restrictions on how much grass we can use. Or where we can take water off a golf course. The environmentalist will say to us, 'ok, you have X amount of land to build a golf course [with grass]. For us to do that, we have to manage everything the right way, so you might find that, right in front of a tee, you'll have a native area. The maintenance gets reduced big time."
However, as Norman adds, sometimes these can be minimised.
"[At Eastern] we made a correction because we did have a forced carry—due to the transition from one of the ponds on one side of the course. We discussed it with everyone and they allowed us to put a conduit underneath, and now we can fill it over and have fairway all the way up to the green."
Discussion and collaboration with key people are a big part of Norman's design process.
"It's interesting when you walk around a golf course and talk about all that [adjustments and changes]. I give the team my ideas and we blend it all in. It's a fascinating process.  I wish more people could listen to it. It's a huge collaborative effort. It's not all about the designer. Yes, we have our ideas, and ways of designing a golf course, but we only play a small part of that.  You really have to fulfil the dreams and wishes of the 900+ members of Eastern Golf Club."
And to fulfil those members' dreams, Norman admits he and his team must carefully balance the design to not only be member-friendly, but also provide enough challenge.
"The easiest thing in the world is to build the hardest golf course in the world. The hardest thing is to balance a championship-style course for membership play—from someone like Les, to someone who can carry it 300 yards. You do it by tee position, by the shape of the greens and by different angles you can set up. You've got to give golfers a visually striking look, playability to challenge them and accessibility."
One thing Norman doesn't do, however, is create "Signature holes" or designer-gimmicks.
"I don't do 'favourite holes'. I think all eighteen should be your favourite. If you start doing a signature hole, then that's all you get remembered for.  I try to make every golf course stand on its own. You have to give a course character, without making it goofy. It's easy to give a golf course character and make it look funky. And I despise that."
After spending an hour with Norman, one can't help but be impressed with his passion for design, and his ability to focus on his future, not the past.
"I enjoyed being [on tour] when I played, no doubt about it. But I don't miss it. I've had my time. Playing the game of golf gave me an opportunity to springboard off and do other things. I saw some mistakes made when I played the game of golf, and also saw some magnificent golf courses that I wanted to study and emulate.
"We [Greg Norman Golf Course Design] do what we love to do. My guys, whether it's the team here in Australia or the guys in other parts of the world, to build a golf course, it's something that we are extremely passionate about," he says.
The planned facility, which Norman recently listed as his "Number 1/Best Course Under Construction" will feature 27-holes plus 9-hole par-3 course, extensive clubhouse, practice facility and driving range.  The Club is scheduled to open at its new home in June 2015.
The Eastern Golf Club has created a customised landing page for golfers to register their interest in the project and keep updated on news throughout the development. www.sharkiscoming.com.au