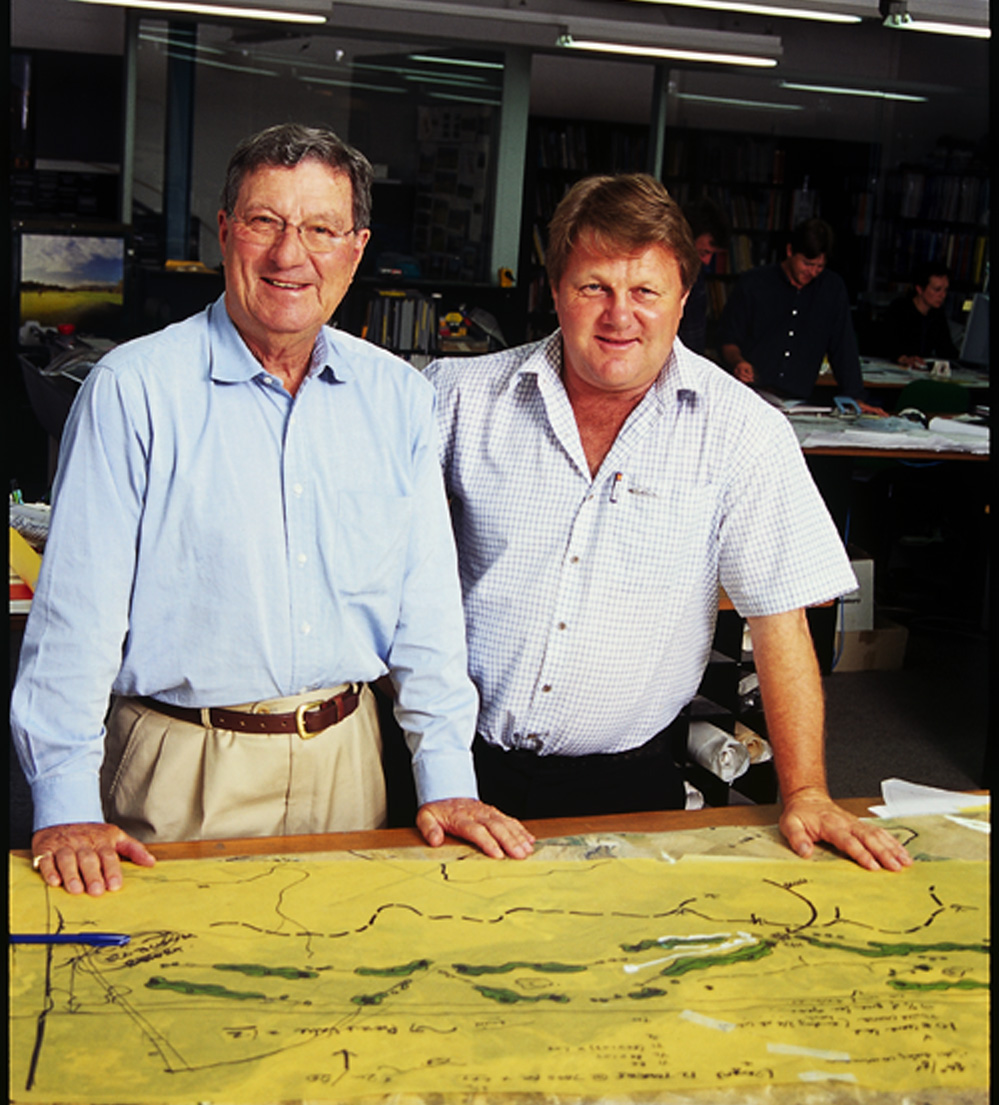 After over 50 years in golf course design, Thomson Perrett founder Peter Thomson has announced his formal retirement from golf course architecture.  Peter established the company in 1965 after winning his fifth British Open and has since worked on over 250 projects in 30 countries including building over 100 new courses. Peter's contribution and impact on golf in Asia Pacific is unparalleled.
Ross Perrett, who has worked with Peter since 1986 and has been Managing Director of Thomson Perrett for the past 25 years, said "Peter's generous support and friendship has been an inspiration to all the Thomson Perrett team and we thank him for the role he has played in each of our careers. It has been a privilege to work closely with one of golf's most intelligent and greatest players."
When asked about the future for the company, Perrett reiterated that he will continue to lead the team and will strive to set new benchmarks within the industry locally and internationally.  Perrett explained that other than a rebrand later in the year, the current Thomson Perrett operation will continue as usual.  All staff have been retained and are busy working in five countries including renovations at Kooringal Golf Club, Northern Golf Club, Warrnambool Golf Club and Clearwater Bay (Hong Kong), as well as new layouts for Genung Geulis Golf Club (Indonesia), Greens Beach Golf Club (Australia), Ho Binh Golf Resort (Vietnam), Qutub Golf Course (India) and Palm Beach Golf Club (China).
In addition to the above projects, Ross and the team also have an exciting selection of future projects in the pipeline.
Thomson announced his retirement via a formal statement:
"Due to my age and declining health, and in consultation with my family and two partners, Ross and Tim, I have decided to retire completely from the golf design businesses, Thomson Perrett in Melbourne, and Thomson, Perrett and Lobb in London.

"I have encouraged Ross and Tim to continue with their golf design practices for ongoing projects, as well as creating new golf courses on their own long into the future.

"Henceforth, in London, Tim's company will be LOBB+PARTNERS.

"In Melbourne, our company is more complex. Ross will continue the design work, as well as his managing directorship, whilst in the process of rebranding the company. This will be completed by the end of 2016, when he will advise his new company name.

"I have enjoyed a wonderful association with both Ross and Tim, as I did in the past with Michael Wolveridge. Together, over 51 years, we have embarked on many exciting projects in more than 30 countries, including Australia, New Zealand, the United Kingdom, Asia, the Middle  East, and more recently Africa, bringing the game to regions previously without proper golf courses. This has given me much satisfaction as I reflect upon our achievements.

"My affection for all three of my partners is ongoing.   I wish them well in the future, and I am sure our friendship will continue always," Peter Thomson, AO, CBE.