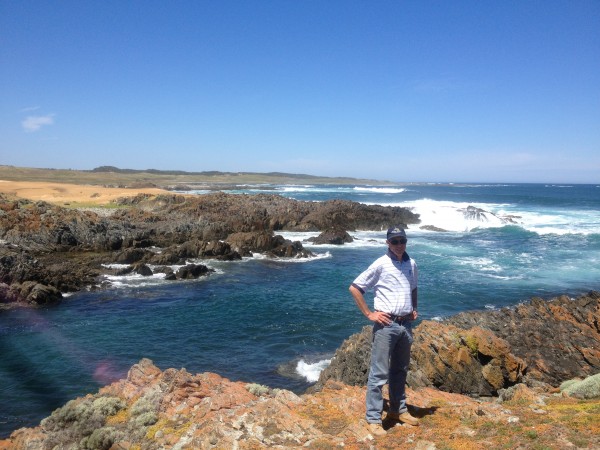 The golf course designer behind one of King Island's two spectacular golf course developments says his course is still at least 12 months away from opening for play.
King Island Ocean Dunes' designer Graeme Grant says progress at the coastal links course has been hampered by the harsh conditions of the 2013 winter.
"November, December [2014] is what we're aiming for but that might blow out to January, February [2015]," Grant says.
"If this next winter is as harsh as what this winter was then it might slow us down a bit. The winter made it difficult to get grass up but not impossible."
But Grant – who is also managing the site's turf – says the testing conditions have ensured there won't be course closures once the site is opened.
"We can see where the problems are while we're building it, which is an advantage. If this winter had come a few months after we opened and we find that we've got problems out there that we didn't know about, we'd have to probably close holes down and fix it but we know where the problems are now. We've had the worst of it."
Graeme and fellow directors including Colac businessman Andrew Mitchell and course builder Bernie McMahon are seeking more than $7 million in investment for Ocean Dunes.
An information night was held at Victoria Golf Club last month in a bid to generate further interest from potential stakeholders.
"I'm confident that the project will be successful, the golf course will be an attractive place to play at and the business will be successful. Whether or not we can attract investment, is all about how well we can sell it. We've had a good reaction so far."
Grant – who has more than 40 years' experience in the golf course design industry – remains adamant the Ocean Dunes site is among the very best in the world.
"There's no doubt about that. This has got some very spectacular ocean holes and then you go inland to the dunes and then we've got a creek that runs through the course so we've got quite a lot of variety and I think it matches up with anything that I've seen. I don't want to say that it's the greatest thing since sliced bread but it's as good as anything that you'll get."
Four holes at Ocean Dunes – the first, second, the anticipated signature par-three fourth and 18th – have been shaped.
Grant says he will wait until those holes have been fully irrigated before beginning the shaping of any other holes.
"We don't want to be opening up any more and exposing it to the wind. We'll get those four holes bedded down with grass and then continue with the construction of a few more."
The directors have budgeted for 300 days of playability per year at Ocean Dunes, which is exposed to the high winds of Bass Strait.
Grant says any concerns that those playability estimates are too optimistic should be allayed by the nine-hole course that already exists at Currie, which is the main township on King Island.
"Obviously there are some days when you can't play golf on links golf courses. We've seen that happen in tournaments at St Andrews where they've closed things down because of wind. That's just part of links golf. But I know the Currie course, [its] members play every Saturday rain, hail or shine so we're pretty confident that's going to happen where we are."
The course is set to rival nearby King Island layout Cape Wickham, which is anticipated to open for play before Ocean Dunes.
Grant says the courses will make King Island – only a 50-minute flight from Moorabbin Airport – a viable alternative to Tasmania's Barnbougle Dunes for green fee players.
"I asked people in Melbourne what they thought of two golf courses on King Island and everybody said that it will make it more of a destination. So we see it as an advantage to have two really good golf courses down there."