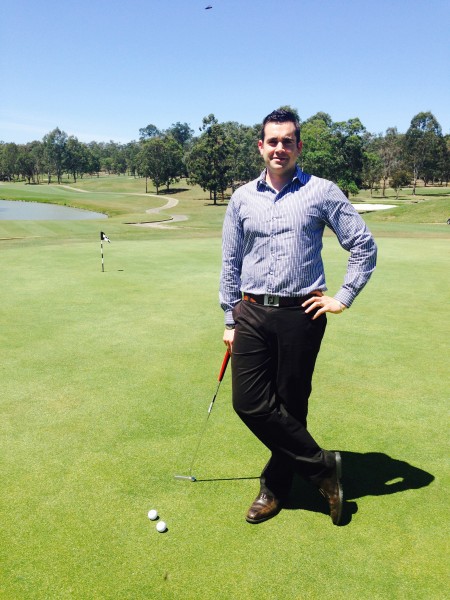 DAVID Scott is a shining example of the emerging new age of PGA golf club professionals in the Australian golf industry.
Scott, the Deputy General Manager of Riverside Oaks – one of Australia's biggest and leading golf resort-residential-playing complexes—is a graduate of the PGA's International Golf Institute and the follow-on PGA club Traineeship.
In less than a decade he has become a key executive for Nanshan, one of China's biggest and most successful golf development companies and recently told Inside Golf of his interesting career journey.
You began your career in the golf industry as a PGA-trained professional. Where did you train and when did you start?
I completed a Bachelor of Business, majoring in Sports Management, through the PGA International Golf Institute program. I then undertook my PY year for PGA Traineeship under Head Professional Jamie Brew at Burleigh Golf Club on the Gold Coast. My first head professional role was as Director of Golf at Riverside Oaks after spending a few years playing tournament golf.
Do you see many advantages in having been trained as a PGA professional before assuming a golf industry management role?
It has given me a greater, more intimate knowledge of the golf industry from all aspects and this has certainly helped me in understanding the needs and wants of public golfers and members as well as best practices for operating a golf course. My PGA background has seen me visit numerous golf courses and resorts throughout the world, building my knowledge and experiences which hopefully I can use and pass on in my role here at Riverside Oaks. My PGA membership also has allowed me to build a great network of industry colleagues and organisational contacts.
When you began as a PGA Trainee what were your aspirations in golf?
I went in wanting to be a club professional or teaching professional, although, like most, I also had fleeting dreams of being a tour professional.
Did you play much tournament golf?
I played for about three years
What are your responsibilities now and in the immediate future?
Answering to General Manager Kenneth Chan, I am responsible for all staff and guests that visit the resort as well as overseeing all resort operations and departments.
Tell us about being involved with such a successful golf company as Nanshan?
I have been fortunate to visit Nanshan in China to see their operations (they operate 14 golf courses) and to help with the staging of the Nanshan China Masters. Nanshan's standing in the golf industry is very high and continues to grow. Nanshan is very closely linked to the China Golf Association and has the CGA Training centre situated at one of their properties. Nanshan is also the leader in Golf education and training in China and is also expanding the education pathways and training here in Australia through Riverside Oaks.
How big an influence do you see Nanshan and other parts of the Chinese golf industry having on Australian golf?
Nanshan and China are already having a large influence on the Australian golf landscape through the purchase and running of many golf courses, many of which may not have survived without their financial help. The link between golf in China and Australia is only going to grow with programs and partnerships established with the PGA of Australia as well as those being established by other parties such as Nanshan Group.
How much money has Nanshan spent in expanding and improving Riverside Oaks since it took over I think in 2009?
Many millions.  They have built a brand new 18-hole championship golf course (Bungool), renovated  and upgraded the original course (including bunkers, tees and greens), opened a new restaurant/function centre, updated the clubhouse, built 36 new resort rooms, housing estate, bought a  new fleet of carts and golf course maintenance machinery.
Riverside Oaks once had one of the largest handicap/club memberships. What is its current standing?
We still have a large membership base. We continue to offer the pay-as-you-play membership but we have also expanded our membership options to include more traditional annual subscription categories such as seven-day, five-day, junior etc.
How many staff does Riverside Oaks employ to keep Sydney's only 36-hole golf complex operating at full capacity?
We currently have 70+ staff, being a mix of permanent and casual across all departments. This is needed due to the large number of weddings, functions and hotel guests that visit the property each year.
Approximately how many rounds are played at Riverside Oaks each year?
About 35,000. Given the warm reception Bungool has received, we expect about  45,000+ next year.
How many residences/houses have been built and how many residents live at Riverside Oaks?
Currently 30 houses with plans to expand to 300 houses in the next few years
Riverside Oaks apparently is ClubCar's biggest customer, how many carts in your fleet?
We are proud of our close relationship with Golf Cart Group and to be their biggest customer of ClubCar golf carts.  We have 120+ golf carts which have Visage GPS units on each.
What is the most satisfying aspect of your role at Riverside Oaks?
That we have slowly been able to turn Riverside Oaks back into one of the top golf resorts in Australia and that it continues to improve all the time.