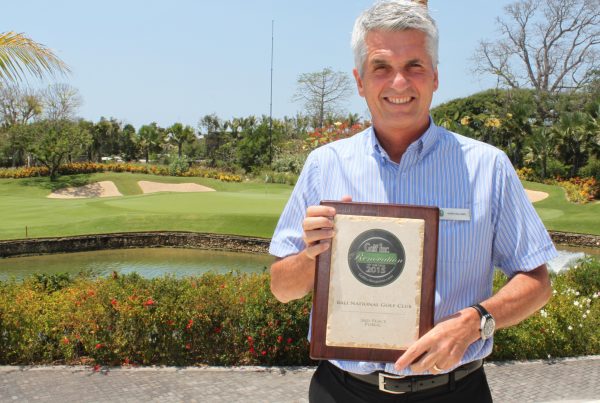 IN the mid-1980s, Mark Holland quit professional tennis to start a career that has led to managing some of the best golf clubs and resorts around the world.
For the past 30 years, he has plied his management skills in the Middle East (Abu Dhabi and Kuwait), Singapore, Korea, Indonesia, Macau, Fiji and Australia where his most recent role was general manager at Links Hope Island Golf Club on the Gold Coast.
"I was at Links Hope Island for just on four years and it was fantastic," Holland said.
"Prior to that, I was the GM at Brookwater Golf Club for almost five years."
Born in England, Holland's first foray in golf management in Australia was with Troon Golf.
"I joined Troon Golf as operations director in Brisbane overseeing their properties, including one in Fiji, as well as getting involved in a few other international projects."
When Hyatt Regency Coolum opened in 1988, Holland was appointed director of recreation.
Today he is general manager at Bali National Golf Club – a first-class facility the equal of any top resort.
For Holland, travel has always been par for the course so when it came to moving his family (wife Jayne and three children) around the globe to further his career it wasn't an issue.
"Initially, it was very easy moving around with children because we always had home help in the countries we lived in, but it became more difficult when they got older," he explained.
"When we left Abu Dhabi our son James was ready for high school so we came back to Australia.
"Now our children are older – 19, 22 and 25.
"We have always travelled and we always thought when the kids were older that if the opportunity to go overseas arose we'd take it.
"So, rather than the kids telling us they are going overseas to live or study mum and dad have gone. We have lived in Indonesia (Bali) before so it's a good fit.
"We knew what to expect and most importantly the project we have here is world-class."
Holland lists Singapore, where he worked at The American Club, as one of his favourite working destinations.
"Both our girls were born there and it's a comfortable place to live," he said.
"The medial facilities and education are very good."
I ask Holland what is the difference between managing a golf club in Australia compared to one overseas.
"In Bali, we have an abundance of staff that are welcoming and their attitude and passion is excellent, but my job is to get the skill level up to an international level," he explained.
"In Australia, payroll and the cost of staff is so expensive that the managers end up doing a lot more of the work because often there is no-one to delegate to.
"As an example, when I was at Links Hope Island we had 10 golf course maintenance staff who maintained the course to a very good level. In Bali, we have almost 100.
So in Bali, you can afford to have more labour because you can't afford some of the machinery that you may have in Australia."
"The way golf is enjoyed in Asia is quite different compared to the way it's played back home.
"In Australia, all clubs have weekly competitions, but there is far more social play, at least here in Bali," said Holland who plays off a "modest 20 handicap".
So was he a better tennis player than a golfer?
"Most definitely," he said. "I played for the Great Britain junior team and for England at senior level and played the Wimbledon Qualifying a couple of times. I wish I had learnt golf at an earlier age.
Still, he can boast playing against players of the calibre of former Wimbledon and US Open champion Stan Smith.
Since moving to Bali, Holland has had to adapt a management style to fit the culture.
"I have worked in different places and each place has a different requirement," he said.
"In a place like Bali, we are work with our staff to implement good training programs. English training and sound operational processes to ensure things run consistently.
"The emphasis is very much on a good personal level of service in all parts of the club."
What advice does he have for GMs wanting to work overseas?
"If there is an opportunity to advance your career in different countries there are advantages to working internationally," he said.
Holland says he is excited about the future of golf in Bali – especially Bali National Golf Club, which boast seven five-star two- and three-bedroom villas overlooking the 18th hole.
There are plans to build more villas and an on-site hotel within the next two years.
FOOTNOTE: Inside Golf recently visited Bali and will have an extensive feature on golf in the January 2016 edition of Inside Golf Travel Magazine.