By Peter Owen
HE would never describe himself as a gambling man, but there's something about Melbourne Cup week that has had a defining effect on the career of Headland Golf Club general manager Matt Lang.
A Victorian, Lang fell in love with Queensland's Sunshine Coast while holidaying every year at Mooloolaba with his family – each trip scheduled for the week of the Melbourne Cup carnival.
And it was on Melbourne Cup Day 2020 that Lang fielded a telephone call from Golf Industry Central's Mike Orloff, who had helped the Headland board in its recruitment process, telling him he'd landed the job as general manager of the iconic Sunshine Coast club.
"The first thing my kids asked was how far the course was from Mooloolaba," Lang said. "When I told them it was only four minutes away, they were sold."
A few weeks later, after making a rushed trip to Queensland to beat the border shutdown that was to prevent southerners entering the state for many months, Lang was ready to go.
Then came his first challenge.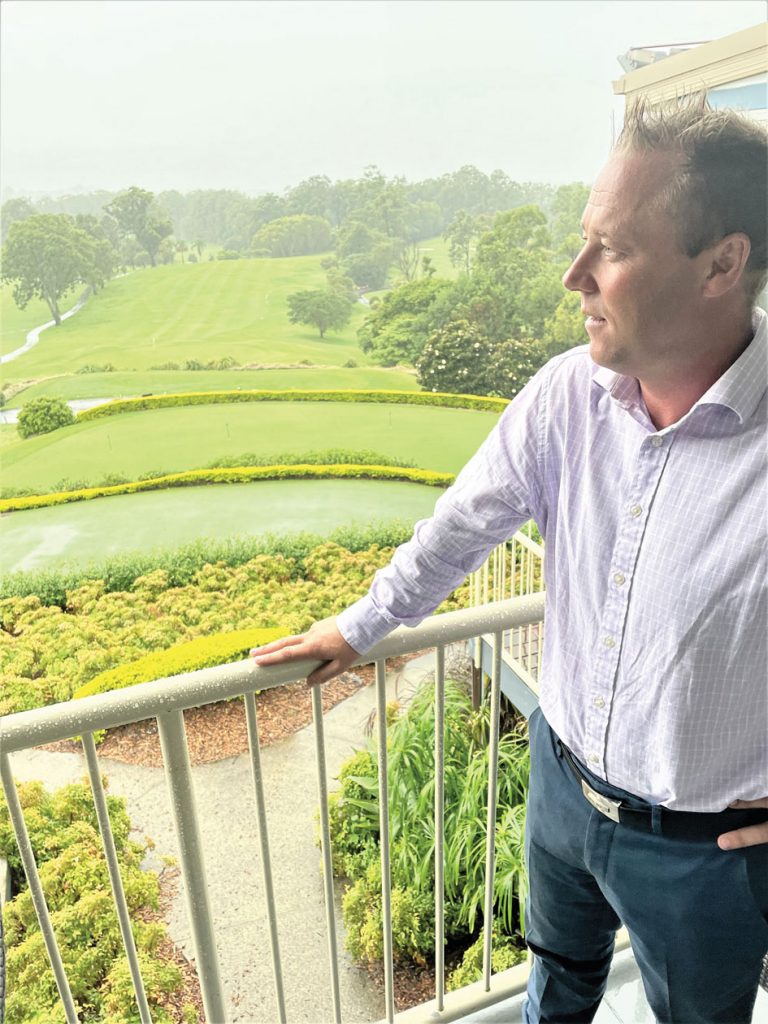 His predecessor Ben Dobson had moved on, and the acting general manager had taken leave – never to return.
"So for the next three months I had two jobs to do – GM and golf operations manager – without the benefit of any sort of handover. I literally had to start from scratch," Lang said.
Not that he's complaining. He reckons he has one of the best jobs in golf.
And, as you sit with him and gaze over this scenic course with the blue Pacific Ocean sparkling in the distance, you appreciate the pull of Headland Golf Club, situated in the dress circle, high above one of Australia's favourite holiday playgrounds.
Matt Lang had all the qualifications for the job.
While studying for a Bachelor of Commerce degree at Deakin University, he landed a 14-day work experience gig at Yarra Yarra Golf Club, which led to a role organising corporate golf days at the esteemed Melbourne club.
Stints at Sandhurst and the National Golf Club saw Lang appointed 2IC at Rosebud, a 36-hole public facility on Victoria's Mornington Peninsula, which hosted February's TPS Victoria event.
But by late 2020, with COVID dominating almost everybody's thoughts, Lang was looking for a new adventure.
That's when he saw an advertisement for the position of general manager at Headland.
He did his research, discussed the opportunity with his Rosebud boss Danny McGrath, and subsequently applied.
A total of 86 candidates sought the job, and Lang had to survive four Zoom interviews before receiving his life-changing Melbourne Cup Day phone call.
Managing a golf club like Headland is a difficult balancing act – ensuring the membership is happy, attracting fee-paying visitors and social golfers, answering to an often demanding board and, always, seeking new and innovative ways of generating income.
One of his first tasks was to oversee the installation of air-conditioning and an extensive renovation of the clubhouse, including the kitchen and dining room, which has always been a popular place for functions, especially weddings.
"There were constant delays and issues with contractors and suppliers," Lang said. "I hadn't then understood the reality that if the surf's pounding, then it's not unusual for subbies to not turn up."
Headland is a popular golf club. Its membership numbers 1000 – 'absolute capacity,' Lang says – and there is a current waiting list of 258.
Lang still marvels at the number of people who play the course.
"At Rosebud we had 36 holes and on a busy day we'd accommodate 400 players," he said. "On Wednesdays and Saturdays – the main competition days at Headland – we handle 360 golfers."
When he arrived he asked the greens superintendent: "Mate, how do you get anything done?"
To help, Lang issued a decree that on busy competition days, when the course had to be presented at its best, early morning social play, before the competition began, would be banned.
He also tinkered with the time sheets to ensure the field moved as efficiently as possible.
Coming from Victoria, where Covid lockdowns became the norm, Lang took a firm stance on upholding Queensland's restrictions.
"I took it more seriously than most of our members," he said. "But it is serious, and we need to follow the rules."
His attention is now turning 'outside', to the golf course, where he feels the bunkers and the irrigation system may soon need attention.
He says he loves living in Queensland and has no plans to leave. His sons Blake, 12, and Chad, 10, have settled in well at Sunshine Coast Grammar.
"I'm very comfortable with what I've achieved here in my first year, and I think I've handled the challenges well," he said.
Lang says he's not the sort of person who takes on a job for a short period, and then leaves.
"Wherever I go I commit to at least four years," he said. "I'm not planning to go anywhere soon."