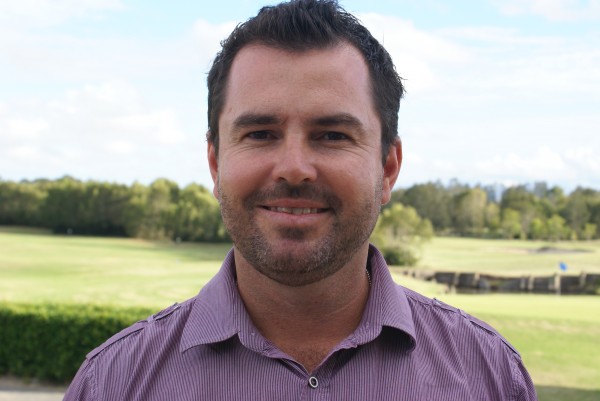 BEING a golf club manager and a rules expert can be equally challenging, says Scott Wagstaff.
Scott is the general manager at Carbrook Golf Club in Brisbane's southeast and each year acts as a rules official at the Australian Open so he should know.
The 37-year-old, known as the Shark Whisperer by some of his peers, has been at the helm at Carbrook for four years.
Why Shark Whisperer?
Well, not long after taking on the role Scott called me to say there were a number of large sharks residing in the club's main dam.
At first, I dismissed it as a publicity stunt.
So he grabbed his camera, dumped an unclaimed meat tray in the dam and filmed the sharks feasting on the meat.
Since posting the footage on YouTube there has been more than 2.2 million hits worldwide and wary golfers no longer retrieve balls from the dam.
Scott loves his job and is equally passionate about the Rules of Golf – a knowledge he acquired while working as golf operations manager at Golf Queensland.
He has officiated at eight Australian Opens and a number of Australian PGA Championships mostly without incident, but there have been a few run-ins with disgruntled players.
As part of the job, Scott once had to tell another Scott (Adam) he was not entitled to relief.
"He wasn't too happy about it, but accepted it," Scott said.
Rules officials certainly have to have a thick skin.
At New South Wales in 2009, Scott copped a verbal blast from a player after denying him relief.
"He wanted relief from a catering stand and the relief option was in a bush," Scott explained. "He should have been able to get better relief but the Local Rules didn't consider this scenario.
"Understandably, he wasn't happy and he gave me quite a spray. I felt terrible in giving this ruling, which was extremely unfair.
"Eventually, after some discussion, the head referee, after considering the situation, gave the player the relief he should have got which was the right decision.
"He cooled down and apologised to me later for what he had said."
Still, Scott says the job has given him opportunities afforded few people.
"I have been blessed with my Rules officiating," he said. "A couple that I will cherish are being Rules official for the final group in the 2011 Australian Open at The Lakes, which included Tiger Woods and Peter O'Malley.
"It was great to meet Tiger and watch him play, especially as the crowds and atmosphere were amazing.
"He is a phenomenal talent and while I have seen many players play, he is easily the most talented and impressive person I have watched.
"I was also invited to be part of the Rules team for the 2011 Presidents Cup at Royal Melbourne, which was an absolute privilege. The US PGA Tour, who run the event, are certainly in a class of their own when it comes to managing golf events. It was an amazing experience."
Scott has come full circle at Carbrook.
He did his traineeship there under the guidance of long-serving club professional Tony Di Tomasso.
Di Tomasso is still there, but he now answers to his former trainee.
"Tony was a good boss," he said. "We continue to have a good working relationship because Tony will always go the extra mile.
"Many other managers don't have that luxury."
Scott developed a good work ethic while working towards a Bachelor of Business degree in the mid-1990s.
"While I was studying I worked as a pizza delivery driver before moving into a management role," he said.
"Towards the end of my degree I realised golf was my passion and I decided to do a traineeship.
"I aspired to be a playing professional and played full-time after I finished my traineeship.
"I played a full season and came to the realisation I wasn't going to be a good enough player."
By then the travel bug bit and Scott headed for Ireland where he landed a job any young Aussie would crave.
"I worked as a plainclothes security guard in the tourist centre at the Guinness Brewery in Dublin," Scott said.
Naturally, he acquired a taste for the liquid gold and quite a few pints passed his lips.
When his visa expired, he relocated to Scotland and spent six months in an administration role at the Royal Bank of Scotland.
"I decided to come back to the family business in Australia and worked with dad, who was a mortgage broker," he said.
"After six months I realised it wasn't want I wanted to do.
"I applied to the Queensland Golf Union (now Golf Queensland) to get back my amateur status. They were looking for someone to work in admin so I applied and got the job and later I was promoted to manager of golf operations."
When CEO Stephen Pitt left to head up Golf Australia, Scott applied for the CEOs role at GQ but was unsuccessful.
He was looking for new challenges when Carbrook Golf Club approached him.
"Golf club management wasn't what I really aspired to do, but it did fit my skill set and I have enjoyed it and love the club life.
"I enjoy the fact that you are much closer to the end user. You can make a bigger difference in a club environment.
"If you want to make changes, you can. It was more challenging in my last job because you are relying on districts and clubs to make the change.
"I have very supportive board so I am happy in my work.
"The club is heading in the right direction. It's a metropolitan club with a country golf club feel.
"It's friendly, welcoming and has a relaxed experience and the golf course is now very good," Scott said.
Away from the rigors of work and officiating on the rules, Scott enjoys camping with his young family.
"I love camping," he said. "We have camper trailer and try to get away as often as possible. I also play a bit of indoor cricket to keep me fit."