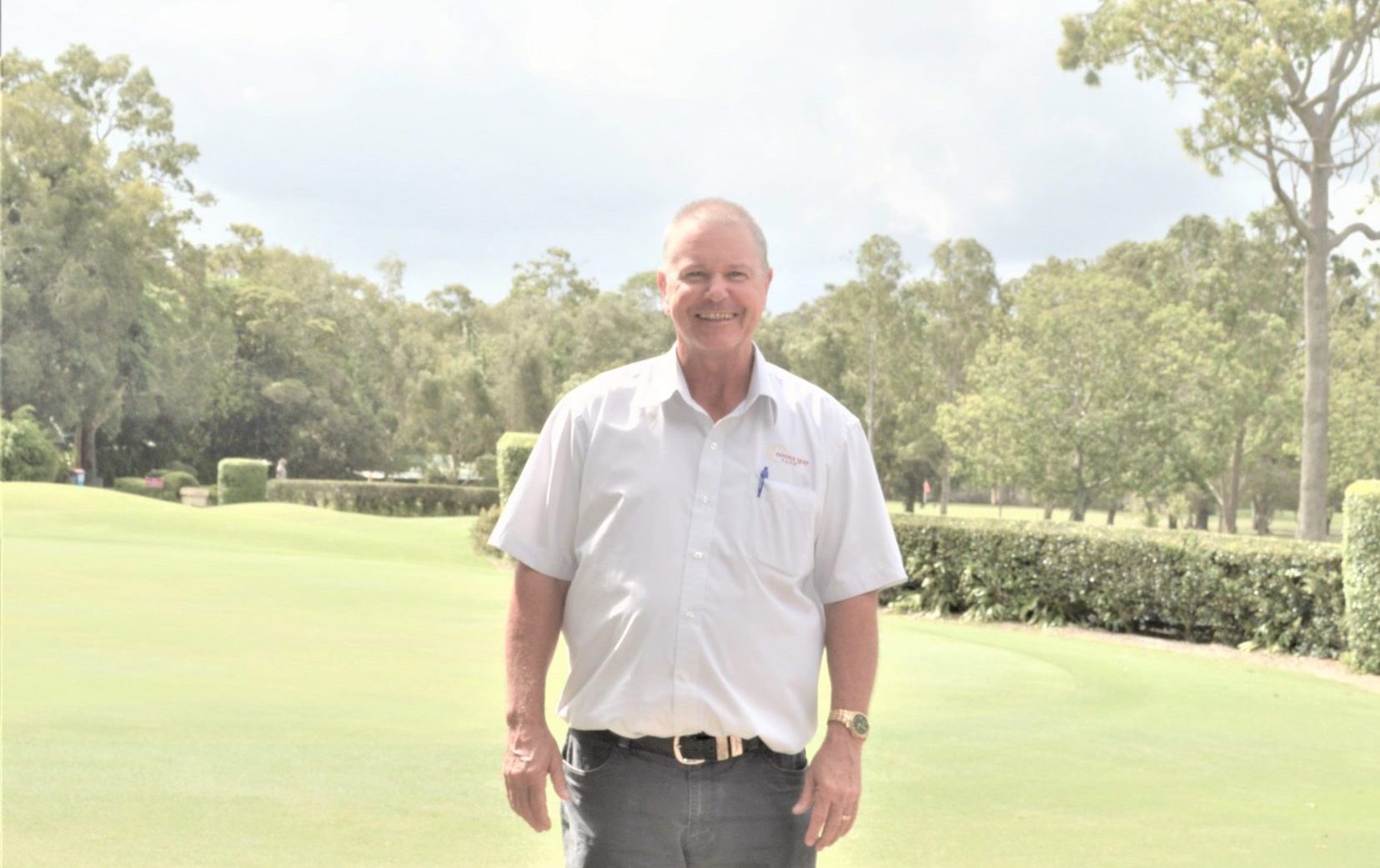 ALLAN Harris has been at the helm at Noosa Golf Club for 12 years and, although his pathway to the top job was "unusual", hard work and common sense has paid dividends.
Harris's working life began in the timber industry at Mount Gambier in South Australia and later Victoria and Queensland where he held a number of management positions.
"I left Victoria in the late-1980s to take up a position managing a sawmill operation on the Gold Coast," he told Inside Golf.
"Then I went to work for Hyne Timber, a Queensland family business specialising in timber treatment.
"I managed two operations – one at Yandina and another at Maryborough."
Harris joined Noosa Golf Club as a playing member two decades ago and had a couple of stints on the committee including rising to vice-president.
"When I was vice-president the club had a bad run with managers," he explained.
"The club then employed a temporary manager to run the place for 12 months to sort out the club financially, but he resigned for personal reasons.
"At that point I was interested in the job, applied and went through the process like every other applicant."
When Harris took on the top job the club was not in the best shape financially, but his business acumen soon had the club turning a profit.
"Since then we have made a profit every year and that has been pleasing," he said.
"Our good financial position means we have been able to spend a lot of money on the golf course improving the drainage and laying cart paths that now allow access for motorised carts in all conditions."
Another challenge Harris faced early in the role was staffing.
"Initially, it was about getting the right staff to stay on top of members' expectations," he said.
"Now we have great staff and they certainly do take care of the members' needs."
For the record, Noosa Golf Club has 27 staff, 950 playing members and 650 social members.
Formerly known as Tewantin-Noosa Golf Club, the club's name change a few years ago did not please some of the members.
"Initially the older members were a little angry about the name change, but everybody is supportive now," Harris said.
"Trading as Noosa Golf Club has had a positive influence on the club."
"The club offers a unique golfing experience for both members and guests and the golf course continues to improve every year.
"We have good backup facilities with the two-storey clubhouse, bar and bistro."
Located on the top floor of the clubhouse, bar and bistro is one of Tewantin's most popular dining and entertainment venues.
It features indoor and outdoor lounge and dining areas and stunning golf course views.
The clubhouse also features private function spaces.
Noosa Golf Club also has a great pro shop with friendly staff.
Harris, who operates with an open-door policy for both staff and members, has increased clubhouse activities with trivia nights and other functions.
He says that would not have been possible without the support of the club's board.
"I have been very lucky and blessed with good committees over the years," he said.
Now the popular Sunshine Coast club is about to sign off on a masterplan that includes rebuilding all 19 greens and building a 20th hole.
"The layout won't change much," Harris said.
"It's just a matter of tweaking here and there and there will be less areas of sand."
Something the members won't mind at all.
"I enjoy managing the club because we have wonderful, friendly members and I love interacting with them," he said.
In fact, Harris often ditches his general manager's hat and becomes "one of the boys" travelling to play golf within Australia and overseas with some of the members.
"I'm a bit of a golf tragic," admitted Harris, who plays off a competitive 10 handicap.
"I enjoy travelling away with the members and we have been to Tasmania, New Zealand a couple of times, Thailand, Singapore and Fiji.
"One of the club's members organises the trips and I go along as one of the boys."
Noosa Golf Club isn't short of famous sporting faces.
Oftentimes, you'll see the likes of rugby's Michael O'Connor and Rod McCall and former Australian cricket coach Darren Lehmann honing their golfing skills on the range and course.
"We have a number of members who represented Australia in different sports," Harris said proudly.
I ask Harris where he sees himself in five years.
"Retired, I hope," he said.
"I'll be 66 then so if my darling wife Anna would allow me I will retire."