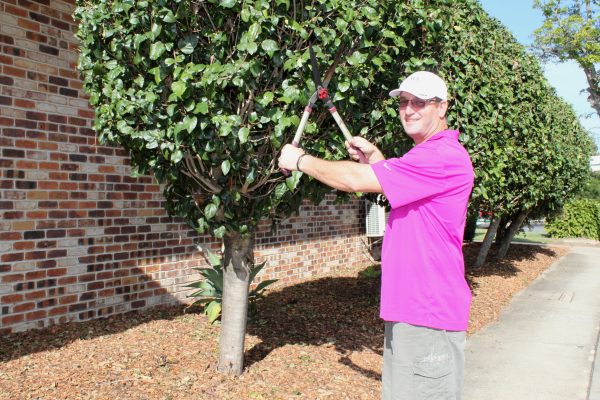 AS a nightclub bouncer, prison officer and pub manager, Aaron Muirhead knew a thing or two about keeping people in check.
But having spent close to a decade in irksome jobs he decided to change careers and now works as the general manager at Nudgee Golf Club in Brisbane.
The prison system and the pub game's loss was, however, the golf industry's gain.
I ask Muirhead, who started his working life as an auto-electrician and later owned and operated a concrete truck, how he landed a job in golf club management.
"After getting out of prisons, I went into managing hotels in the pub game," said Muirhead, who earlier worked at the maximum security Sir David Longlands and Arthur Gorrie prisons and later at the Curtin Immigration Detention Centre.
"A friend asked me to manage a pub for him and it progressed into a few different pubs.
"The club industry became an interest and when the Carbrook Golf Club job came up I applied and the club's then president Trevor White offered me the job," he explained. "I accepted and haven't really looked back."
Muirhead, president of GMA (Qld), is not your run-of-the-mill metropolitan golf club manager as I found out when I turned up to interview him.
An enthusiastic and energetic man, Muirhead emerged from behind shrubbery carrying secateurs.
"I'm just helping the ground staff clean up some of the gardens in readiness for a big three-day event on the weekend (AMITEE)," he explained.
A day earlier, he was painting to ensure the club and surrounds looked a picture.
Attention to detail is everything to Muirhead, who is currently working his way through the land resumption of eight holes to make way for the improved Gateway Arterial Road.
Part of the process is to seek compensation and for lost holes to be replaced.
"This is possibly the biggest thing to happen to the club and there will be significant challenges over the next few years," he said.
Muirhead's mantra is to ensure small issues don't escalate into major issues.
"If you concentrate on the smaller issues and get them right they won't end up becoming big issues," he said.
Since arriving at Nudgee 18 months ago, Muirhead has opened up the communication channels between management and the membership.
"It's important to communicate with the members and keep them informed," said the 2011 Queensland club manager of the year. "Making the members feel special is important."
And when it comes to managing the club's staff, Muirhead has an open door policy.
"People management can be a massive challenge because you have different demographics, differing opinions and styles in each person," he said.
"And I'm hands-on and don't mind doing some gardening and painting to make sure a big event goes off the way I want it to, the way the board and membership expects it to."
Like all good managers, he understands what needs to be done, and appreciates being allowed to get on with it.
A father of three, Muirhead also jumps in feet first when it comes to helping the less fortunate.
During Queensland's big wet, Muirhead organised clean-up teams and the collection of tables and chairs and other items some clubs had lost in the flood.
And he organised a golf day with the proceeds shared among people who were housed in the tent city in Bundaberg and the evacuation centre in the Lockyer Valley.
Only last month, Muirhead, for the second successive year, attended the Vinnies CEO sleepout.
"Approximately 160 executives attended," he said. "The Queensland sleepout raised $755,000 and the national tally was $5.3 million.
"It was a very humbling experience to meet some of the homeless that Vinnies support."
Muirhead was the only Queensland club manager to support the event.
The Aaron Muirhead file

Family: Wife Kim and three children

Where did you grow up? I was born in Ipswich and went to Ipswich Grammar.

What sort of golfer are you: Average is being a little complimentary.

Handicap: 12.

Strength: Hitting the ball long, but not necessarily where it should go.

Best shot: My 190-200m second shot using a five-wood that dropped in for an albatross on the 18th at Royal Pines.

Best sports memories: Playing under-15 for southeast Queensland rugby league and being a member of the First XI cricket team at Ipswich Grammar.

Favourite course other than Nudgee: NSW is the most picturesque, but I lost that many balls and I reckon David Burton (GM) owns me about two dozen.

Favourite sport other than golf: rugby league.

Favourite team/s: Broncos and the Titans because I live on the Gold Coast

Favourite holiday destination: When I went to GMA conference in the US we went down to Puerto Rico after.

What are you good at?

I reckon I'm alright on a barbeque. Not sure what other people think.

What are you no good at? Keeping my garden shed clean and tidy. I can never find anything in it.

When I was a child, I wanted to be … aPE teacher

The book I'm reading is … Meetings, Procedures, Chairmen and Secretaries.

Name five people you'd like to invite to dinner: Barack Obama, Nelson Mandela, Greg Norman, Adam Scott and Oprah Winfrey.