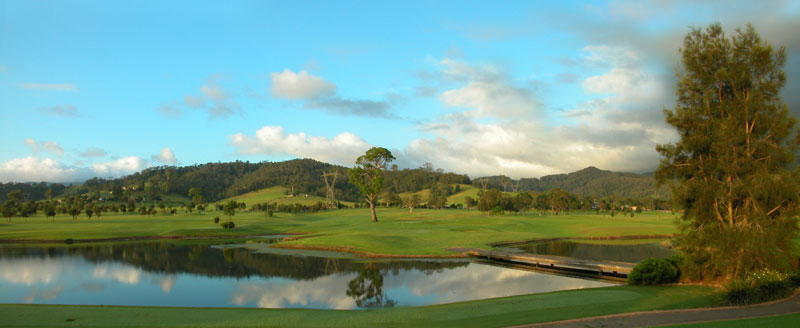 The Princes Highway stretching from Wollongong to the Sapphire Coast is arguably one of the best golf trails in the country. Dotted between Wollongong and the New South Wales / Victorian border are a diverse arrayof golf courses. From seaside links to stunning parkland designs, this part of Australia is becoming increasingly popular with golfers from Melbourne,Sydney and Canberra. Finding a course along this stretch isn't difficult. You'll rarely have to drive far to come across a gem of a layout. When you find some time off the course, be sure to take in the region's many attractions. Great beaches and wineries make it an ideal destination for families and groups of golf mates.
Calderwood Valley – The south coast's friendliest golfing facility
IT'S little surprise that Calderwood Valley is so popular with social golfers. The course was built and designed for social groups and players. With no need to work around competition days the course is theirs seven days a week.
Nestled in a picturesque valley 20 minutes south of Wollongong, the Ken McKay designed course offers a relaxed round. Each of the 18 holes has its unique features, combining clear creeks, native plant species, and stunning scenery. The breathtaking surrounds feature the rugged Illawarra escarpment as a backdrop.
The course is always immaculately presented with well contoured fairways and true greens. There are 18 beautiful holes, but the 6th is the usual favourite. It's not the toughest hole but definitely the most picturesque.
And best of all, you don't need to travel far when you've completed the game. The accommodation is right there – just a short stroll from the 18th green.
Calderwood Valley welcomes social group bookings. The weekday discount for groups of 12 or more players brings the green fees down to $16 each. Every group of 24 or more players receive a free shirt when mentioning Inside Golf.  They also have weekday discounts for senior card holders at $14 each.
Being a locally owned and operated business, Calderwood Valley take pride in their course and the service they provide. They love to have visiting golfers and they'll treat you like the valued patrons you are.
Be sure to book ahead and speak with the friendly staff who are sure to make your next visit memorable.
(02) 4256 3055.  www.calderwoodgolf.com.au
Wollongong has the lot
There aren't too many golf clubs in Australia like Wollongong Golf Club.
That's because they've got everything you need all in the one place. The club boasts one of the region's best golf courses and superb on-site accommodation.
And it's not just amateur golfers who are raving about the course. Golf pros also agree that it's a superb course with wonderful facilities.
Wollongong Golf Club is ideally placed to cater for the visiting golf market.
And it certainly makes for a "must do" for any golfer looking to enjoy a short break. The club caters for social groups and even has allocated tee times for non members on a Saturday.
Better still, you only have to contact the club and they'll arrange a fully inclusive golf package that combines golf tee times and accommodation.
Wollongong Golf Club has a first class golf shop and a modern fleet of carts complete with the latest GPS technology.
To inquire about staying at Wollongong Golf Club phone (02) 4222 3111 or visit www.wollongonggolfclub.com.au
Great value at Pambula Merimbula
The Pambula Merimbula Golf Club is one of the most popular and successful golf clubs and golfing destinations on the Far South Coast of New South Wales.
Located just a few minutes from the centre of town in Merimbula, the 27-hole golf facility is widely regarded by amateur and professional golfers alike. The Club hosts over 70,000 rounds of golf per year, with approximately 40,000 of these being visitors to the Far South Coast.
The club held the NSW PGA for several years, and continues to host a number of major amateur competitions.  The club also hosts 2 major golfing tournaments each year: The Ace of Clubs is held in June and is played across 4 different courses on the Far South Coast, while the Week of Golf in October has been held for 30 years and is one of the largest amateur golfing events in Australia. It is widely regarded as one of the best tournaments for golfers in Australia with visitors from every state, and several contingents from overseas each year. The event should be on every golfer's calendar, with approximately 800 players playing a variety of competitions over 8 days in a tremendously friendly, carnival atmosphere,
The Pambula Merimbula course offers a good test for any standard of player. The facilities include 27 beautifully manicured golf holes cut through natural Australian bush land, with modern clubhouse facilities that provide commanding views over the course toward the pristine Merimbula Lakes and beautiful Merimbula township beyond. The natural environment boasts an abundance of native wildlife, and provides an outstanding golfing experience for everybody, including the relatively inexperienced. The course is a relatively easy walk, or motorised carts are available
The Club's Glasshouse Restaurant delivers some of the best food in the area, with seasonal menus and a great selection of local produce. The Clubhouse and restaurant are friendly, relaxing, warm and inviting and provide an experience above the rest for all visitors. The attractive menu and wine list add to patrons' pleasure. Live entertainment is regularly available throughout the year.
Most visitors to Merimbula often stay a few nights to enjoy the course, so the club has a weekly green fee that offers exceptional value for money. Play and stay packages can also be arranged through the club directly.
To find out more, phone the Pambula Merimbula Golf Club on (02) 6495 6154 or visit www.merimbulagolf.com.au
Amazing views at The Tura Beach Country Club
Club Sapphire Tura is referred to as "the club with the million dollar views". A marvelous setting overlooking the Pacific Ocean is why.
This superb 18-hole layout has a reputation of being 'the golfers' golf course' and will in time become one of the great courses of New South Wales.
The course itself is tough but not unfair. Large greens (some tiered) and stiff winds — a crucial factor on any seaside course — add to the difficulty.
It becomes obvious that designer Peter Thomson's love of links type courses influenced many of the holes here.
If a real golfing challenge is what you want, look no further than Tura Beach. Peter Thomson and Mike Wolveridge, one of Australia's most respected golf course design partnerships, were given a magnificent piece of land with which to ply their trade. The result of their labour was the Tura Beach Golf Course, a course of championship standard, measuring 6,018 metres, boasting a par of 73 against an Australian course rating of 72.
Each nine has its own special set of challenges, with stand out holes being the water carry par-three fifth, the tricky par-three ninth and the water-protected par-five eleventh hole.
Club Sapphire Tura, through its parent body Club Sapphire Merimbula, also offers members and visitors the added facilities of magnificent bowling greens and two synthetic tennis courts.
Throw in the beach, located alongside the 4th fairway, and you have the ultimate holiday destination.
The club professional at Tura Beach is Scott Tasker who will be only too willing to offer assistance or advice to visitors and members alike. Scott and his staff also provide information on a number of tournaments the club has to offer.
Club Sapphire Tura is located five kilometres north of Merimbula along Sapphire Coast Drive. With an interest for everyone, the Club offers patrons facilities such as Keno, TAB, SKY Racing, regular live entertainment, a courtesy bus and a restaurant with "million dollar views" over the golf course to complement the best food and service in the region.
For more information call (02) 6495 9002 or visit www.clubsapphire.com.au
Catalina – a one stop golf destination
Catalina Country Club is one golf course you just can't ignore. The 27-hole club is widely regarded as one of Australia's most progressive.
That's because it offers everything a five-star resort can but at a price which is affordable for everyone.
"Our biggest advantage here is that we have 27 holes which means we can cope with the large numbers of people who want to play the course," club professional Nigel Wilson said.
"Even on Saturdays we have tee times available for social and group play."
Wilson said there had been a lot of hard work done to make the club a destination in its own right. Catalina Country Club is also moving to become one of the state's top event driven destinations. The club already plays host to the PGA Futures tournament, the national trainee title as well as the Jack Newton Junior Golf Foundation state age championship.
"We've got the perfect facility to host these events and the feedback we've had has been fantastic.
"The experience we get from hosting these events also makes us better at catering to large and small groups who visit here."
Aside from golf, Bateman's Bay is home to countless off course activities with stunning scenery and some of the best fishing in Australia.
There are "play and stay" packages at Catalina Country Club to suit all budgets. For bookings phone (02) 4472 4022 or visit www.catalinacountryclub.com.au
Sapphire Coast gem
With plenty of space, fresh air and freedom, Eden Gardens Country Club is one of the best kept golfing secrets in Australia.
Abundant wildlife, a quality collection of holes and one of the friendliest clubhouses between Melbourne and Sydney, it is an ideal spot for a south coast getaway.
Just three hours from Canberra, Eden is a popular holiday spot with tourists from that part of the world but daily flights into the nearby Merimbula Airport from both Sydney and Melbourne make it easily accessible from the major centres as well.
Eden is the southern getaway to the stunning Sapphire Coast and the picturesque Eden Gardens Country Club is a golf course that benefits from its location.
Amoung the club's other facilities are two bowling greens, a relaxing beer garden and excellent Chinese bistro. And with the Sapphire Coast Golf School on site, Eden Gardens really is a one stop golf and holiday destination.
For further information visit the website at www.edengardenscountryclub.com.au or phone (02) 6496 1126.
School's in at Sapphire Coast Golf School
Is there anything worse than going away for a golf trip, or your on holidays, with the perfect opportunity to play golf every day and you find yourself struggling and not enjoying yourself?
If this has happened to you, then Sapphire CoastGolf School is the place to turn things around.
Run by AAA rated PGA Professionals Lisa Newling and Loraine Lambert, the school is located at the stunning Eden Gardens Country Club and offers the perfect way to combine golf tuition and a holiday.
The schools are designed to cater for individuals or those who want to attend with a group of friends.
Eden Gardens Country Club is one of the Sapphire Coast's real hidden gems, because of this it is a very friendly and relaxed environment to play golf.
You could easily spend a week in this part of the world, playing golf, bushwalking, whale watching, lazing on the beach and fishing.
The quality of the local seafood is excellent. And that's not surprising given Eden is well-known for its fresh fish, muscles and oysters.
There is plenty of accommodation in Eden from four-and-a-half-star motels to very modern caravan parks close to the Eden Gardens Country Club.
While there is no questioning the quality of the golf course, the tuition you will get from Lisa and Loraine while you're at the school will make your playing experience more enjoyable.
Both Certified Club Fitters and Titleist Performance Institute Fitness Instructors, there isn't an area of the game these two can't assist with.
Over the past 18 months they've had a lot of success with golfers suffering the dreaded "yips". If you're having problems with your putting and you have more than three putters in the garage, come and visit the Sapphire Coast Golf School, because they can help.
The great thing about the golf schools and instruction is there's easy access to the golf course.
"We like to see you take the new techniques you've learnt from the driving range to the golf course," Lisa explained.
Lisa and Loraine can tailor a package to suit your needs. Merimbula airport is nearby and is easily accessible from Sydney and Melbourne. Canberra is just a three hour drive.
For more information on the instruction at Sapphire Coast Golf Schools and accommodation available please log on to the website at www.sapphirecoastgolfschool.com.au or phone Lisa or Loraine on (02) 6496 1054.