It's the sort of "Rock Star" treatment that's usually enjoyed by the ultra-wealthy or PGA TOUR pros. But now, it's available to everyday golfers. And once you try it out, you may never want to go back to commercial air travel again.
IMAGINE your dream golfing trip: You rock up to the airport, find a quick (and free) carpark, bypass all the check-in/baggage/security queues, and make your way straight to your own personally-chartered, executive-style aircraft. Buckled in to your comfy leather seat by the window, you are whisked into the sky. A quick 45 minutes later, you land on a private airstrip which is just metres from one of the world's best golf courses. You casually hop on to a special golf cart and are driven to the clubhouse…where your clubs, tee time and overnight accommodation are all arranged for you. After a coffee and/or a quick warm-up on the range—you are soon playing 18 of the most spectacular golf holes ever designed.
All this in the same amount of time that it would take a normal commercial flight to just get off the ground.
It's the sort of "Rock Star" treatment that's usually enjoyed by the ultra-wealthy or PGA TOUR pros. But now, it's available to everyday golfers. And once you try it out, you may never want to go back to commercial air travel again.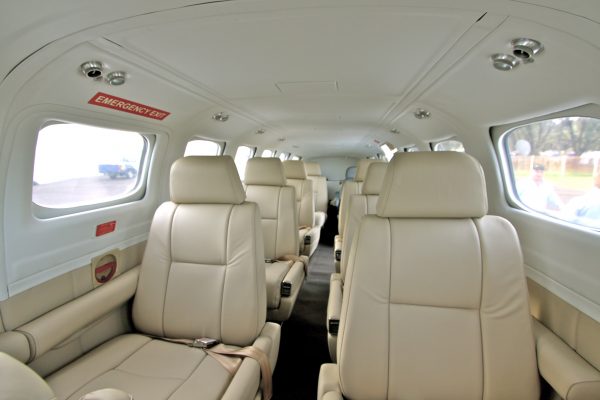 It's made possible by Air Adventure Australia – a charter aviation company out of Melbourne. A family-owned and operated business, Air Adventure Australia specialise in high-end air safaris to the Australian outback, Cape York, the Kimberley, Lake Eyre and Kangaroo Island, as well as golf-specific adventures to Tasmania and King Island.
We recently flew Air Adventure Australia's Barnbougle Dunes/King Island adventure tour, and we can honestly say that it was a first-class experience all the way. Owner/Operator John Dyer has put together a package that is more than just golf – it's an all-out experience.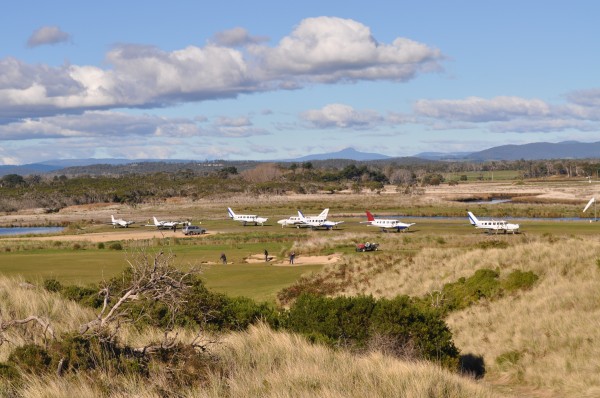 After your short flight from the mainland aboard your 10-seat Cessna Conquest, your first day of the three-day tour includes 18 holes at the spectacular Barnbougle Dunes, rated Australia's Number 1 public access golf course. This links-style course is an absolute must-play on any golfers' bucket list, and features sweeping views, a variety of challenges for golfers of all levels and plenty of risk-reward options.
Barnbougle Dunes is a true golfer's golf course. It's for the traditionalists who adore rugged, raw, "knock-down, bump-and-run-the-way-the-game-was-meant-to-be-played" golf. It's a humbling, awe-inspiring course that demands accuracy, exceptional course management skills, and a smidgen of good-old-fashioned risk-taking "guts".
Golf purists will revel in Barnbougle's simple, non-commercial splendour, and the absence of the modern-era "just make it long" mentality. Golf tragics will become mesmerised with the sheer work-of-art beauty of each hole, and the Zen-like feel of the course itself.
Following your round, you'll retire to the comfort and tranquillity of your Ocean View suite at the Lost Farm Lodge, which features all the amenities and style of a world-class resort.  Over the next two nights, you can indulge in the top-quality, locally-sourced food at the restaurant; relax in the tranquil oasis of the Spa, or simply catch up with your partners for a beverage at the fully-equipped Sports Bar.  At Lost Farm Lodge, it's high-quality all the way.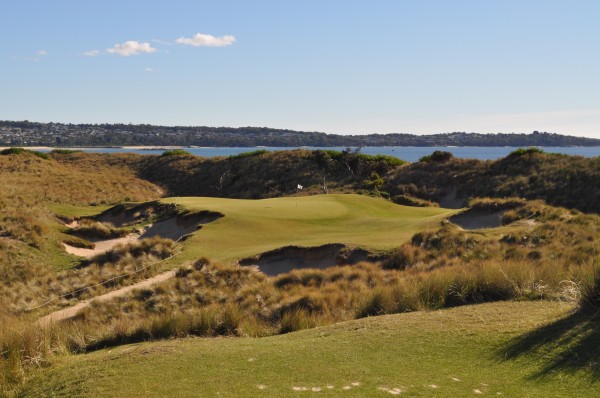 The next day is back to the golf, with 18 holes at Lost Farm, the younger "sister course" to Barnbougle Dunes. While just as picturesque, Lost Farm offers a distinctly different golfing experience to its older sister; wide-open, more forgiving fairways, less undulations around the greens, and more options for the higher handicapper to golf their way around the course without losing a bagful of balls.
Mind you, this is not an easy course by any stretch. It will still bring you to your knees if you aren't careful. The ball-grabbing marram grass and cavernous bunkers are but a few of the hazards you'll experience along the way. And if the course itself isn't enough of a challenge, there are also the thieving crows to contend with, as they will occasionally snatch golf balls from the fairway—sometimes thwarting the rare perfect drive! These balls usually end up in the crows' secret stash (which then somehow magically make their way to the pro shop's bulk ball bin for resale! Conspiracy theorists unite!)
Lost Farm features a unique 20-hole layout, with a pair of extra par-3s for those wishing to squeeze in every bit of golf they can muster. The holes—13a and 18a—are both short but extremely difficult, and definitely worth having a go. Besides, it gives you two extra chances for a hole-in-one!
Both Barnbougle Dunes and Lost Farm are walking-only courses (a motorised cart can be arranged in advance, but you will need to be driven around by a staff member/guide). The Lost Farm is a bit flatter than Barnbougle Dunes, but both are equally walkable, especially with the great Big Wheel pull buggies on offer from the pro shop.
Day Three begins with an early breakfast, and a farewell to Tassie (but if you get up early enough, you may even be able to sneak in a cheeky few holes before the flight.) Back on board the Cessna, you make a quick 30-minute island-hop to the picturesque King Island, famous for its world-class cheeses and produce. And with two brand-new 18-hole golf courses currently undergoing construction, King Island is shaping up to be one of Australia's next "go-to" golfing destinations.
Once on King island, you'll get the unique chance to visit the King Island Dairy, where you'll taste a huge selection from their vast array of mouth-watering cheeses, and get the opportunity to stock up on these delights at highly-discounted "cellar door" prices.
You'll also make your way to King Island Golf Course, a challenging and picturesque 9-hole beauty that will challenge every part of your game.  Situated smack dab on the rugged and beautiful coastline, KIGC has some of the most beautiful golf holes in Australia, including the 150m par-3 third hole, which is a tricky and demanding downhill beauty that is framed by the crashing surf beyond. When the wind is up, driver may not be enough here!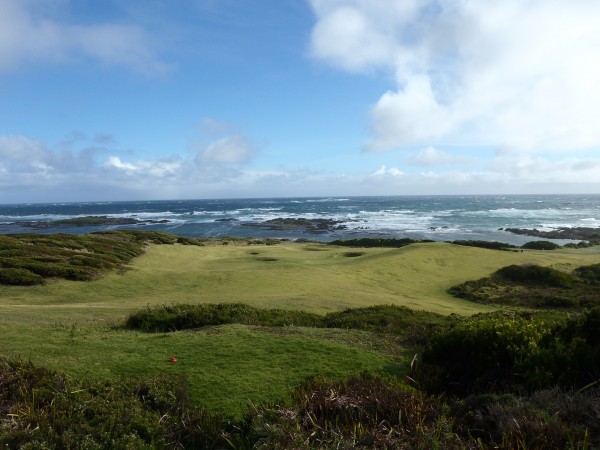 The par-4 fifth hole is also a beauty; a dog-leg left around a small bay that gives the bigger hitters the option of cutting the corner—if they dare!
For the uninitiated, playing KIGC can be a bit confusing. Many of the tee shots are blind, and a few of the greens are not necessarily where you may expect. There are also some alternate tee boxes and greens throughout, so be sure to get clear directions from a member prior to playing (especially on the first).  But it is a very enjoyable course, and requires pinpoint accuracy for most of your tee shots. A vastly different round of golf than anything you may have ever played, it is one to tick off your bucket list.
Following your round, you'll hop back onto your Cessna which, like all chartered air adventures, is patiently waiting for you—thereby alleviating the usual stress of missed flights, etc. A quick 30 minutes later, and you're off the plane, bags in hand, happy and stress-free from your Tassie adventure. Now THAT'S the way to travel!
Air Adventure Australia's Barnbougle packages are very affordable. The cost for the three-day Tasmania/KI tour is $1790 per person (twin share) which includes return airfare from Essendon Airport (with free car parking), premium accommodation, full breakfast both days,  36 holes of golf at Barnbougle Dunes/Lost Farm, 9 holes at King Island and buggy/bag hire (if necessary), and all on-ground transfers, including King Island Dairy.
All up, it represents great value.
Most importantly, you will save HOURS of travel time versus a commercial flight. Consider this: my last commercial flight from Melbourne to Barnbougle chewed up a massive 6 hours (with parking, checking in, oversize bag check, security, waiting to board, 60-minute flight, baggage collection in Launceston, sorting the rental car and then the 90-minute drive from Launceston to Barnbougle Dunes, sorting my clubs, etc.)
Flying via Air Adventure Australia, however, and it was only two hours from takeoff to tee-off.
That's a savings of four hours. That's a full round of golf.
I'm sold!
For more information, visit www.airadventure.com.au, or phone 1800 033 160.
GALLERY OF KING ISLAND GOLF CLUB
| King Island Golf Club First Tee | King Island Golf Club First fairway | King Island Golf Club 1st Green |
| --- | --- | --- |
| | | |
| Dogleg-right, Par 4. You actually need to hit over a strand of trees to find the correct fairway | Your second shot can be confusing if you don't know where to go – the green is hidden | Looking back on the 1st fairway |
| King Island Golf Club 2nd Tee | King Island Golf Club 2nd Green | King Island Golf Club Fairways |
| | | |
| The second is an uphill tee shot over a large mound. OOB on the left. Green is on the left side. | Looking back on 2nd fairway. | From the second fairway, looking back at clubhouse. Note the tree – this is one windy course. |
| King Island Golf Club 3rd Hole | King Island Golf Club 4th Tee | King Island Golf Club 4th Green |
| | | |
| Downhill par-3 into the wind. Spectacular view. But very difficult to make the green | Teeing off with the ocean at your back. The fairway and green are blind shots, so just aim for the middle of the fairway. | A flat, small green guarded by water. |
| King Island Golf Club 5th tee | King Island Golf Club 5th green | King Island Golf Club 6th Green |
| | | |
| A beautiful dogleg-left hole with a risk-reward option. Either take the safe route on the right, or go for glory over the bay. | Looking back on the 5th. The clouds have come in, and the wind is howling. | This hole is an uphill par-4, and very tough. It was also our last hole of the day, as the rain started bucketing down. |
| King Island Golf Club 9th Green | King Island Golf Club clubhouse | King Island Golf Club elevation |
| | | |
| Looking back on the par-3 9th green, with the tee in the distance. | Comfortable and warm, the clubhouse is a great spot to chat about your round. | A magnificent view of the course from the first. |