RACV Torquay Resort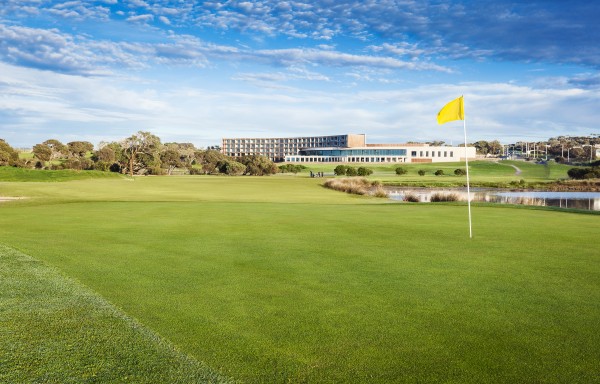 Located at 1 Great Ocean Road, RACV Torquay Resort sits at the start of Victoria's premier tourist drive destination and is a leisurely 75 minutes' drive from Melbourne.
Perched within the backdrop of the Torquay and Jan Juc beaches, the resort is set on an expansive golf course with
spectacular ocean views and beach access.
Opened in June 2013, the resort is an architectural delight, featuring rammed earth walls and gentle curves that mirror that of the landscape. Featuring 92 ocean or golf course view rooms and suites, conference facilities, day spa with Turkish Hammam bathing area and a full Restaurant, Bistro and bar, the resort has everything for your quick getaway, corporate package or golfing adventure.
For the non-golfers in your group, there are two multipurpose flood-lit tennis courts, a 25m heated indoor pool, gym, spa and sauna. there is even a children's playground and jumping pillow for the kids.
The par-71 course has gone through some recent renovations by Ogilvy Clayton—a Melbourne design team headed by Geoff Ogilvy and Mike Clayton.
Inside Golf played the course following the redevelopment and we were impressed with its playability, challenge and scenic beauty. The couch fairways are generally wide and inviting, giving you plenty of opportunities to open up the shoulders and have a go at a monster drive. But beware of the rough and strategically placed obstacles along the way, from the tricky bunkers to the ball-grabbing wetlands and lakes (with a few strong sloped fairways feeding right into danger), they can spoil your game.
The undulating greens were in spectacular condition on our visit. We found them true, yet tricky enough to make them challenging, especially with the severe breaks in some hole locations. And don't forget about the stunning
views. With plenty of glimpses of the surf in the distance, it is easy to become distracted by the beauty during your round.
Overall, we really enjoyed playing the course, and we recommend a hit any time you are in the area.
The course is suitable for all levels, and there's a new practice area including practice bunkers. New Cleveland hire
equipment is available including a brand-new fleet of electric carts. Neat dress code is required and bookings essential.
Following your round, relax with a post-game drink on the terrace of the new Sports Lounge – White's Paddock, or just enjoy some of the other amenities that this spectacular resort has to offer.
All auto club members, such as RACV, NRMA and RACQ can enjoy discounts on golf rounds.
To find out more call (03) 5261 1677 or visit www.racv.com.au/resorts
Portarlington Golf Club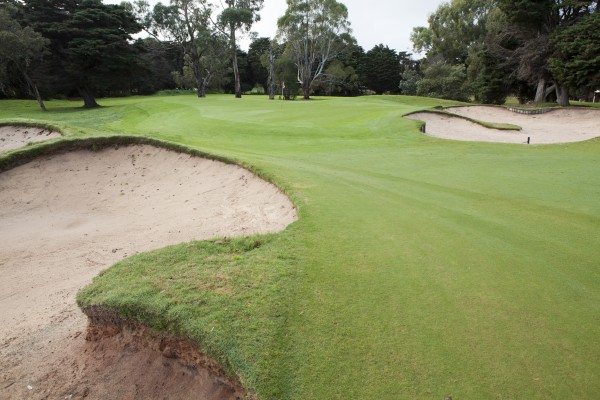 Voted by the players of the PGA as the best regional Pro-am course of the year for two years running, the Portarlington Golf Club features a 5949 metre par-72 tree-lined Cashmore design, with a variety of holes, putting surfaces and excellent all year condition.
Situated on the beautiful Bellarine Peninsula just minutes from the town centre and the waterfront, no trip to
the area would be complete without a round or two. carts are available on hand for hire with excellent practice facilities.
Green fee players are always welcome with great corporate and social golf packages on offer.
the club's annual events such as the signature carnival of Golf, running from August until September, which this year celebrated its 16th year as well as the award-winning Pro-am held in March, attract golfers of all ages and experiences to this wonderful club.
The newly renovated clubhouse offers something for everyone with ample entertainment, including TAB, Keno  and Foxtel, as well as function areas and their award-winning bistro, which is open 7 days for both lunch and dinner. For more information please visit the club's website www.portarlingtongolf.com.au, or ring the Pro Shop on (03) 5259 3361.
Barwon Heads Golf Club
Nestled amongst the coastal dunes and metres from the spectacular 13th Beach on Victoria's renowned Surf Coast, the highly ranked Barwon Heads links course has been providing an enjoyable challenge for all golfers since the early 1900's.  But what makes Barwon Heads such a distinct delight is the combination of classic links golf and the ability to experience the old-school practices and refinements of an overnight stay in the 90 year old clubhouse.
Since its creation over a century ago, the Barwon Heads Golf Club has been considered among the finest in the country.  The course planning over this time has resisted change for the sake of change. Rather, it has sought to preserve the brilliant natural contours of the landscape that shape the holes amid the sand dunes. This is one of the most alluring features of the course.
Before playing the course, golfers should make use of the top-class short game practice facility. It features various angles of greens, aprons and bunkers that replicate the natural contours found on the course, and is the perfect place to warm up, practice or take a short game lesson. This year, the club also invested in a state-of-the-art teaching hut that allows for all-weather and technology-based coaching.
The iconic clubhouse, open only to Members, their guests and those staying in-house turns 90 years old this year. Groups of golfers, many of whom return annually, have been making use of the 19 guest rooms on the upper level of the clubhouse since it opened in December 1924.
The Heritage Victoria and National Trust listed clubhouse is famed for its old-world charm. With stunning architecture and captivating views, it is a clubhouse designed for all seasons. House guests can enjoy the expansive balconies in summer or warm themselves after a Scottish links-like experience before the luxurious open fires during the cooler months.
Other facilities at the club include a par three course and several mod-grass tennis courts; while inside the clubhouse you'll find a billiards room along with formal and informal dining areas. And it's not just the course that is highly rated: one of Australia's annual golf publications rated the club the best in Australia for food and beverage in 2014.
The club extends a warm welcome to golfers to stay in the house and experience all that the wonderful club has to offer, including over 100 years of golfing history. For more details about the Barwon Heads Golf Club and the accommodation packages offered visit www.bhgc.com.au or call (03) 52556255.
Barwon Heads Resort at 13th Beach
Ideally located within the tranquil surrounds of 13th Beach Golf Links on the scenic Bellarine Peninsula,  Barwon Heads Resort at 13th Beach is a modern accommodation and function venue, ideal for a family seaside holiday, stay and play golf package or as a venue for a stylish wedding or conference.
Accommodation comprises of 50 modern, self-contained 1 and 2 bedroom apartment offering all the comforts of home. Spacious bedrooms offer king, queen and/or single beds, crisp white sheets, wall mounted LCD TV and large bathrooms. an open plan, fully-equipped kitchenette and living area opens on to a large balcony/terrace with outdoor setting overlooking the courses and driving range.
Adjoining the accommodation is a modern, purpose-built function centre offering an onsite restaurant with natural
light-filled rooms, bar with open fireplace and outdoor terrace. catering for groups of 10 to 120 people for a seated function or business meeting, to 220 for a cocktail event, Barwon Heads Resort provides a sophisticated venue for all events. A full range of AV equipment is available and superb catering is supplied by passionate chefs using the finest produce of the Bellarine region.
Stay and Play Golf packages are available for the 13th Beach Golf Links offering two championship  courses consistently ranked in the top 20 golf courses in Australia. accommodation is just a short walk to a modern clubhouse with restaurant, bar and pro shop open daily. The 13th Beach Golf Academy has two AAA rated PGA Golf professionals, driving range and a golf fitting service. If golf is not your game, enjoy a hit of tennis, a dip in the outdoor swimming pool or a workout in their gymnasium. 13th Beach is a 15-minute walk away, and the seaside villages of Barwon Heads and Ocean Grove are only a few minutes' drive away, with family-friendly beaches, cafes, restaurants, shopping, Jirrahlinga Koala and Wildlife Sanctuary, HMAS Canberra dive site and the Lotus day Spa for pampering.
For more information, contact Reservations on: (03) 5254 1777, email info@barwonheadsresort.com.au, or
visit www.barwonheadsresort.com.au.
The Sands Torquay
The Stuart Appleby-designed The Sands Torquay is a challenging and picturesque seaside course that offers a true test of golf.
While overtly challenging when first opened, a recent course mini-makeover has resulted in a very playable and
challenging course that is a real joy to play. With many of the extraneous bunkers removed, smart players are now
rewarded, the risk-reward players can "go for it", and the high-handicappers have half a chance at a decent round.
The views throughout the course are magnificent, the greens are firm and true, and the course itself is in great
condition. There are a lot of blind greens, and trouble can be found everywhere, but thankfully there are plenty of chances to redeem yourself if you find you're in trouble off the tee.
The Sands is a nicely manicured and quite challenging golf course which doesn't necessarily require booming drives. Being able to hit the ball long on this course comes with quite a few risks. the bunkering and hazards that line most of the fairways don't lend themselves to wayward tee shots. So if you are not a high  percentage fairway hitter, then choose a safer club for your tee shots. Playing with an iron or hybrid off the tee helps you to steer clear of the nicely positioned bunkers, and potentially navigate some of the narrow landing
areas. Since you rarely need a long iron into the greens, a more conservative style of play will leave you with a nice easy wedge/8- iron approach shot. Overall the greens are quite heavily bunkered and relatively small which makes them challenging to hit, even more so if you are playing from a bunker or the rough. Once on the dance floor, though, they play as true as any green you'll see.
Overall, the Sand is a real pleasure to play, and we recommend you drop by for a round.
For more information, phone: 03 5264 3333, or visit www.thesandstorquay.com
The Lonsdale Golf Club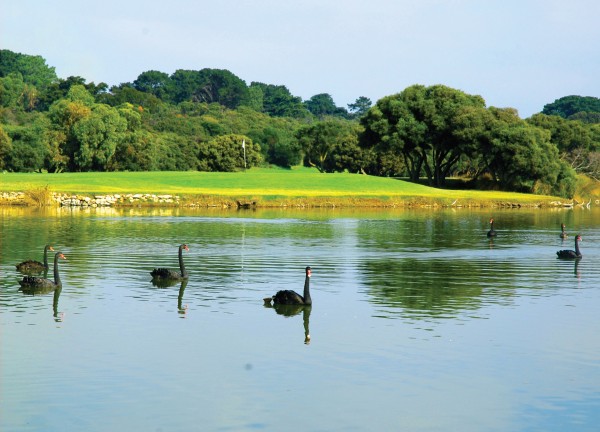 Located at the entrance to Port Phillip Bay (only 90 minutes from Melbourne, and 25 minutes from Geelong), the Lonsdale Golf Club is a highly regarded 18-hole sandbelt course that can be played 12 months a year.
Measuring 5710m for men (Par 71) and 5172m for women (Par 72), the course continues to receive praise from visitors, golf professionals and Club members.  The course offers three practice areas which includes a driving range.  The Clubhouse features a welcoming atmosphere with excellent bar and dining facilities which offer before and after golf snacks, lunches and A La Carte dining, and a superb beer garden which enjoys the afternoon sun, for members and visitors alike.
The fully-stocked Pro Shop has been totally transformed in the past three years, designed around custom fitting for drivers, fairway woods, hybrids, irons, wedges, putter and golf balls.  Club Professional Sean Charleston (AAA PGA Professional) has been at Lonsdale for nearly five years developing teaching programs, custom fitting, retailing and organising golf days.  The teaching programs have focused on juniors, women golfers and pennant players.  Sean also addresses golf fitness and the short game, and is available on a one to one basis to focus on your individual instruction needs.  The Pro Shop carries a number of major brands to suit a broad range of budgets.
Golf days at Lonsdale have been well supported, with the Club's signature event The Lonsdale Classic in January, selling out within weeks of entry forms being released.
The Lonsdale Golf Club continues to provide a high-class sandbelt course, quality practice facilities and a fully-stocked pro shop with Professional.  The Tea Trees bistro in the Clubhouse can cater for all food and beverage requirements including functions.  For more information visit  www.lonsdalegc.com.au or phone 03 5258 1955.
Anglesea Golf Club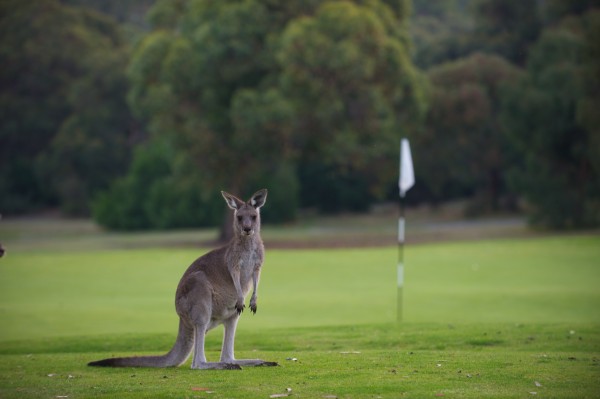 The Anglesea Golf Course, situated on the Great Ocean Road, is an undulating 6074m Par-73 layout set in natural bushland. a feature of the course is the number of elevated greens that require plenty of thought when selecting your club. Adding to the mix are 42 "sandbelt style" bunkers sprinkled throughout the course, eucalypt tree-lined fairways, and the ever-present resident population of around 300 eastern Grey Kangaroos.
These features all combine to produce a stimulating round of golf. Plus, the wet winter has resulted in the Anglesea Golf Club emerging in terrific condition, so there has never been a better time to play the course.
The clubhouse bar and bistro are open for lunch and dinner seven days a week. Memberships are available for 7-day, Junior and the 18-25yo categories, and social golfers/green-fee players are welcome every day. Green fees range from $30 (9 holes) to $50 (18 holes).
Junior rates are $15/$25. club, pull buggy & motorised cart hire available.
For more information: Phone: (03) 5263 1582, Golf Bookings: (03) 5263 1951, email: info@angleseagolfclub.com.au or visit www.angleseagolfclub.com.au
Port Fairy Golf Club
Winding its way through unspoilt sand dunes, with spectacular views to be had at every turn, Port Fairy Golf Club is a classic links-style course that is reminiscent of the great layouts found in Ireland. So if you've ever fancied playing a great Irish links course, but don't have the money or time to get there, then Port Fairy is the perfect alternative.
Located 5km east of the historic Port Fairy township, the course is consistently ranked in the "50 Best Public Access Courses in Australia" and in the "25 Best in Victoria." Course designer Mike Clayton once rated it as "the best value golf in Australia."
There are numerous highlights on this outstanding course. The 5th hole, a 448-metre par-5, is one of the most beautiful holes on the course with a lovely wide and undulating fairway that sweeps uphill and curves from left to right. Strategically-placed bunkers demand accuracy on the second shot before the approach to a fast back-to-front sloping green. The 8th is a stunning 122-metre downhill par-3 to a large rolling green that requires anything from a wedge to a 3-iron depending on the wind and skill of the golfer.
Holes 12 to 16 are agreed by many to be among the best stretch of golf holes in the country, with spectacular ocean views (providing frequent sightings of southern right whales during the winter and early spring) and some very challenging hole designs.
The twelfth is a 470-metre par-5 along the ocean with fabulous views. The right hand side is all OOB, and  treacherous swathes of marram grass await the wayward shot to the left. The 409-metre 14th plays straight at the ocean and is nearly impossible to reach in two into the wind, and extremely difficult to hold when played downwind.
The course features a mixture of grasses and is immaculately conditioned. At 5887 metres it is not long by today's standards but with the amount of wind it still tests the game of the most proficient golfers. Picturesque and testing with spot-on playing conditions it is a game of golf not to be missed.
For more information, phone (03) 5568 2866, email: info@portfairygolf.com.au, or visit www.portfairygolf.com.au.
Hearn's Port Fairy Accommodation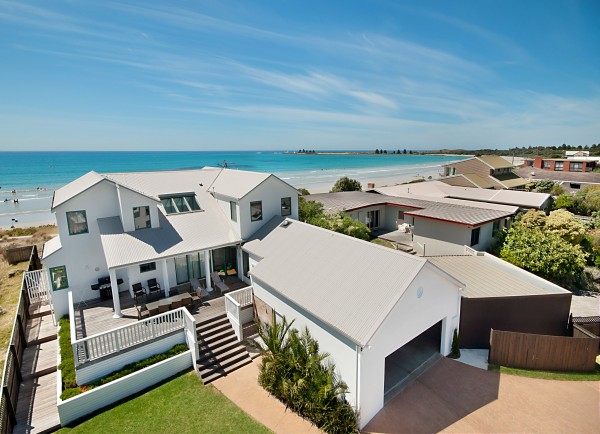 Imagine waking up to the sound of the ocean and knowing all you have to do that day is play 18 glorious holes of Golf at Port Fairy.
Hearn's Port Fairy Accommodation can bring that thought to life, catering for golfing groups large and small in stunning accommodations.
Sandcastles is one such property, sleeping 12 people, this 'Aspen inspired' 6 bedroom, 3 bathroom property offers absolute beachfront views, so for those of your group who may prefer to relax in luxury and be in strolling distance to the heart of Port Fairy, rather than wandering the beautiful Port Fairy Golf Links, this property is ideal.
Affording the same luxurious feeling, Shearwater House also has 6 bedrooms, and has the added bonus of 6 ensuite bathrooms, perfect for the ladies getting ready for a meal out after a personal best game. Located right on the Moyne River, Shearwater House is a hop, skip and jump to all the wonderful restaurants Port Fairy has to offer.
Hearn's Port Fairy Accommodation in association with Port Fairy Golf Links and Warrnambool Golf Club offer Stay and Play packages and discounts through the off season, making trips to Port Fairy the ideal weekend getaway.
If a romantic couples escape and golf for two is more to your liking, Hearn's Port Fairy Accommodation oversee the spectacular Hearn's Beachside Villas, nestled in the sand dunes. Available in one, two or three bedroom Villas, these architecturally designed, contemporary accommodations offer peace, privacy and complete beach frontage, just a 10-minute drive to town and the course.
Managing over 90 properties, Hearn's Port Fairy Accommodation will be sure to have a property to suit your needs.
Thirteenth Beach Golf Links
Located on the Bellarine Peninsula – just 15 minutes from Torquay or Geelong– Thirteenth Beach Golf Links features two spectacular 18-hole golf courses: the Beach Course (designed by Tony Cashmore) and the Creek Course, designed by Sir Nick Faldo and Tony Cashmore). The Beach Course, much of which winds through spectacular foreshore sand dunes, is true links style while the Creek Course is in a parkland setting, not unlike the courses on Melbourne's famous Sandbelt. Both courses are built on sand-based sandstone structure, and the facility's southern boundary abuts 2.1 km of the famous 13th Beach surf beach.
Thirteenth Beach is the home of the 2013, 2014 and 2015 Men's and Women's Victorian Open, joining a long list of famous clubs on the Melbourne Sandbelt to have hosted this event.
The Beach Course is widely acclaimed as one of Australia's Best 20 courses. The key feature of the Beach Course is its wonderful set of par-3s. Starting at the brutal 180m 3rd hole to the dainty yet sinister 113m 16th, the par-3s of the Beach Course offer golfers of all levels a true test of their iron play. The 7th and 12th are spectacular holes, nestled in natural sand dunes.
The Creek Course has continued to grow in stature since its opening in 2004.  The course is characterised by gently undulating couch fairways, huge, deep bunkers filled with yellow sand, and firm true greens surrounded by interesting bumps, swales and hollows, all closely mown. There is also plenty of greenside bunkering that helps form the slopes of the putting surfaces in the best traditions of Melbourne's Sandbelt much admired by Faldo. In addition, there is plenty of water on the course, with hazards on the 7th, 8th, 10th, 12th, 14th, 15th and 17th holes.
Both courses are irrigated with recycled water supplied by Barwon Water from its nearby Black Rock treatment plant. This allows them to be green and lush all year round.
Former Melbourne AFL champion and SEN footy commentator David Schwarz says: "Membership at Thirteenth Beach is the best golfing investment I've ever made. It's simply awesome. I can't stop raving about the place!" About 1000 members agree with him!
For more information: phone: (03) 5254 2922, email: info@13thbeach.net, or visit www.13thbeach.net
Warrnambool Golf Club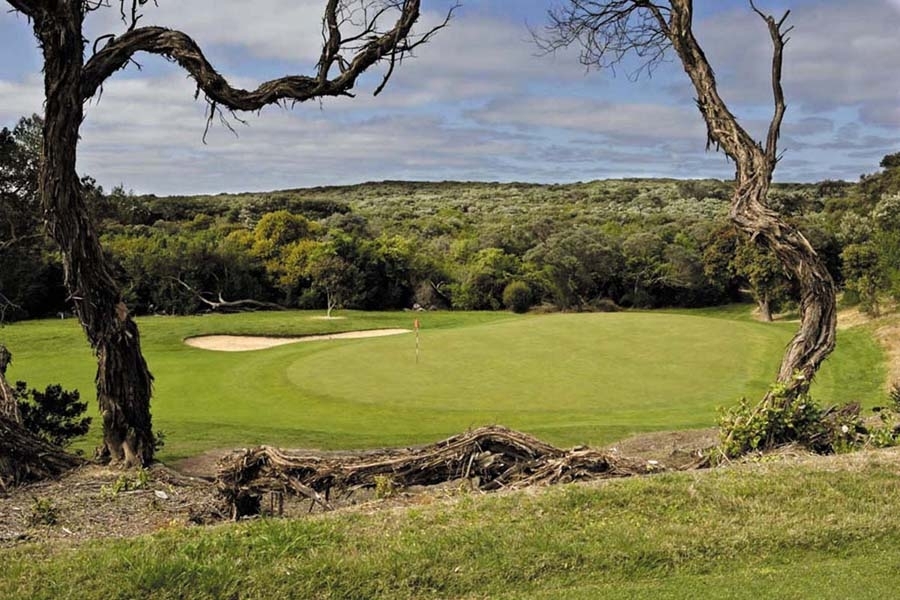 Warrnambool is a classically-designed course laid out between and over a massive tertiary dune system. the course
offers a unique combination of exposed holes with elevated tees together with those carved into natural ti-tree-lined dunes.
Located within 2km of the regional city's CBD, it makes for an ideal destination for the dedicated golf tourist, social golfing groups or family holiday makers.
The influence of the ever-present wind cannot be understated and really adds to the challenge of a layout that offers variety from one round to the next. It is perhaps this aspect which shaped the game of Warrnambool's most famous golfing export, Marc Leishman, to the level of success he now enjoys.
The course has received a good deal of attention over recent years and the installation of an integrated irrigation
system, supplied with recycled water, has allowed the staff to present the course in immaculate condition.
The trio of holes from the short par-4, 4th to the slight uphill dogleg 6th, are a highlight as are the 13th and 14th on the inward nine.
A well-stocked Pro Shop enables club professional Craig Bonney and his friendly staff to cater for all your equipment and apparel needs.
For more information, phone the Pro shop on (03)5562 8528; Club House (03) 5562 2108, email golf@wgcinc.com.au or visit www.wgcinc.com.au.
Curlewis Golf Club
Just 10 minutes from Geelong, Curlewis Golf Club boasts a 6150 metre Par-72 course with naturally undulating fairways, large contoured greens and a challenge for the serious and social golfer.
Curlewis's risk and reward design has been compared with some of Melbourne's famous courses. The opening short par-5, and the following two short par-4's would not be out of place on any of the best courses on the Melbourne Sandbelt.  In 2013 the course was ranked in Ausgolf's Top 50 Public Access courses while in 2014 Curlewis was ranked in Golf Australia Magazine's Top 100 courses. As such, Curlewis is a must play when visiting the Bellarine.
The course's signature hole is the Par-3, 139m 8th hole. This beauty features a two-tiered, elevated green than can be tricky if you land the ball in the wrong area. It also has deep bunkers on the front, left and right of the green. If you miss the green, and also miss the bunkers, your ball will run anything up to 15 metres into the surrounding gulley leaving a very tricky pitch.
The licensed clubhouse has a fully-serviced bar and can be hired for corporate and private functions, with the dining room comfortably seating up to 120 guests.
The Curlewis Staff are also available to provide information on the range of membership categories. Green fees are $35 on weekdays, $47 on Saturday and $40 on Sunday. Discounts are available for group golf bookings.
For more information, phone 03 5251 2534, or visit www.curlewisgolf.com.au.
Peterborough Golf Club
The Peterborough Golf Club has a golfing heritage dating back to the 1880's and is one of the 'hidden gems' on the Great Ocean Road.
The general appearance of the 9-hole  course is reminiscent of the traditional links that abound on the coast of Scotland. The village is always in sight as is the spectacular coastline. The fairways are shared in the traditional manner and are a mixture of fine grasses offering tight lies that allow much of the game to be played on the ground. Whilst the course is not long at 1920 meters with a par of 32 and without a single bunker, it is no pushover. It is unprotected from the prevailing winds which can be severe and variable making club selection difficult. The greens are smallish targets and in some cases have treacherous slopes. The ever present out of bounds and the need to negotiate some road crossings make playing this little gem a great challenge and loads of fun.
At $15 per day (paid via an 'Honesty Box'), a round at Peterborough is great value and an unforgettable golfing experience.