By Kym Doherty
THE Shane Doherty Memorial Tri-State Masters Tournament, held in the Mildura Region (Sunraysia) for the past 28 years, will be held from Sunday, May 15 to Friday, May 20.
It's the return of another successful tournament following the unfortunate cancellation of the 2020 event.
The tournament is now recognised as "The Shane Doherty Memorial Tri-State Masters" in honour of the founder and original tournament director, Shane Doherty.
More than 7200 people have converged on the Mildura Region (Sunraysia) over the past 28 years to participate in this festival of golf and social activities.
The Tri-State Masters attracts people from all over Australia and New Zealand with some 335 different golf clubs being represented since 1993.
The golf will be played at Mildura Golf Resort on Monday, May 16, Riverside Golf Club on Wednesday, May 18 and Coomealla Golf Club on Friday, May 20. There is also an optional 4BBB at Riverside Golf Club on Tuesday, May 17 and 4-person Ambrose at Coomealla Golf Club on Thursday, May 19.

Optional social functions are conducted each night, including a night at Drummond Golf Sunraysia Golf Range trying out the new Top Tracer technology with paella for dinner catered for by Solunar Soul Food.
There will be lunch and wine tasting at Trentham Estate, a lawn bowls night at Coomealla Memorial Sporting Club, evening meal and beer tasting at the Mildura Brewery, lunch and wine tasting at Sunraysia Cellar Door and an evening meal again catered for by Solunar Soul Food with gin and whisky tasting at Fossey's Ginporium.
This gives the competitors and their partners the choice of relaxing at their leisure or socialising with old and new friends.
There is a requirement to enter the tournament and to attend the social functions for all attending to be double-vaccinated and to also have had a booster.
In 2022 golfers and non-playing partners representing many different golf clubs around Australia (and hopefully New Zealand depending on borders) will converge on Mildura (Sunraysia) to compete for more than $220,000 in "hole-in-one" prizes, trophies, teams' prizes and door prizes.
In 2016, there were two holes-in-one during the week of the tournament – $10,000 cash and a Yamaha Golf Cart valued at $10,000 while in 2015 when there had also been two holes-in-one a Harley Davidson XG500 Street bike valued at $10,000 and a Honda Jazz car valued at $18,000 were the prizes for the respective aces.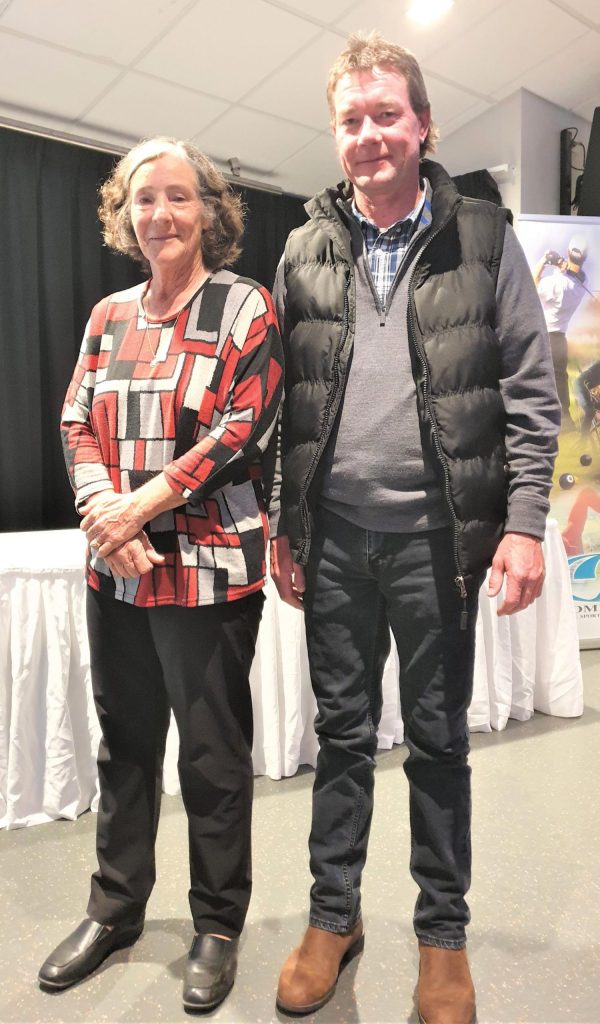 Prior to 2015 and 2016, in the previous 22 years of the event, there had only been seven holes-in-one and none since 2007.
The Shane Doherty Memorial Tri-State Masters targets mid-range adult (over 18 years) amateur club golfers who are looking for a golfing holiday in which they can combine golf and social interaction with other like-minded golfers.
The trophies and prizes on offer are arguably the best in any amateur golf tournament in Australia.
The tournament is less than four months away and the indication is many of the past players are set to return.
With the number of enquiries already received, it would appear that the 2022 tournament is likely to have capacity fields. Many people are now happy to travel within Australia and just be able to get "out and about" with like-minded people on some great golf courses.
Shane had two sayings that are relevant to everything in life, but particularly to the Shane Doherty Memorial Tri-State Masters: "Memories live longer than dreams." And: "It's nice to meet nice people."
Entry forms and the four-page information brochure are available on the website www.sunraysiagolftours.com.au from the tournament's section to be downloaded, completed and then forwarded to golf@sunraysiagolftours.com.au or posted to P.O. Box 1655, Mildura. Vic. 3502.
For further information, contact Kym Doherty at golf@sunraysiagolftours.com.au or on 0408 310 532.