A recent report by the Australian Golf Industry Council revealed that the Murray River region is the most frequently visited golf destination by the core golf tourist in Australia. And for good reason, with spectacular weather, picturesque surroundings and some truly memorable golf, the area has something for players of all levels.
Inside Golf recently made the trek along the mighty Murray, sampling some great courses along the way.
Our journey began in Mildura, the top-end of the Murray River in northwestern Victoria.
While it may seem a world away from the major cities, Mildura is, in truth a short one-hour flight from Melbourne. The airport has benefitted from a recent multi-million-dollar upgrade, thus making the journey a quick and comfortable endeavour for the golf traveller from Melbourne, Sydney or Adelaide. Indeed, following a quick morning flight, golfers will have plenty of time to get to any one of Mildura's fantastic golf courses for lunch and a warm-up before tee-off.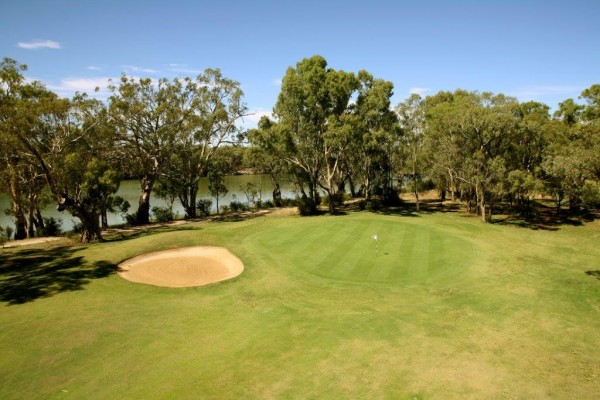 A feature course just over the border from Mildura is the Coomealla Memorial Sporting Club, overlooking a magnificent stretch of the Murray River in the township of Dareton, NSW.
If you've never visited Coomealla, be prepared to be surprised. The course is a massive hit with golfers "in the know" from Adelaide, and we can see why, as Coomealla is as good as any course in the region. Nestled on the banks of the Murray, the fabulous golf course provides a test for any golfer. The greens are true, large and welcoming, while the tranquillity of the course is unmatched.
If your driver is misbehaving, you can easily hit iron off the tee in most cases and still have reasonable chances for pars or birdies. There are also a variety of risk/reward options which will truly reward the big, accurate drives. All told, Coomealla is a cracker of a course, and we highly recommend you check it out if you are in the area.
A great offering by the club is the free houseboat mooring sites. So for those who partake in the great organised houseboat tours of the Murray (like Golf & Gourmet – see the Tours section of this feature), you can find yourself right on the doorstep of Coomealla.
Alternatively, as part of the Coomealla Memorial Sporting Club's expansive array of facilities, their resort provides a range of accommodation to suit everyone's needs, from superbly presented motel accommodation, self-contained cabins, drive-through caravan sites or even tent sites.
The driving centre of these fabulous facilities is the Main Club, providing the latest in NSW Club amenities with a reputation for high standard of service and atmosphere. The club offers club meals, KENO, bowls and more, making it an ideal spot for the "Annual Golf Weekend" or casual golf adventure.
More information: Coomealla Memorial Sporting Club Limited. Dareton NSW 2717. Phone: 1800 854 737 or (03) 5027 4737. Email:  resort@coomeallaclub.com.au. Website: www.coomeallaclub.com.au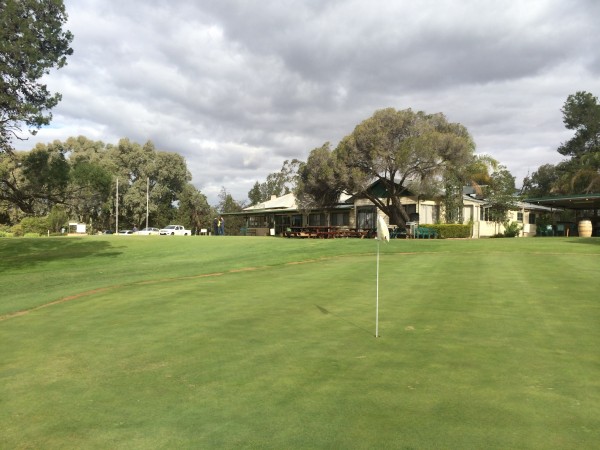 Our next stop was the Red Cliffs Golf Club, which will celebrate its 90th year this November.Known as "The Friendly Club", Red Cliffs is a true 'Country' course which has providedchallenges (and fun) to all who have graced the fairways. The unique set-up of five par-5s and five par-3s provides much enjoyment for the members and the many social players who regularly test their skills on the lovely layout.
Set on 200 acres of mallee bushland, the red-earth surrounds, lush Kikuyu fairways and true-rolling Bent greens are a pleasure to play, and are tended by a hardy bunch of members known as "Dad's Army" in conjunction with course superintendent Simon and his apprentice, Josh.  The small-sized greens provide challenging targets, and while the fairways are quite open, it's critical to avoid the many trees lining the course, lest you find yourself being forced to "take your medicine" with a recovery/punch shot.
A welcoming clubhouse and undercover barbeque area add to the enjoyment either before or after the round, and you are sure to find welcoming conversation among the friendly members and locals.
More information: Red Cliffs Golf Club, Twenty Second Street, Red Cliffs. VIC, 3496, Phone: (03) 5024 1531. Email:redcgolf@bigpond.net.au. Website: www.redcliffsgolfclub.net.
Next up was Mildura Golf Resort, which—like the local airport—is benefitting from recent upgrades, with a pair of new holes in play, and a new irrigation system and pumping station. The new holes feature menacing water hazards which will challenge golfers of all levels. In addition, a variety of holes are currently being re-routed and/or renovated, which will help reinforce the 100-year-old course's reputation as one of the Murray River's most challenging and enjoyable golf layouts.
At 5971m, the challenging championship layout features immaculate greens and well-contoured fairways which feature many undulations, while the spectacular water hazards and true greens are always well presented.
Currently Mildura Golf Resort hosts various tournaments including Mildura Golf Week – Murray Valley Championships and The Mallee Regional Pro Am.
After your round of golf, you can have a swim in the pool or enjoy a barbeque amongst the flora and fauna. If you're hosting a special event, conference or business seminar, the resort staff can provide all your requirements, and arrange special discounted rates.
For those choosing to stay for an extended period, the resort has three distinct styles of accommodation, catering for singles, groups or families. During our stay, we found our room to be comfortable and relaxing, with lovely views of the course. Perfect for a group of mates, a couple or a family. That evening we enjoyed high-quality, tasty meals at the Fairways Bistro, which is open seven days a week.
All told, we enjoyed our stay at Mildura Golf Resort, and recommend it for golfing groups of all sizes.
More information: Mildura Golf Resort, 287 Twelfth St, Mildura VIC. Phone:  (03) 5023 1147, 1 800 011 471.  Website: www.milduragolfresort.com.au
BOX/SIDEBAR TO ACCOMPANY MILDURA:
Tee it up in Mildura at the Tri-State Masters
A great opportunity to tee it up at the Mildura golf courses is via the annual Tri-State Masters Sunraysia Shane Doherty Memorial, played in May each year. The 2015 event was a huge success with over 240 players playing at Red Cliffs, Coomealla and Riverside. Mildura Golf Resort is also in the program for an optional day of golf. The tournament was founded by local legend Shane Doherty 22 years ago. Following his recent passing, the event is now organised in his honour by his wife Kym and son Garth, the President of the local district association and owner of the local driving range and House of Golf.

The Tri-State Masters targets mid-range club golfers who are looking for a golf holiday in which they can combine golf and social interaction with other like-minded golfers from all over Australia and New Zealand.  The trophies and prizes on offer are arguably the best in any amateur golf tournament in Australia. Optional social functions are conducted each night giving the competitors and their partners the choice of relaxing at their accommodation or stepping out with old and new friends.

More information: Contact Kym Doherty on 0408310532 or email golf@sunraysiagolftours.com.au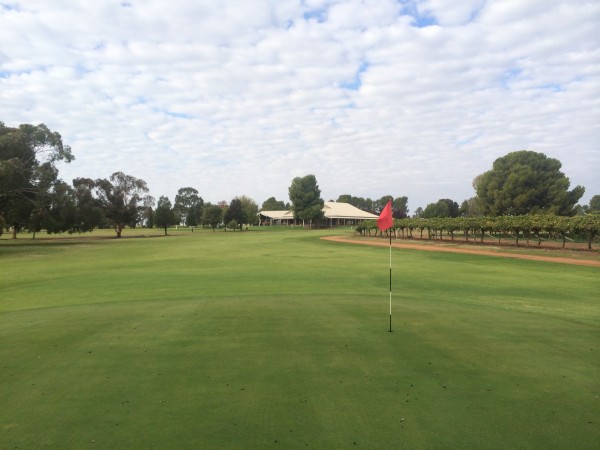 About an hour south of Mildura, Robinvale Golf Club is a picturesque course situated 3km outside of the township of Robinvale.
Surrounded by vineyards (the area is the second-largest table grape region outside of Spain), the course features a challenging layout in a calm and tranquil environment.
Their annual Almond Blossom Classic and week-long Festival of Golf are major attractions, drawing golfers from far and wide.
The Almond Blossom Classic, now in its fifth year, is one of the largest golf tournaments in Sunraysia played over 18 holes. Held on August 15th, the 4BBB Stableford event is open to ladies and men, with AM and PM Shotgun tee-offs and prizes on offer in the $8,000 – $10,000 vicinity. The major prize attraction is their Hole in One competition, with a motorised golf cart on offer.
The Robinvale Festival of Golf is played over five days, starting Wednesday 30th September through to Sunday 4th October. Now in its 48th year, the event attracts a large and diverse group of players from all over the country, featuring mixed events, 4BBB Stableford and Par with a 27-hole Stroke Festival Championship. The final day is Medley Ambrose in fours. Great prizes and trophies are on offer. These events are extremely well attended with 3000 rounds of golf played over the week.
Entry forms for both events are available on the club's website.
Before or after any round at Robinvale, the clubhouse is great place to relax with quality food and drinks. The Bistro is known locally as "the place to dine in Robinvale" and is open Tuesday – Saturday for lunch 12pm – 2pm and dinner 6.00pm – 8.00pm. It also features a large Gaming/TAB area for added excitement after your round.
Accommodation will soon be available at the course as well, with big plans well underway for the development of an accommodation complex providing 24 quality cabins by 2017.
Green fees are extremely affordable at Robinvale: 9 Holes: $11per person, 18 Holes: $21.00 per person. Electric Golf Carts are also available for hire.
More information: Robinvale Golf Club, 4240 Murray Valley Highway, Robinvale,3549. Phone: 03 5026 3286. Email: admin@robinvalegolfclub.com.au. Website: www.robinvalegolfcourse.com.au.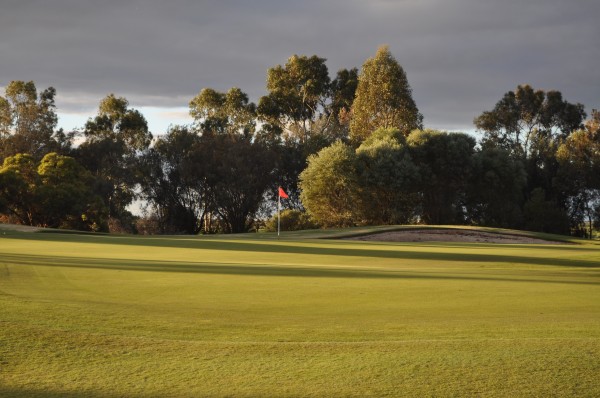 90 minutes south of Robinvale, near Swan Hill, Murray Downs Golf and Country Club is golf at its absolute best. Widely acclaimed by golfers as the Murray River's finest course, Murray Downs is also ranked the region's Number 1 by leading golf and travel publications. In Victoria, it has won the Victorian PGA Course of the Year. Nationally it's in the Top 50 courses in Australia and it's consistently voted one of the country's finest resort courses.
It also happens to be a favourite of the Inside Golf team.
The 6197m course is in striking contrast to the spectacular surrounding Mallee plains.  It's both beautiful and challenging, with a dramatic backdrop of river gums, artfully formed lakes and some very tricky signature holes, notably the par-3 5th, featuring a daunting carry over a lake, which follows the hole all the way to the green where bunkers guard the left side of the narrow target.
The couch fairways are superbly tended and groomed, while the bent greens are generally large, undulating and very fast with thoughtful tee positions and pin placements. The layout is easy-walking, but small hills, bumps and rolls break the landscape.
Tee times are available seven days a week, with services including golf carts, pro shop, equipment hire and a beverage cart for that welcome break.
Following your round, the Balcony Lounge features panoramic views of the course. The Café is your spot for a quick energy top-up any time of the day, while Fairways Bistro is food central at Murray Downs – there's a magnificent country style daily lunch, and a very extensive daily dinner menu.
Murray Downs' on-course hotel offers 50 individually air-conditioned and well-appointed family rooms and 2-bedroom units. If you love the independence and space of self-contained apartments, Murray Downs has the perfect answer with its newly renovated deluxe and super deluxe apartments, featuring fully-equipped kitchenettes. A continental or country style cooked breakfast can be delivered to all rooms each morning.
The resort also offers a huge heated tropical pool, running track, spa, three floodlit bowls rinks, plus superbly maintained grass court tennis for non-golfers.  The kids are also catered for, with a toddlers' swimming pool, supervised Junior Lounge and Adventure Playground (3 to 7 years), while the Underground Lounge gives older kids and teens a place to play, with free pinball, air hockey, Xbox, PS2 and more.
More information: Murray Downs Golf and Country Club, Lot 1, Murray Downs Drive, Murray Downs 3585 VIC. Phone:  03 5033 1422.  Website: www.murraydownsgolf.com.au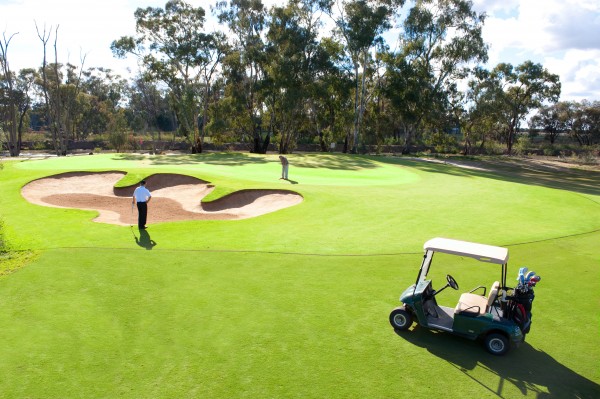 One hour south of Murray Downs, cluBarham Golf and Sports features an18-hole Ross Watson-designed championship course, which is benefitting from recent upgrades. The grass greens are magnificent and the bunkers challenging. The front nine holes of the 6140m par-73 course are gently undulating, featuring a glorious landscape of tall timbers and creek crossings. The new 9th hole is particularly challenging, played from an elevated tee over the creek and on to a green surrounded by bunkers. The back nine holes are lined with a spectacular backdrop of golden wattle, pine and gum trees.
Tee times are available seven days a week, with services including golf carts, pro shop and equipment hire. The club also boasts around 256 reciprocal clubs, making it one of the most accessible clubs in Australia.
The trademark hole for this course is the 5th, aptly named 'Gallipoli', featuring a massive bunker at the foot of the green that has been the nemesis for many a golfer.
The Barham Services Club Bistro is a great dining option, featuring a variety of dishes at great value prices. The Golf & Sports Café also offers snacks and lunches, while a light lunch or snack can be enjoyed at Coffee on Murray, open throughout the day and evening.
The Barham Golf Resort located on course, or the cluBarham Motel right opposite the Barham Services Club, are both owned and operated by cluBarham.
The most luxurious accommodation is at Barham Golf Resort, featuring brand new 2-bedroom, 2- bathroom self-contained units with beautiful views of the golf course and natural bush surrounds. The units are beautifully appointed, and all rooms have king size or king single beds, flat screen TVs, reverse-cycle heating and cooling and a small storage shed for golf equipment.
There are also 19 spacious self-contained units, four luxury spa units, eight caravan ensuite sites and six RV sites at Barham Golf Resort.
cluBarham Motel, just a short drive from the golf course, has a very fresh contemporary style after a full refurbishment. The two storey motel features luxury accommodation in 28 suites with queen beds, including two executive suites and two honeymoon suites with spas. There's a solar heated swimming pool, spa and outdoor barbecue area. Country style continental or cooked breakfasts can be delivered directly to your room.
More information: cluBarham Golf and Sports, Moulamein Road, Barham NSW 2732. Phone: 03 5453 2772. Website: www.clubarham.com.au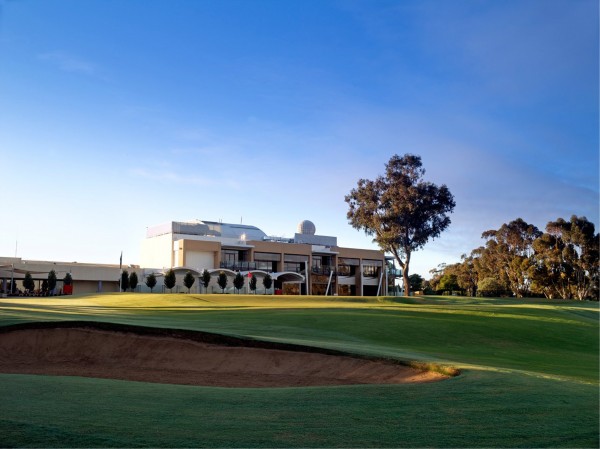 Rich River Golf Club, a leisurely 1.25 hours' drive from Barham, is a mainstay for the Inside Golf team whenever we travel the Murray. The facility features two very impressive 18-hole championship courses, the East and the West. They've been developed over the years to become one of regional Australia's premier golfing venues, where golfers love the rolling fairways, carefully tended greens and towering eucalyptus.
The West Course has traditional tree-lined fairways with tricky, small greens that take the serious player on a thought-provoking and challenging 6,183m journey.  The East Course, which had a major transformation after a redesign by Peter Thomson in 1998, features large greens, wide fairways and those famous Thomson bunkers which really keep you thinking about your strokes. Course length is 6,131m.
Tee times are available seven days a week, with services including golf carts, pro shop, equipment hire and a beverage cart for a quick refresher.
The 12th on the West is one of the most difficult holes on the course.  A strong dogleg-right, it's critical to hit the fairway in just the right spot (hint: Fairway metal or iron off the tee is often a good bet). Your second shot requires a good solid strike over Howards Lake to reach the green, which is gently sloped from front to back.  A par on this hole is always a good score.
The 18th on the East course is a monster at 532m.  Be sure to avoid the fairway bunker on the left from the tee, as well as the fairway bunkers on your second shot (80 meters short of the green). With water down the left of the fairway, and a green surrounded by bunkers, it's a very challenging hole.
James Maiden Bistro is locally famous for the magnificent views of the golf course, and for the mouth-watering choices on the lunch and dinner menu. Premium Australian and New Zealand wines and local and imported beer feature too.
You can also drop into the bistro for a continental or cooked breakfast, or for a quick snack from midday. Then there's the Coffee Shop, where you can settle down on the terrace with an expertly brewed espresso coffee and a sweet treat that's been freshly prepared by the in-house pastry chef.
There's also the Sports Bar and the busy Spike Bar where you can also refuel with hot or cold snacks including healthy sandwiches and fruit salads.
The deluxe accommodation has been attractively refurbished, with privacy and seclusion ensuring your own space to relax after golf. There's a great choice of rooms too, for couples, families and small groups.
40 spacious and airy standard suites have a king split bed in the bedroom and single bed in the lounge room. The 22 deluxe rooms are rated 4-star, and feature a queen bed. If you're travelling with a small group, a large and fully self-contained apartment can accommodate up to 7 people with 3 bedrooms, a welcoming lounge/dining area, 2 bathrooms and 3 toilets.
There are so many leisure options here: two outdoor pools, a spa, gym equipment, three bowling greens, three croquet courses and nine tennis courts.
More information:  Rich River Golf Club Resort. Twenty Four Ln, Moama, NSW 2731 . Phone: 03 5481 3333. Email: golfpackages@richriver.com.au. Website: www.richriver.com.au
Less than 1.5 hours' drive from Rich River is Tocumwal Golf Club, offering some of the most enjoyable golf in country Australia.  Featuring two 18-hole championship golf courses—the Presidents and the Captains courses—the golf club offers the highest level of service and quality in all aspects of the game, from course conditioning to practice facilities and the clubhouse amenities.
The course is held in such high regard that it plays host to the CPM Southern PGA Trainee Championship, challenging some of Australia's most talented up-and-coming golfers.
With two established courses ranked in the 2013 Top 100 Public Access Courses in Australia, Tocumwal offers an experience not to be missed. The Presidents Course, the older of the two, is heavily tree-lined with deeper bunkering while the Captains Course is lightly timbered, but more water comes into play. The playing surfaces on both courses feature superb couch grass fairways and slick, bent grass greens that are the envy of many.   The easy-walking fairways are slightly undulating and both courses have some very pretty and challenging golf holes amidst an abundance of magnificent Australian flora and fauna.
The clubhouse features all of the dining and leisure facilities that you expect of a modern, friendly club. Choose to dine-in or alfresco on the balcony, while enjoying the service of the attentive staff. With floor to ceiling windows, the restaurant offers panoramic views over the golf course.
There are also some outstanding golf packages on offer.  Enjoy the convenience of one of the 70 rooms spilling onto the golf course, within a stroll of the clubhouse, or the suite of accommodation options nearby that make Tocumwal the ideal location for your next golf holiday or as a central point to explore the Murray River region.
More information: Tocumwal Golf Club,Tocumwal Barooga Rd, Tocumwal NSW. Phone: 1800 631 197, (03) 5874 9105. Website: www.tocumwalgolf.com.au
Our next stop, a quick 20 minutes from Tocumwal, was Sporties Cobram Barooga Golf Club. With two celebrated courses set in beautiful surrounds, the club offers the best of old and new for serious and novice golfers.
The original 18-hole "Old" course, was constructed in 1925 and is the more famous of the two. At 6186m, its clever design and narrow tree-lined fairways provide a good test of skill for any player. The course, with many classic holes, is framed by majestic red gums and pines. Time hasn't left this old favourite behind though, because the newly constructed greens are fast and true, with clever bunkering catching wayward shots hit into the greens.
The new West Course offers wider fairways, larger greens and additional slopes that provide natural framing for tee shots. Slightly longer than the original course at 6287m, the 18-hole layout has gained a strong reputation as the perfect blend of resort and modern links style.
With its Murray River location, an abundance of local flora and fauna plus great weather, Sporties Cobram Barooga Golf Club is a 'must do' for those who'd like to play on both a traditional and a more contemporary course.
Tee times are available seven days a week, with services including golf carts, pro shop and equipment hire
The newly renovated Clubhouse has been cleverly designed, with a fabulous choice of areas indoors and outdoors in the fresh air for lunch, a post-game drink and dinner. There's a new Lounge Bar with spacious decks, comfortable contemporary furniture, a laid back country atmosphere and almost endless views over the golf courses.
The 19th hole Club Café is a busy spot every day, with light snacks, lunch specials and a delicious range of cakes. The Bistro serves dinner Wednesday to Saturday evenings, with sharing and grazing plates, grills and more. Seniors meals are available too.
Accommodation at the Club is another highlight.  Eighteen new, luxurious and fully-equipped units have been opened here, with ground floor units literally opening out on to the golf course, and upstairs units providing beautiful views from generous balconies.
This club accommodation is stylish and sophisticated, with beautiful bathrooms, supremely comfortable beds, free wifi, flat screen TV with cable channels in the large living area and a kitchenette in some units.
There's an excellent health and fitness centre with a heated 25 metre pool, sauna, spa and aerobics room. Outdoors are two state-of-the-art synthetic greens for lawn bowls and a relaxing landscaped garden area with BBQ.
More information: Sporties Cobram Barooga Golf Club, 134 Golf Course Road, Barooga NSW 3644. Phone: 03 5873 4304. Website: www.cbgc.com.au.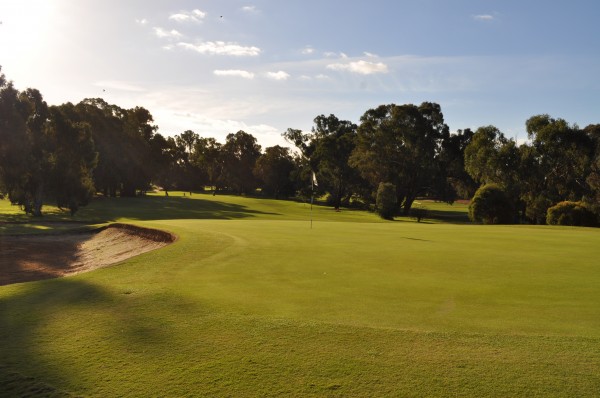 Nestled alongside the picturesque Murray River, a hour from Cobram Barooga, Yarrawonga Mulwala Golf Club Resort ticks all the boxes for modern, comfortable golf resort destinations.
The largest public access golf resort in the country, the resort features 45 holes– two 18-hole courses, the Lake and the Murray, and a short nine-hole Executive course—all set amongst beautiful natural landscape overlooking the Murray River and Lake Mulwala. While the Murray course is one of the better known layouts at the facility, all three courses offer something special to the keen golfer, and like other courses/resorts in the area, the entire facility features a welcoming and warm atmosphere. Inside Golf have played a number of rounds here, and we have never been disappointed.
Before your round, take advantage of the state-of-the-art practice facilities with driving range, hitting nets, putting greens and chipping area with bunker. There is also a pro shop open from dawn to dusk with competitively priced products and services.
The resort also offers a free smartphone app, which allows golfers to get GPS distances, track statistics, view a course tour/hole flyover, keep score via a live leaderboard and more. This is fantastic for a group event or a friendly competition between mates.
Choose from nine different styles of accommodation overlooking the golf course or native bushland with something to suit all budgets and needs, from basic cabins to luxurious apartments and villas, each with cooking facilities, private bathrooms and a car parking space. All accommodation is self-contained, family-friendly and is only a short stroll from the clubhouse and pro shop. Long or short stay guests can explore the spectacular surrounds, tempt their tastebuds with quality dining, workout in the gym, have a hit of tennis, take a dip in the solar-heated pool or simply relax in a brand-new plush 60-seat movie theatre showing the latest releases.
More information: Yarrawonga Mulwala Golf Club Resort. Golf Club Rd, Mulwala NSW. Phone: (03) 5744 1911. Website: www.yarragolf.com.au
Just outside of Yarrawonga, one of the most exciting new golf developments in the country, the Thomson-Perrett-designed, Black Bull Golf Club is continuing to impress all who visit. Wrapped around the magical waters of Lake Mulwala, the golf course has been expertly crafted to excite and challenge golfers of all levels. Thousands of golfing enthusiasts (including the Inside Golf review team) have raved about the 18-hole 'composite course', which featured the first 13 completed holes in a looped configuration.
Now, with the final five holes to be completed this month, golfers from far and wide will be able to go head-to-head with 'the Bull' in all its glory.   The construction of the final holes was managed by Turnpoint Company, which was responsible for managing some of Australia's top 50 golf clubs including St Andrews Beach, Sandhurst, Magenta Shores and Sea Temple Resort, so you can be sure the holes are of the highest quality.
A feature of the new holes is the "Bull Ring"; a series of three holes that aims to test the mettle of any golfer (perhaps should we call them a bullfighter?) who enters the arena. Starting at the Par-3 15th—which features a strong water carry to a green guarded by bunkers, through to the 17th, a long and undulating hole with water and bunkers lurking everywhere, the "Bull Ring" will be a challenge to conquer.
With multiple tees and generous fairways, the golf course offers challenging and enjoyable golf for players of all levels.
"The use of Grand Prix couch grass on the fairways and the use of G2 bent grass on the greens have been very successful in providing excellent playing surfaces," Ross Perrett of Thomson-Perrett said.
"The feedback we are getting about the course from patrons is most satisfying especially given that the site was originally a featureless flat site. The abundant wildlife that the newly created environment has attracted clearly demonstrates the community benefits of environmentally sustainable design."
Located in the heart of Silverwoods, Black Bull Golf Course recently announced The Sebel luxury international four-star boutique hotel and serviced apartments will be calling Silverwoods home.
The facility will feature fine-dining restaurant, bar bistro, day spa and function areas. A marina with a resort-style precinct is also on the drawing board.
More information: Black Bull Golf Club. 1 Phillip Hyland Drive, Yarrawonga VIC 3730. Phone: 03 5744 0044. Email: proshop@blackbullgc.com.au. Website: www.blackbullgc.com.au.
Nestled alongside the picturesque Murray River and only 20 minutes from the regional city of Albury/Wodonga, The recently re-named and re-branded Howlong Golf Resort is one of the finest courses in the area. Situated in the heart of the Rutherglen wine and food district, it is ideally located for anyone wanting to partake in one of the many local delights while on their golfing trip away.
The clubhouse features all of the dining and leisure facilities that you expect from a  modern, welcoming club. Choose to dine-in or alfresco on the deck, while enjoying the service of the attentive staff. With wide open windows and your choice of two restaurants, you can enjoy panoramic views over the gardens, lake and golf course.
Accommodation options at Howlong are soon to be kicked up a notch, with new apartments set to open in October. Add to this the current offering of 25 rooms on the course, and golfers will have plenty of options to stay and play.
The club also features two bowling greens, Keno and TAB, sports bar, live entertainment and weekly raffles and promotions.
Currently Howlong Golf Resort has the largest membership base in Australia with a large number of remotely based members who enjoy the low fees and the quality course, accommodation and clubhouse facilities when they visit. Howlong hosts a number of major tournaments including the Murray Masters and the Howlong 10,000 which attracts hundreds of members and guests to the area each year.
Howlong Golf Resort is highly recognised by Golf Australia as a leading force in Junior Golf programs, receiving the 2011 Jack Newton Junior Golf Junior Club of the Year award, MYGolf Centre of the Year for 2012 and was recently received a Highly Commended award in the Clubs & Community Awards 2014.
More information: Howlong Golf Resort, Golf Club Drive, Howlong NSW 2643. Phone: 02 6026 5321, Email: enquiries@howlonggolf.com.au. Website: www.howlonggolf.com.au
Next up for our trip, The Commercial Golf Resort Albury is growing into one of the region's best known courses.
The course features a superb 18-hole championship layout, with undulating tree lined fairways. The greens are regarded as the best in country NSW, and are renowned for their true roll and quick pace. The course is always well manicured, and provides a testing challenge for all players.
The $1.5 million renovation and upgrade to the club has delivered an impressive layout giving the highest level of service,  guaranteeing  customer satisfaction and comfort.  The Club features TAB, Sky Channel, Keno, bistro dining, spacious lounge and bar facilities and al-fresco balcony.
Located in the heart of Albury's business and shopping district, Commercial Golf Resort is surrounded by a large range of accommodation.  Situated only 100m from the Clubhouse in a quiet picturesque location the Resort includes 4-Star accommodation featuring modern and spacious rooms, BBQ area in beautiful landscaped grounds and swimming pool.
Commercial Golf Resort is an 18-hole championship course measuring 5774m for the men and 5151m for the ladies. Whilst not the longest course, it requires pinpoint accuracy with its well-guarded, tree-lined fairways. The course is picturesque and undulating in parts, challenging golfers at all times. The greens are always a feature with their quick pace and true roll. There are several feature holes on the course, particularly the third. While only measuring 355m in length, this is rated the most difficult on the course.  It is a dogleg-right with large gum trees protecting the right side and a deep stormwater drain crossing the fairway 30 metres short of the green. The green is long and narrow with bunkers both sides of the green, requiring a precise approach. Players of all levels will enjoy the challenge that the course has to offer.
More information: Commercial Golf Resort Albury. 530 North Street, Albury NSW 2640. Phone: 02 6057 2800. Proshop: 02 6057 2801. Email: proshop@commclubalbury.com.au. Website: www.commclubalbury.com.au.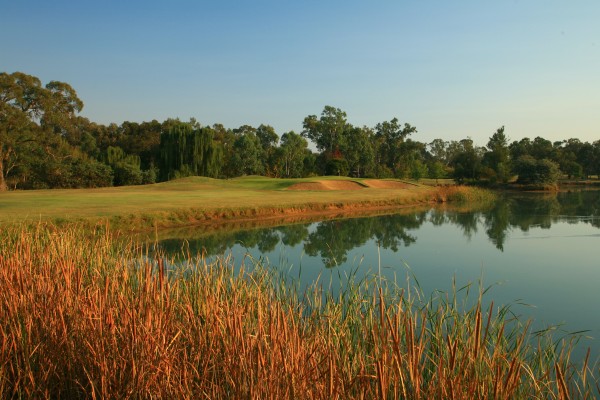 Last, but certainly not least, our final stop on the massive Murray adventure was the Thurgoona Country Club Resort, offering golfers a mature Championship golf course located only 10 minutes from Albury, an easy 3-hour drive from Melbourne and a brief 60-minute flight from Sydney.
Designed by renowned professionals Peter Thomson and Mike Wolveridge, the par 72 18-hole Championship Course plays to 6,365m from the back tees.  Several tee options ensure a good test for any level of golfer.  All 18 holes have recently been replaced with beautiful Santa Ana Couch grass, while the overall condition of the course has been improving rapidly. A true year-round course, Thurgoona features mature gum trees, large undulating bent grass greens, strategically placed bunkers and enough water to make even the most experienced golfer think twice.  A full length driving range is open year round with grass tees and great synthetic turf.
There's more than just golf, however.  They offer 16 championship tennis courts, a 26 room resort with spa, sauna and swimming pool, a fully licensed modern club with conference and function facilities, a bistro, coffee shop and bar with the best prices around. Other facilities include a fully-stocked pro shop, driving range, golf tuition, hire carts, hire clubs, room service, children's area, TAB, keno and more.
Stay and play packages are available for any sized group and include one round of 18-holes for each night's accommodation, continental breakfast (hot breakfast option available) and a dinner voucher for your evening meals.
More information: Thurgoona Country Club Resort.Phone: 02 6043 1411, Pro Shop Phone: 02 6043 1902, Email: golf@thurgoonaresort.com.au, Website: www.thurgoonaresort.com.au.
SOUTH AUSTRALIA
While we weren't able to visit the South Australian Murray clubs on this trip, special note must be made of the picturesque and challenging 18-hole Loxton Golf Club, located 8kms from the town. Loxton presents a relaxed and social atmosphere, perfect for golfing enthusiasts. The 18-hole course has been ranked among the Top Ten courses in South Australia, the Top 100 Australian country courses and the Top 40 Australian public access courses, playable for less than $40 green fees.
The Loxton Golf Club plays host to a large number of tournaments each year which are strongly supported by golfers from intra and interstate.
Lush irrigated fairways provide a high standard playing surface all year, although, the course usually reaches its peak during the winter season. There are sand bunkers on 10 holes and a varied range of grassy mounds on the surrounds of most holes.
The course has an abundance of mature Aleppo Pine, various gums and other shade trees lining fairways and surrounds of most holes.
There are established practicing facilities situated near the clubhouse. Visitors are always welcome on the course (apart from major events) and their programme can be found on their website. There is plenty to do in the town precinct which is only a 5-minute drive from the course, if the wives/partners don't want to play golf.
More information: Loxton Golf Club. Edwards Road – Loxton North, SA 5333. Phone: 08 8584 1490.   Email: email@loxtongolf.com.au. Website: www.loxtongolf.com.au .
Accommodation & Tour Operators
While many of the Murray River courses above feature accommodation, there are other off-course options for many golfing groups or couples. Here are just a few:
Golf & Gourmet
The Murray River Golf Courses have always had an attraction to golfers Australia wide, with very good reason. The courses are great and affordable, the attractions such as wineries, cuisine, access and the river all add to the experience of golfing along the Murray.
Innovative tour operator Golf & Gourmet has added a further benefit to golfing along the Murray: spend a week cruising along the river on a luxury houseboat. Not your normal run-of-the mill houseboat, but one with 6 ensuite cabins fitted with air conditioning, flat screen televisions and night screens. The vessels also feature a 10-person spa, al fresco dining area and BBQs on the upper deck, great lounge area forward on the lower deck and storage for golf clubs.
The river provides an ever changing spectacle of wildlife, riverscapes, history, other vessels on the river and just knowing you are travelling on one of the great waterways that were essential to the settlement of Australia.
Mooring alongside a golf course with just a 9-iron to the pro shop, or an overnight moored along the riverbank sharing dinner and a glass of wine watching the sun set with just nature as the backdrop.
Golf courses include Comealla, Mildura and Riverside, explore the historic town of Wentworth and enjoy a cruise along the Darling River capped off by a last night dinner in Mildura make the Murray River Magic a special golf tour which departs from and returns to Mildura.
More information: Golf & Gourmet.12 Budgeree Street, Tea Gardens NSW 2324. Phone: 0414 799 722. Email: fred@golfgourmet.com.au. Website: www.golfgourmet.com.au
El Sierra Motel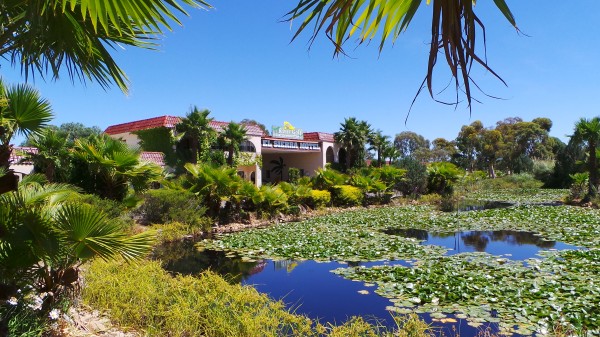 Barooga's El Sierra Motel is located halfway between Albury/Wodonga and Echuca/Moama, and offers 40 well-appointed motel units suitable for couples, families and large groups.
Michael and Lorraine have been welcoming guests to stay for the past 19 years and have recently handed it over to the next generation, Michael Jr and Kristen, who have continued to offer visitors unbeatable golf and leisure packages in a relaxed and friendly environment.
El Sierra's Murray River Golf Packages include everything  you need- Accommodation right between the Old and West Courses of Cobram-Barooga, a continental buffet breakfast to enjoy in their lovely breakfast room which has been decorated in the family's souvenirs from their own adventures. It also includes an evening dinner voucher to use at the clubs in Barooga. Both have had extensive renovations completed just this year and offer delicious meals and excellent entertainment. And then there is the golf: Kristen and Michael can book it all for you! It's that simple.
Newly renovated El Sierra has refurbished its accommodation facilities, including new bathrooms in all the rooms. El Sierra has two styles of accommodation, twin share units and quad share units, their two room units accommodate up to five golfers. The entire motel can cater for golfing groups or families up to 150.
El Sierra has a large solar heated swimming pool, tennis court and barbeque facilities and courtyard parking on three and a half acres of beautifully landscaped gardens
When it comes to packages they have thought of everything and offer groups of 12 or more a terrific deal:  A FREE self-drive Mini Bus from Melbourne. So for those interstate or international guests flying into Tullamarine your ride is waiting for you to drive up and use for your entire trip. The bus is also available from other Melbourne Metro area for groups from Melbourne. And if you're not from Melbourne, they also have the option of a petrol rebate per room or the organizer gets their trip for free.
All this from just $69 per person per day quad share or $79 for twin share. Large groups are their specialty so if you or your golf group are looking for a fantastic deal, contact them today.
More information: El Sierra Motel. Golf Course Road, Barooga NSW 3644. Phone: 1800 631 082, (03) 5873 4477. Email: Michael@murrayrivergolf.com.au. Website: www.murrayrivergolf.com.au
Paradise Palms Motel Mulwala
Paradise Palms Motel Mulwala is located right in the heart of the golfing mecca on the Murray. With 12 rooms all newly renovated with carpet, couches, bedding, fixtures and fittings, Paradise Palms is a great place to base yourself to explore the Murray River golf scene. All rooms are twin share with queen and single beds, Foxtel with 30 channels, flat screen TVs, walk-in shower, tea and coffee-making facilities, BBQ area with pool and spa, and ample parking for buses and trailers. Their package deals all include a fully-cooked hearty breakfast, delivered to your room, or they can organise a buffet breakfast around the BBQ and pool area if your group would prefer to eat breakfast together. (Buffet Breakfast only available for groups of 16 or more guests)
Paradise Palms can cater for groups from 24 twin share to a max of 28 guests.   They can also organise a BBQ hamper with salads and meat, ready for you when you finish golf so you can relax and have a few drinks by the pool. They will take care of everything. Extra charges apply.
Their great special deal at the moment is 5 days golf at your desired golf courses, 5 cooked breakfasts and deluxe twin share accommodation, $500 per person twin share.
One day packages start from $105 per person twin share, including golf, breakfast, and deluxe twin share accommodation. Groups of 6 or more can get further discounts. Other packages are available, and they can tailor a package to suit your needs. Nick and Sophie would be more than happy to have a chat to you about your next Murray River golfing trip.
More information: Paradise Palms Motel Mulwala. 121 Melbourne St, Mulwala NSW 2647. Phone: 03 5743 2555. Email: enquiry@paradisepalmsmulwala.com. Website: www.paradisepalmsmulwala.com.au.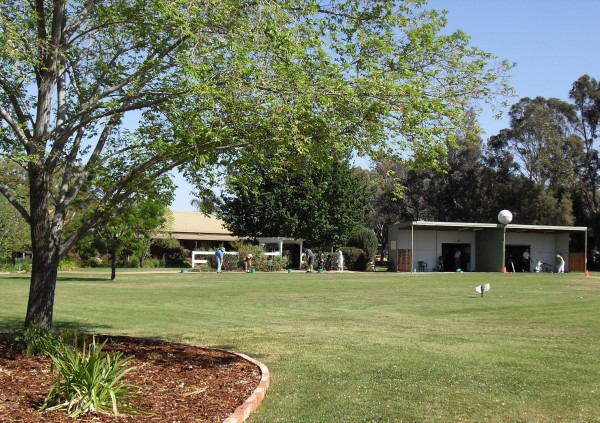 Golfers Resort Yarrawonga and Glenn McCully Golf Schools
Golfers Resort Yarrawonga is the home of the longest-running purpose-built Golf School in Australia. Established by Glenn McCully and his wife Jan in 1984, it boasts a proud reputation of helping many thousands of golfers over the past 31 years to not only improve their golfing skills, but to also enjoy their chosen sport more. Glenn, along with his son James, have a simple teaching philosophy. They take what you bring to the table, and work with you using tried and tested methods to provide you with an easy to understand programme to improve your golf.
According to Glenn, one of the most often comments they hear is "why has no one explained it to me like that before?"
Glenn says "I guess a good teacher should be able to explain 'cause and effect' so the pupil will know why what you are asking them to do will help them with their golf. This develops a trust between pupil and teacher which is the best way to get results."
The school is located on a beautiful country property just on the edge of the town of Yarrawonga in Northern Victoria. The fully self-contained units provide a quiet haven for golfing groups playing a selection of great Murray courses, or for those doing one of the variety of School options, which include Private Schools for the one-on one-experience. Three-Day Private Schools start from $650.00 per person twin share. Five-Day Golf Holiday Packages start from $495.00 per person twin share.
More information: Golfers Resort and Glenn McCully Golf Schools. 623 Murray Valley Hwy Yarrawonga 3730. Phone: 0357441994. Email: info@golfersresort.com.au. Website: www.golfersresort.com.au