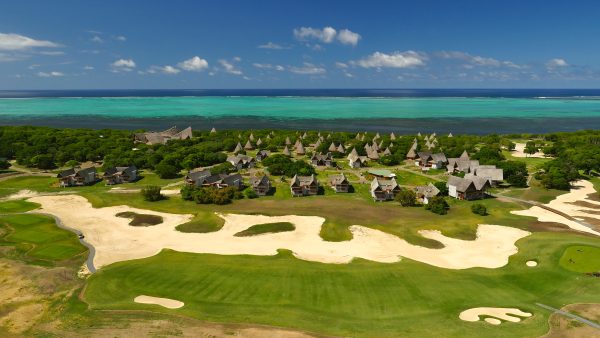 (Story by Megan Symington. Photos: Supplied)
We'd 'arrived' before we even left; as I approached the Aircalin counter at Sydney Airport, and was greeted with a friendly, smiling face, I suddenly transformed into Holiday Mode. Gone were the last few hectic hours of Sydney traffic and sprinting through the airport. My journey had already begun!
I was on my way, with around 20 ALPG professionals, to The Sheraton Deva – New Caledonia Women's International Pro-Am. The timing of the event—the last on the Aussie schedule for many—meant that they, too, were in holiday mode; not only keen to play the 2nd annual tournament at the resort, but also knowing that the journey also involved a fabulous course, beautiful beach, sunsets, good food, a sensational pool and a totally relaxed atmosphere.
A quick 2.5 hours later, as we began our descent through the clouds, I caught my first glimpse of paradise: sparkling turquoise waters, white sandy beaches and a solid chunk of mountainous terrain running the length of the stunning South Pacific island.
After collecting our bags, the resort reps ferried us onto an air-conditioned coach and, before long, we arrived at the Sheraton New Caledonia Deva Spa & Golf Resort.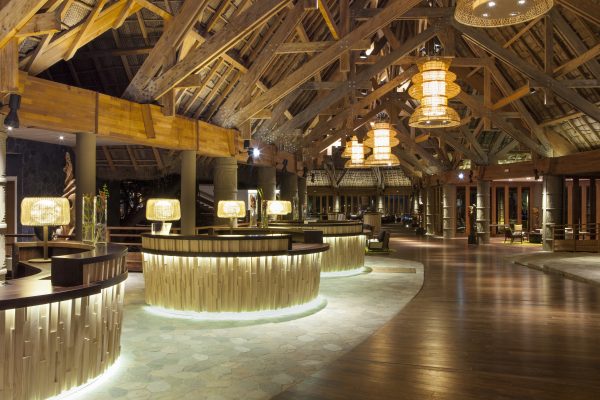 First impressions are everything, and in this case, they were simply stunning. Huge wooden cathedral ceilings stretching 30m in length along the main hub, encompassing reception, pro and resort shops, break-out chill areas with lounges and an area to keep the kids amused. Upstairs reception/conference, huge balcony areas and one of two main dining areas branched off the hub with the main attraction being the Creek Bar, a generous, well-stocked circular bar with plenty of seating overlooking the stunning floodlit pool area.
My luggage had beaten me to my bungalow…and opening the door, I fell in love. It was huge! A king-sized bed, Lounges, huge deck and a bathroom with double shower and a bath that Jacques Cousteau could get lost in… all tastefully decked out and new.
My 7am breakfast meeting was in the Reef Restaurant, which featured wooden flooring, soaring timber and rattan ceilings, and the lower level opening out to a deck with views across the Lagoon and the vast tropical pool area. There were nearly too many choices for breakfast!  (Dinners, I discovered later, were also sensational – the menus varied between buffets and a la carte with everything imaginable.)
After breakfast, I grabbed my clubs and headed to the practice range. Being a 13-marker limbering up next to a line of Pro golfers is always interesting, the fabulous facilities made that step less daunting – ample chipping and putting areas and bays for 30 or more golfers meant that everyone was doing their own thing… at once.
The tournament itself is unique in that there are three rounds – the first, a fun/team event was followed by a 36-hole Pro-Am. A feature of the team event was the obligatory wearing of traditional dress over our golf gear on the signature Par-3 17th hole, which featured stunning scenery – palm trees, the beach and the breathtaking crystal waters of the Lagoon.
The Dye Design course is exceptional, and included similarities to other Dye courses I've played: significant use of sandy wastelands, mountainous backdrop, rough ranging from 'a bit nasty' to 'forget it' and beautiful fairways with beckoning landing areas. The greens were firm, true and consistent. Not surprisingly, the attack game is totally risk/reward with tight approaches and plenty of green-side bunkering. But it can be relatively tame for the mid-higher handicapper content on hitting it down the middle and taking their medicine.
Kudos to the very capable Golf Operations duo of Laurence and Kevin and their small but capable team!
After the team round of golf, I met Emeric – a new Dad and 6th generation New Caledonian who runs Gecko Evasion. He knows the island as well as anyone and took a few of us snorkelling beyond the Lagoon at Il Verte – Green Island. It was just perfect. Emeric produced his famous ice box with Rose and canapés – just what the doctor ordered!
A massive barrier reef surrounds the main island – 24,000 sq km of marine-life-rich UNESCO world heritage-listed lagoon. The beach by the Lagoon is one of two locations worldwide where turtles bury their eggs to hatch. I was told if the temperature of the sand is above 28 degrees, the offspring will be female and below that, male. Legend says that all will be well for New Caledonia as long as the turtles return – but should they not, the "Giant Lizard" (mountain range that runs the length of the island) will rise and destroy everything with fire and force. It's no wonder that the turtles are so revered and cared for by many passionate locals. I also learned that Green Island, 3 kms off the mainland is a burial ground for many of the Kanak people from the Melanesian islands the original inhabitants of the island and that they are all buried crouching down facing south east with a view of the Ocean and their homeland.
Our second round of golf – the first of the tournament proper, was uncharacteristically wet. Unlike a normal comp round at your local club – rain on holiday or in a tournament seems not to hinder your play or enjoyment. You can imagine then, how exhilarated I was when after the game I found myself in the reception of the resort's Nature Spa, breathing in patchouli and lavender oil, preparing for my hour-long massage. Heaven.
The tournament was won by Brooke Baker from the US with local amateur Emilie Ricaud–an enormously talented young player runner-up. She no doubt has her sights set on a career on tour.
Mixing with the girls, on and off course was both fun and inspirational. A varied group, all driven, individualistic, hard-working and down-to-earth. Variously juggling part-time jobs, hectic and unpredictable travel schedules, friendships, boyfriends, long-term relationships – all the while striving to reach their sometimes-lofty goals. If you have a chance to play a Pro-Am with the ALPG girls, take it. Or, even better, catch this tournament here this time next year!
I know that I'll be back. It was all so easy; the staff were amazing, everything was possible, New Caledonian time forced me to slow down, all was right with the world. I loved the resort, the course and the add-ons, it was four days and I want more!
On the list next time is to extend and also play a couple of the other well-regarded local courses just out of Noumea – Tina and Dumbea. I plan to also visit Ile de Pines – by all accounts a stunning getaway accessible by small plane, helicopter or catamaran with a fabulously intimate resort.
It has also been recommended by locals to spend time in Noumea with French-inspired restaurants and boutiques and French fashion with outdoor restaurants, marketplaces, fresh produce, craft and plenty of bars and French flavours.
Do yourself a favour – plan a golf getaway in New Caledonia – you'll wonder why you haven't been before and you'll definitely want to go again!
Writer travelled courtesy of Marriott International, Aircalin and New Caledonia Tourism

FACT FILE
New Caledonia is a South Pacific archipelago, located just over two hours from Brisbane, less than three from Sydney and Auckland and less than four from Melbourne. With naturally beautiful landscapes and activities on offer for all ages and interests, it's a destination where travellers can have it all.
More: newcaledonia.travel
Sheraton New Caledonia Deva Spa & Golf Resort
Sheraton New Caledonia Deva Spa & Golf Resort is located on New Caledonia's striking west coast. The resort offers 176 bungalows and suites, an 18-hole golf course, a health club and spa, an outdoor pool, two restaurants, a bar and a complimentary kid's club. All located on the 13-km of white sand beach and overlooking the UNESCO World Heritage listed lagoon, allowing guests to discover the natural beauty of this unspoiled region of New Caledonia. Rooms start at approximately AUD$270, ex. taxes, per night.
More: sheratonnewcaledoniadeva.com
Sheraton Hotels & Resorts
Sheraton Hotels & Resorts' golf collection consists of acclaimed championship golf courses located in some of the most beautiful destinations throughout the world. In Australia and the Pacific this includes Exclusiv Golf Deva New Caledonia at Sheraton New Caledonia Deva Spa & Golf Resort, Denarau Golf & Racquet Club next door to the Sheraton Fiji Resort and the Mirage Country Club Golf Course adjacent to Sheraton Grand Mirage Resort, Port Douglas.
More: sheratongolf.com.au
Aircalin
Aircalin is the full service, international airline of New Caledonia, operating fifteen flights per week non-stop from Australia and five flights per week non-stop from New Zealand to Noumea, New Caledonia. Flights take just over two hours from Brisbane, less than three hours from Sydney and Auckland and under four hours from Melbourne.
More: aircalin.com