Golf & Gourmet have launched the new 2015 program with more departures, new innovations and a new vessel from All Seasons Houseboats.
The interest in the Murray River Magic has blossomed with calls being received from across Australia and New Zealand. Where else could one stay on board a luxury houseboat with ensuite cabins which are air conditioned and each with a flat screen television for guest comfort. And participate in preparing fine aged eye fillet steak on the upper deck BBQs over a glass of local wine. Playing the fine golf courses along the Murray and enjoying the camaraderie that only a trip like this can produce.
A new innovation will be continued through 2015 with River Skipper Leon Wagner escorting each trip. Leon has a vast knowledge of the Mighty Murray River with stories regaled around every bend as he has Captained River Paddle Steamers and Vessels in a long professional career.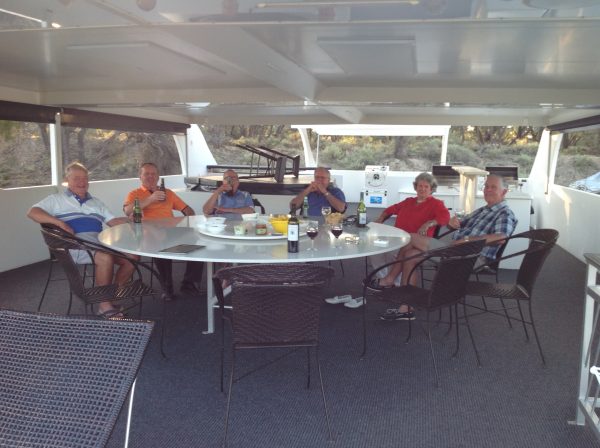 All Seasons Houseboats is launching a new six-cabin vessel in November 2014, Golf & Gourmet has secured the Platinum Indulgence for the October and November departures in 2015. This state-of-the-art vessel will further enhance an already great value holiday.
By using a food kitty system where each guest contributes $120 per person to the costs of food on board which generally includes four evening meals, seven breakfasts and lunches for golf, as well as nibbles most evenings this is exceptional value. If there are funds left over they are given back or if a little more is needed then each person contributes.
Prices for 2015:
Golfer: $1482 per person twin/double share
Golfer Single Cabin: $2182 per person
Non Golfer: $1237 per person twin/double share
DEPARTURE DATES 2015:
14 April; 12 & 19 October; 09 November
Group space available for other dates on request
More information Fred Sparksman – Golf & Gourmet – email: fred@golfgourmet.com.au – Tel: 0414799722 Web: www.golfgourmet.com.au