Famous for its championship golf courses, idyllic blue skies, 300 days of sunshine each year, world-class wines, historic sites and picturesque landscape, the Murray River Region has long been a top destination for golfers looking to experience some of Australia's best country layouts. This month, INSIDE GOLF explores some of our favourite destinations across this fantastic golfing landscape.
(For a Google Map of the courses in this feature, click here)
Mildura Golf Resort
At the top-end of the Murray River in northwestern Victoria, Mildura Golf Resort features comfortable accommodation, delicious meals and exciting golf for players of all levels.
The traveling golfer will find a course that is superbly maintained all year round. Acclaimed for its immaculate greens and challenging championship layout the 6014m course is rated as one of the Murray River's most challenging and enjoyable golf rounds.
Created on red sand, the well-contoured fairways feature many undulations while the spectacular water hazards and true greens at Mildura Golf Resort are always well presented.
The course was opened for play in 1912, and was later remodelled in 1975. In November 2011, the resort commenced the latest phase of course remodelling by PGA Tour Player and course architect, Bob Shearer and his business partner, Ben Davey of Davey Shearer Design Group.
Currently Mildura Golf Resort hosts various tournaments including the Rivertowns Classic, Tri-State Masters and the Jayco Mildura Golf Resort Open.
The resort have three distinct styles of accommodation, catering for singles, groups or families, while the Fairways Bistro is open seven days a week, featuring exceptional quality bistro meals.
After your round of golf, you can have a swim in the pool or enjoy a barbeque amongst the flora and fauna. If you're hosting a special event, conference or business seminar, the resort staff can provide all your requirements, and arrange special discounted rates.
Mildura Golf Resort
287 Twelfth St, Mildura VIC
(03) 5023 1147
1 800 011 471
www.milduragolfresort.com.au
Murray Downs Golf & Country Club
One of Inside Golf's favourite courses in the region, the award-winning Murray Downs Golf & Country Club has been consistently voted in the top resort courses around Australia, and for good reason, as it is a truly top-notch course.
A former winner of Victorian PGA Course of The Year, Murray Downs features magnificent golf and picturesque views—complete with river gums in every direction. The course is presented in immaculate condition, and features some of the best greens anywhere.
During a recent round there, we found ourselves uttering the word "magic" at nearly every hole. Yes, the course is that special.
The course's signature hole is the par-3 5th, which requires a long water carry to the green, while also missing the huge bunkers on the left.  Beautiful and challenging, it takes some skill to score a par here.
The best part is that Murray Downs is playable to all handicaps, featuring a solid combination of risk-reward options, bail-out areas and challenges throughout. This makes it ideal for the "Annual Boys Golf Weekend", or just a quick getaway with friends.
The Murray Downs Resort is located opposite the 16th fairway and only a short stroll from the Clubhouse and Pro Shop. You can be out your door and on the first tee within minutes. The resort is the perfect place to wind down after your day on the course with a large tropical pool, indoor heated spa, barbeque area and if you're feeling like some more energetic activity they have a tennis court as well. Let the night take you away as you enjoy the peace and serenity of the country lifestyle. Don't be surprised to share the glorious sunset with a few kangaroos, they can often be spotted from your room.
Murray Downs Golf & Country Club
Murray Downs Drive,
Murray Downs via Swan Hill VIC 3585
03 5033 1422
clubinfo@mdclubs.com.au
www.murraydownsgolf.com.au
Yarrawonga Mulwala Golf Club Resort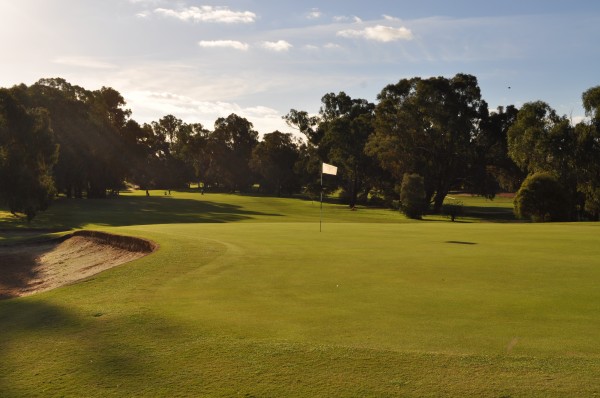 Nestled alongside the picturesque Murray River, Yarrawonga Mulwala Golf Club Resort "ticks all the boxes" for modern, comfortable golf resort destinations.
The largest public access golf resort in the country, the resort features 45 holes– two 18-hole courses, the Lake and the Murray, and a short nine-hole Executive course—all set amongst beautiful natural landscape overlooking the Murray River and Lake Mulwala. While the Murray course is one of the better known layouts at the facility, all three courses offer something special to the keen golfer, and like other courses/resorts in the area, the entire facility features a welcoming and warm atmosphere. Inside Golf have played a number of rounds here, and we have never been disappointed.
Before your round, take advantage of the state-of-the-art practice facilities with driving range, hitting nets, putting greens and chipping area with bunker. There is also a pro shop open from dawn to dusk with competitively priced products and services.
The resort also offers a free smartphone app, which allows golfers to get GPS distances, track statistics, view a course tour/hole flyover, keep score via a live leaderboard and more. This is fantastic for a group event or a friendly competition between mates.
Choose from nine different styles of accommodation overlooking the golf course or native bushland with something to suit all budgets and needs, from basic cabins to luxurious apartments and villas, each with cooking facilities, private bathrooms and a car parking space. All accommodation is self-contained, family-friendly and is only a short stroll from the clubhouse and pro shop. Long or short stay guests can explore the spectacular surrounds, tempt their tastebuds with quality dining, workout in the gym, have a hit of tennis, take a dip in the solar-heated pool or simply relax with a massage. They are even building an in-house cinema to let you catch the latest film after your round!
Yarrawonga Mulwala Golf Club Resort
Golf Club Rd, Mulwala NSW
www.yarragolf.com.au
(03) 5744 1911
Rich River Golf Club Resort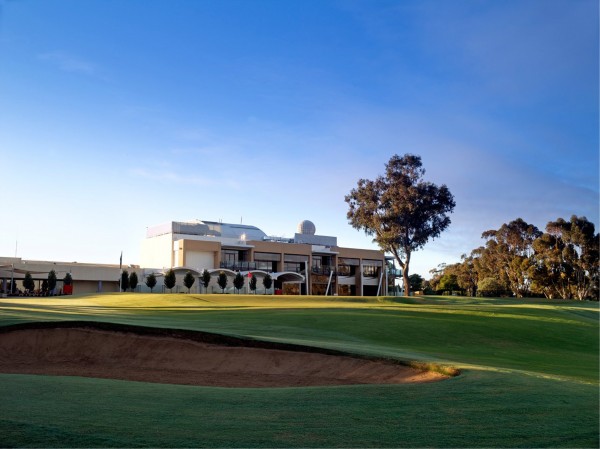 Nestled alongside the beautiful Murray River at Echuca Moama, Rich River Golf Club Resort offers a pleasant and challenging golf experience for players of all levels. With fully self-contained accommodation on site, it is also a great location for a "Weekend Away" with the gang.
Rich River Golf Club Resort is a shining example of the quintessential "something for everyone" golf resort. Once you arrive, you'll never need to get into your car.
Featuring a 36-hole Championship Golf Course, Bowling Greens, Croquet Courts, Tennis Courts and a new 17-bay Driving Range, the resort has all your sporting options covered.  The 63-room motel complex adjacent to the Clubhouse is set amongst the manicured tranquil gardens which houses two outdoor pools, spa and BBQ areas.
The 36 holes of high-quality, country golf awaits the hungry golf tragic upon their arrival. The tree-lined Rich River fairways are a challenge if your aim is not true off the tee, but a recovery shot is often on the cards if you do find yourself in trouble. The greens roll true and are a pleasure to play. Long fairways with some nice open tees beckon you to open up the shoulders and leave nothing in the bag.
After golf, the resort offers dining options to suit all tastes and budgets with specials available every night of the week.  Their Executive Chef and his talented team provide a wide selection of taste sensations expertly prepared onsite for your enjoyment. You can also experience their coffee shop, sports bar, spike bar or James Maiden Bistro.
The Pro Shop stocks an exciting range of golfing equipment, apparel and accessories while their qualified and experienced Pro Shop ream offer a personalised club fitting, golf club repair service, coaching lessons and equipment hire.
Rich River provide a wide range of Clubhouse facilities including dining, coffee shop, sports bar, takeaway liquor, TAB & Keno, private function rooms, free live entertainment, weekly raffles and promotions to keep you entertained during your visit. Want to explore the historical Port of Echuca? The free courtesy bus is available on the hour for pick up and drop off around the Echuca Moama area.
Rich River Golf Club Resort
24 Lane Moama, NSW 2731
03 5481 3333
1800 035 634
rrgc@richriver.com.au
www.richriver.com.au
Tocumwal Golf Club
Long considered the 'Playground of the Murray', Tocumwal Golf Club offers some of the most enjoyable golf in country Australia.  Featuring two 18-hole championship golf courses—the Presidents and the Captains courses—the golf club offers the highest level of service and quality in all aspects of the game from course conditioning to practice facilities and the clubhouse amenities.
The course is held in such high regard that it played host to last month's CPM Southern PGA Trainee Championship, where it was set-up to a Tour standard, and challenged some of Australia's most talented up-and-coming golfers.  The facility got a hearty "thumbs up" from all involved.
With two established courses ranked in the 2013 Top 100 Public Access Courses in Australia, Tocumwal offers an experience not to be missed. The Presidents Course, the older of the two, is heavily tree-lined with deeper bunkering while the Captains Course is lightly timbered, but more water comes into play. The playing surfaces on both courses feature superb couch grass fairways and slick, bent grass greens that are the envy of many.   The easy-walking fairways are slightly undulating and both courses have some very pretty and challenging golf holes amidst an abundance of magnificent Australian flora and fauna.
The modern clubhouse features all of the dining and leisure facilities that you expect of a modern, friendly club. Choose to dine-in or alfresco on the balcony, while enjoying the service of the attentive staff. With floor to ceiling windows, the restaurant offers panoramic views over the golf course.  Tocumwal GC also has a fine selection of wines – many supplied by some of the local wineries.
There are also some outstanding golf packages on offer.  Enjoy the convenience of one of the 70 rooms spilling onto the golf course, within a stroll of the clubhouse, or the suite of accommodation options nearby that make Tocumwal the ideal location for your next golf holiday or as a central point to explore the Murray River region.

Tocumwal Golf Club
Tocumwal Barooga Rd, Tocumwal NSW
www.tocumwalgolf.com.au
(03) 5874 9105
1800 631 197
Numurkah Golf & Bowls Club
Just 20 minutes north of Shepparton and in the heart of the Goulburn / Murray region is Numurkah Golf and Bowls Club.  Boasting "the friendliest staff in the region", Numurkah features a 6,000m par-72 layout meandering along the banks of the Broken Creek.  The course is an ideal challenge for both seasoned golfers and beginners alike.
Visitors can take advantage of the club's facililties which include TAB, Keno, Bistro offering lunch and dinner 7 days a week, two magnificent bowling greens and on-course accommodation facilities for groups of up to 65.
Experienced PGA Professional Anothony Sanders runs a well-stocked pro shop with cart hire and lessons available.  Visitors with a GA handicap are most welcome to join in club competitions that run from Wednesday to Saturday.  Numurkah is just two hours from Melbourne's northern suburbs and has a growing number of metropolitan members, as residents outside of 30 km from the club can take advantage of the $130 country membership rate.
This club's friendly atmospherre has been popular with a growing number of visitors.  With golf packages priced at $95 per player per night (including unlimited golf) Numurkah offers arguably the best value for money in the region.
Numurkah Golf & Bowls Club Inc
Numurkah, Victoria, 3636
03 5862 3040
accommodation@ngbc.com.au
www.ngbc.com.au
Corowa Golf Club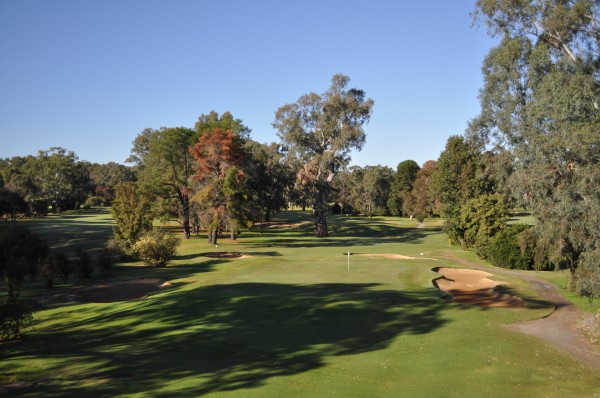 Nestled on the Murray River and boasting all amenities for the perfect getaway, Corowa Golf Club has a highly-rated 27-hole championship golf course, pro shop, modern clubhouse and motel.
Situated in the heart of the renowned Rutherglen wine district, Corowa Golf Club is ideally located for anyone looking for a pleasurable game of golf, or a relaxing break away.  Inside Golf has played here for years, and consider it a home away from home. So too does PGA Tour player Marcus Fraser, who learned his craft on the course.
The Corowa Golf Course has been voted by the PGA as one of the TOP 3 Regional Pro-Am courses, while the East Course has been rated in the top 100 public access courses . The original course, designed by Al Howard, was established in 1955. It is nestled amongst river gums along the course of the Murray River and offers golfers of all abilities a challenging and rewarding round.The front 9 holes, also designed by Al Howard, were established in 1980, featuring long and open fairways.
From the clubhouse there are views of the back 18 holes (old course) and the Murray River. The Clubhouse features separate areas for pokies, lounge and restaurant areas which enables families to come to the club.
There are practice areas for both putting and driving, with tuition available from the pro shop.
The Corowa Golf Club Motel is a 35 room, two-storey on-course accommodation facility. There are views over the Murray River on one side and the practice fairway and front 9 holes on the other. Play and Stay packages include accommodation (based on-course), continental breakfast, a restaurant dinner and unlimited golf. Prices are based on twin share accommodation per person. Non-playing packages can also be arranged along with junior packages.
Corowa Golf Club
Hume St, Corowa NSW
(02) 6033 1466
www.corowagolf.com.au
cluBarham Golf & Sports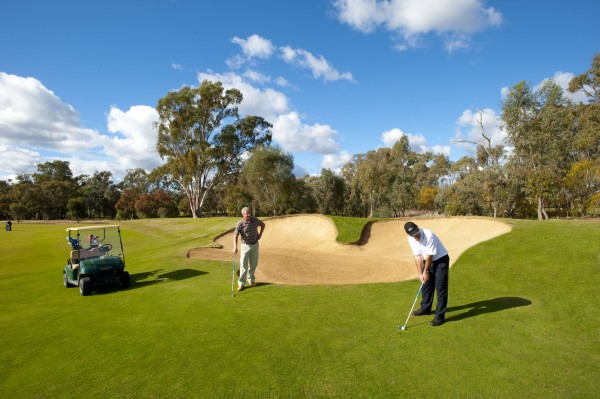 Situated between Swan Hill & Echuca, cluBarham has become one of the most popular destinations in the Central Murray region, proudly incorporating: Barham Services Club, cluBarham Golf & Sports and cluBarham Motel & Barham Golf Resort.
The newly Ross Watson-designed holes and greens ensure this par-73 championship course will be on your 'must play' list. The front nine is gently undulating and played throughout tall timbers and creek crossings. The fifth hole, "Gallipoli", is Barham's trademark with a massive bunker located at the foot of the green, while the recently completed 132m par-3, 18th is quickly becoming one of the feature holes, with its picturesque and undulating green guarded on both sides by two large grass-faced bunkers.
cluBarham offers many extracurricular activities to make your stay an active and enjoyable holiday. If golf isn't your forte, perhaps picking up a racquet for a friendly game of tennis on one of the 14 magnificent grass courts is more your style. For a more leisurely pace, a choice of five lawn bowls greens are available for use all year round. Or maybe just relax beside a pool and enjoy a great weekend away.
cluBarham Golf & Sports
Moulamein Road
Barham NSW 2732
P 03 5453 2772
www.clubarham.com.au
Wodonga Golf Club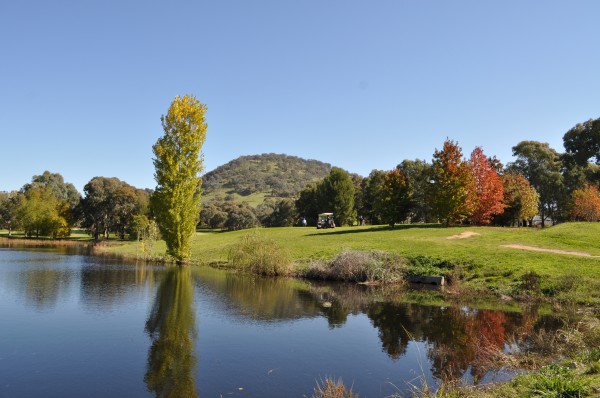 Set in a natural bush environment, Wodonga Golf Club is a hidden gem in the Murray Region. Picturesque and challenging, the 6100m course is bordered by beautiful native trees, as well as the Felltimber Creek which snakes its way through the course.
Open daily to members, local groups, social clubs and visitors; it is ideal for trade and corporate days.
The Pro Shop incorporates Mandy Buchanan's Golf Shop – the only golf shop in Wodonga, stocking a vast array of golf equipment, clothing and accessories.
The Clubhouse Bar & Bistro offers fine meals, and has a number of options available for any special event, ranging from canapés in the Lounge, 'after golf' catering in the Spike Bar, Corporate Breakfasts or large family gatherings.
Make Wodonga Golf Club a part of your Murray River Golf tour; you won't be disappointed!
Wodonga Golf Club
10 Clubhouse Place
Wodonga, VIC, 3690
(02) 6059 1552
pro@wodonga-golf.com
www.wodonga-golf.com

Sporties – Cobram Barooga Golf Club

The Cobram Barooga Golf Club is situated in the small Murray River town of Barooga. It has long been recognised as one of the Australia's most popular holiday destinations… and for good reason.
The town is the ideal getaway and the perfect place to base yourself when visiting the Cobram Barooga area.
The Cobram Barooga Golf Club has two championship standard courses and forms an integral part of the Barooga recreational holiday experience.
The Old course is long by modern standards, yet the clever design and narrow tree-lined fairways with huge river gums provide a good test for any player. The West course, which is slightly longer than the Old course, has wider fairways, more slopes and larger greens.
After your game you can enjoy the hospitality in the newly renovated clubhouse with its outdoor areas and dining options.  The well-stocked Pro shop has all your golfing needs and ample carts are available.
The newest addition to Cobram Barooga is the opening of the 18-room on-site motel which links directly to the Clubhouse. Rooms are tastefully decorated and have open views to the course.
For your next holiday choose Cobram Barooga and all the region has to offer.
Sporties – Cobram Barooga Golf Club
Golf Course Road, Barooga , NSW
Pro Shop 03 58734372
Clubhouse 03 58734304
justin@cbgc.com.au
www.cbgc.com.au
Howlong Country Golf Club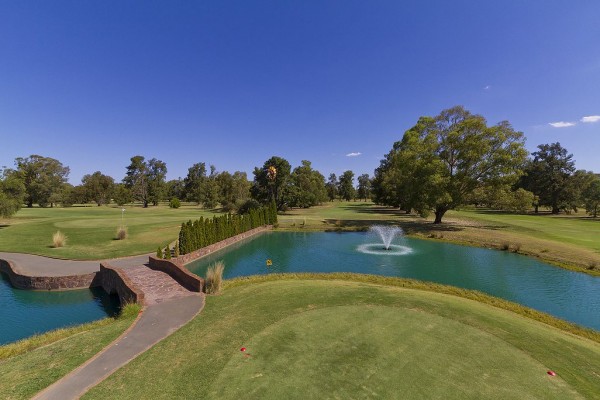 Nestled alongside the picturesque Murray River and only 20 minutes from the regional city of Albury/Wodonga, Howlong Country Golf Club is one of the finest courses in the area. Situated in the heart of the Rutherglen wine and food district, it is ideally located for anyone wanting to partake in one of the many local delights while on their golfing trip away.
The modern clubhouse features all of the dining and leisure facilities that you expect from a modern, friendly club. Choose to dine-in or alfresco on the deck, while enjoying the service of the attentive staff. With wide open windows and your choice of two restaurants, Howlong GC offers panoramic views over the gardens, lake and golf course.
Enjoy the convenience of one of the 25 rooms spilling onto the golf course, or have a roll on one of the two bowling greens. Or, indulge in the club's facilities, including Keno and TAB, sports bar, live entertainment and weekly raffles and promotions.
Currently Howlong GC has the largest membership base in Australia with a large number of remotely based members who enjoy the low fees and the quality course, accommodation and clubhouse facilities when they visit. Howlong hosts a number of major tournaments including the Murray Masters and the Howlong 10,000 which attracts hundreds of members and guests to the area each year.
Howlong GC is highly recognised by Golf Australia as a leading force in Junior Golf programs, receiving the 2011 Jack Newton Junior Golf Junior Club of the Year award, MYGolf Centre of the Year for 2012 and was recently received a Highly Commended award in the Clubs & Community Awards 2014.
Howlong Country Golf Club
Golf Club Drive
Howlong NSW 2643
enquiries@howlonggolf.com.au
02 6026 5321
www.howlonggolf.com.au
Black Bull Golf Club
Since launching their new 18-hole composite course layout on Boxing Day 2013, Black Bull Golf Club has continued to impress, with over 1000 golfing enthusiasts testing out the Thomson-Perrett-designed course over the past five months and giving it their tick of approval.
The recent completion of a number of new holes has now added two short par-4s which require a precise tee shot to avoid the fairway bunkers, thereby allowing for a short pitch shot to a well-guarded green.
A monster par-5 then awaits golfers with a water obstacle located along the right side of the fairway and a green-side bunker lying in wait for the errant approach shot. This is then followed by one of the strongest par 3's to be found throughout the entire river region.
Black Bull Golf Course is ecstatic to also announce the impending construction of the final five holes of its incredible golf course, with construction set to commence mid-next month. The Turnpoint Company has been appointed to manage the construction of these final holes. Boasting vast experience in building and managing courses at some of Australia's top 50 golf clubs including St Andrews Beach, Sandhurst, Magenta Shores and Sea Temple Resort, Black Bull is definitely in good hands.
The remaining holes will take approximately 10 months of construction before allowing time for the grass along the fairways, tees and greens to establish, meaning the final five holes are estimated to reach completion by Spring 2015.
This element of construction marks the final piece of the puzzle for the Black Bull Golf Course and a momentous step forward for the entire Silverwoods development.
Black Bull Golf Club
1 Phillip Hyland Drive, Yarrawonga VIC 3730
03 5744 0044
proshop@blackbullgc.com.au
www.blackbullgc.com.au

Accommodation & Tour Operators

Golf & Gourmet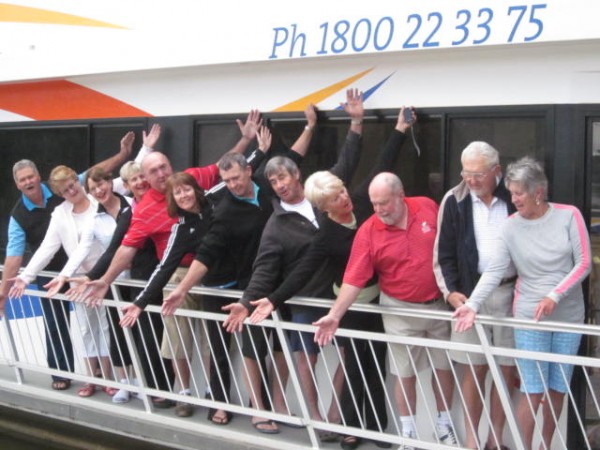 The Murray River Golf Courses have always had an attraction to golfers Australia wide, with very good reason. The courses are great and affordable, the attractions such as wineries, cuisine, access and the river all add to the experience of golfing along the Murray.
Innovative tour operator Golf & Gourmet has added a further benefit to golfing along the Murray, spend a week cruising along the river on a luxury houseboat. Not your normal run-of-the mill houseboat but one with 6 ensuite cabins fitted with air conditioning, flat screen televisions and night screens. The vessels also feature a 10-person spa, al fresco dining area and BBQs on the upper deck, great lounge area forward on the lower deck and storage for golf clubs.
The river provides an ever changing spectacle of wildlife, riverscapes, history, other vessels on the river and just knowing you are travelling on one of the great waterways that were essential to the settlement of Australia.
Mooring alongside a golf course with just a 9-iron to the pro shop, or an overnight moored along the riverbank sharing dinner and a glass of wine watching the sun set with just nature as the backdrop.
Golf courses include Comealla, Mildura and Riverside, explore the historic town of Wentworth and enjoy a cruise along the Darling River capped off by a last night dinner in Mildura make the Murray River Magic a special golf tour which departs from and returns to Mildura.
Golf & Gourmet
12 Budgeree Street, Tea Gardens NSW 2324
0414 799 722
www.golfgourmet.com.au
fred@goflgourmet.com.au
El Sierra Motel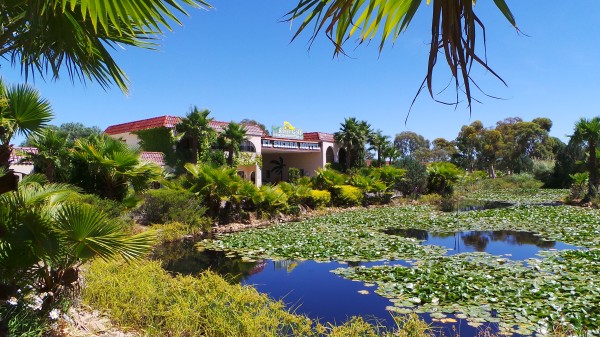 Barooga's El Sierra Motel is located halfway between Albury/Wodonga and Echuca/Moama, and offers 40 well-appointed motel units suitable for couples, families and large groups.
Michael and Lorraine have been welcoming guests to stay for the past 19 years and have recently handed it over to the next generation, Michael Jr and Kristen, who have continued to offer visitors unbeatable golf and leisure packages in a relaxed and friendly environment.
El Sierra's Murray River Golf Packages include everything  you need- Accommodation right between the Old and West Courses of Cobram-Barooga, a continental buffet breakfast to enjoy in their lovely breakfast room which has been decorated in the family's souvenirs from their own adventures. It also includes an evening dinner voucher to use at the clubs in Barooga. Both have had extensive renovations completed just this year and offer delicious meals and excellent entertainment. And then there is the golf: Kristen and Michael can book it all for you! It's that simple.
Newly renovated El Sierra has refurbished its accommodation facilities, including new bathrooms in all the rooms. El Sierra has two styles of accommodation, twin share units and quad share units, their two room units accommodate up to five golfers. The entire motel can cater for golfing groups or families up to 150.
El Sierra has a large solar heated swimming pool, tennis court and barbeque facilities and courtyard parking on three and a half acres of beautifully landscaped gardens
When it comes to packages they have thought of everything and offer groups of 12 or more a terrific deal:  A FREE self-drive Mini Bus from Melbourne. So for those interstate or international guests flying into Tullamarine your ride is waiting for you to drive up and use for your entire trip. The bus is also available from other Melbourne Metro area for groups from Melbourne. And if you're not from Melbourne, they also have the option of a petrol rebate per room or the organizer gets their trip for free.
All this from just $69 per person per day quad share or $79 for twin share. Large groups are their specialty so if you or your golf group are looking for a fantastic deal, contact them today.
El Sierra Motel
Golf Course Road
Barooga NSW 3644
1800 631 082
(03) 5873 4477
Michael@murrayrivergolf.com.au
www.murrayrivergolf.com.au
Paradise Palms Motel Mulwala
Paradise Palms Motel Mulwala is located right in the heart of the golfing mecca on the Murray. With 12 rooms all newly renovated with carpet, couches, bedding, fixtures and fittings, Paradise Palms is a great place to base yourself to explore the Murray River golf scene. All rooms are twin share with queen and single beds, Foxtel with 30 channels, flat screen TVs, walk-in shower, tea and coffee-making facilities, BBQ area with pool and spa, and ample parking for buses and trailers. Their package deals all include a fully-cooked hearty breakfast, delivered to your room, or they can organise a buffet breakfast around the BBQ and pool area if your group would prefer to eat breakfast together. (Buffet Breakfast only available for groups of 16 or more guests)
Paradise Palms can cater for groups from 24 twin share, guests to a max of 28 guests.   They can also organise a BBQ hamper with salads and meat, ready for you when you finish golf so you can relax and have a few drinks by the pool. They will take care of everything. Extra charges apply.
Their great special deal at the moment is for groups of 16 guests or more with the following inclusions: 5 days golf at your desired golf courses, 5 cooked breakfasts and deluxe twin share accommodation, $450 per person twin share.
1 day packages start from $95 per person twin share, including golf, breakfast, and deluxe twin share accommodation. Other packages are available, they can tailor a package to suit your needs. Nick and Sophie would be more than happy to have a chat to you about your next Murray River golfing trip.
Paradise Palms Motel Mulwala
121 Melbourne Street Mulwala NSW
03 5743 2555
www.paradisepalmsmulwala.com.au
enquiry@paradisepalmsmulwala.com