Malaysia is a well kept secret in the golfing world. Those "in the know" regard many of its world-class courses as a true challenge, while the mixture of spectacular scenery in the mountains, rainforests and sea-side settings is, to some, second to none.
On a recent trip to Kuala Lumpur, I was fortunate enough to have some time for a couple of rounds at two very different courses. Each offering a unique combination of playability, layout and presentation.
The Saujana Golf & Country Club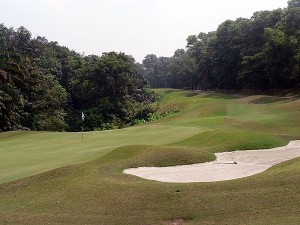 Featuring two Ronald Fream-designed championship courses, the Saujana Golf and Country Club has been voted Malaysia's Number 1 Golf Club, and has been named among the 100 best golf courses outside the U.S.
A regular host of the Malaysian Open and other international events, the Palm Course (nicknamed 'The Cobra') offers an extremely challenging layout, with one of its holes, the par-3 2nd, rated the Most Difficult hole in Malaysia. At nearly 7,000 yards from the black tees, The Cobra is a tight and demanding course that can really bite! The Bunga Raya Course (nicknamed 'The Crocodile') is a more open and serene layout – yet the large lakes and deep ravines are more than happy to grab any wayward shots.
I found myself saying "wow" so often that I felt like a broken record. Whether it was a spectacularly-designed hole, a bit of breathtaking scenery, an amazingly-manicured green, or a seemingly impossible shot required to hit the green in regulation, I was pleasantly stunned at nearly every turn.
Playing these courses requires accuracy, a bit of luck, and – when the weather is hot – a bit of endurance. Though it does rain a bit, the showers are warm, and rarely last long. But the resulting humidity can wreak havoc on your game, so be sure to stay hydrated!
The Saujana Golf and Country Club is a truly magnificent, world-class facility, with tennis courts, squash courts, full spa, an Olympic-size swimming pool + recreation pool with swim-up bar, jogging track, archery and a bounty of other luxury amenities. With the addition of the newly-opened high-end hotel (The Club at Saujana) the entire resort makes you feel like a VIP.
http://www.ghmhotels.com/
Toll-free (Au): 1800776631
Genting Highlands / Golf & Country Resort
A short 45-minute drive from KL – perched on a mountain peak above the cloudline — the Genting Highlands is a fully integrated resort and family destination that offers championship golf, family entertainment and personal relaxation.
The Awana Genting Golf & Country Resort offers a magical combination of a well-designed course surrounded by a truly distinctive mountain-top setting.
Given its high altitude and rainforest surrounds, the Ronald Fream-designed championship golf course offers a drastically different experience than many other courses you may have played. The refreshingly cool mountain air does wonders for the spirit, and gives a welcome respite from the humidity of KL's lowland valley below. The narrow, winding fairways are flanked on all sides by towering, ancient trees and jungle shrubs. Hit a ball in there, and just consider it lost for eternity. The rough is composed of the local "cowgrass", which is a broad-leafed, weed-like indigenous grass that is very difficult to play from. (As the majority of my game was played from the rough, this presented a few extra challenges!). The bent-grass greens were surprisingly firm and speedy – despite the recent rains and morning dew. This made the greens difficult to hold from approach, and even more difficult to read for putting.
As if the course weren't difficult enough, golfers also have to contend with the ever-watchful, mischievous monkeys that live in the surrounding forest. Recently, one of these clever creatures managed to snag a mobile phone from an unsuspecting golfer, before scampering back to the forest with its ill-gotten booty. (Luckily, the phone was still turned on, so after a few calls to the mobile, the device was located and retrieved from the monkey — before he could make any long-distance calls to his cousins in Indonesia.)
While each hole offered a unique characteristic, you simply can't go past the par-3 fourth hole for beauty and challenge. The breathtaking view from the elevated tee – combined with the calm and serene-looking pond guarding the green — can lull you into a false sense of security. If you walk away with anything close to a par, consider yourself lucky.
The Awana resort itself is top-notch, with a variety of accommodation options. There are also tremendous facilities for team-building, exploring, and family activities. The restaurants are all top-notch, with some truly remarkable food on offer. And if you're in the mood for a fabulous family adventure, be sure to visit the glitzy and energetic Genting Resort at the top of the mountain, featuring 6 hotels (over 10,000 guest rooms) a massive 38-acre family theme park, a mammoth Las-Vegas-style casino, over 90 dining outlets, and a whopping 80 retail stores to satisfy even the hardiest shopper.