Narooma Golf Club
A visit to Narooma is not complete without a hit on Narooma's famous golf course. Described as "incredible" and "unique" the course is a challenge for serious golfers and a pleasure to play for the not so serious. Consistently rated in Australia's Top 100 and a home to Hogan's Hole, Narooma Golf Club is a premier public-access course.
Narooma's most famous six holes are perched high on cliffs overlooking the Pacific Ocean, while the back nine heads slightly inland to holes framed by tall timber and meandering around a large lake that comes into play on six of the inward nine holes. The par-3 3rd, "Hogan's Hole" has been rated as one of Australia's most spectacular par-3s.
Perched atop cliffs jutting over the Pacific Ocean, Narooma Golf Club's clubhouse has one of the most spectacular views in Australia. With the South Coast's rugged coastline visible to the north, Montague Island to the east and Glasshouse Rocks to the south, the clubhouse offers breathtaking views from every room.
Of course, all great clubs provide a bistro for patrons and Narooma Golf Club is no exception. Pauls on the Course Brasserie has a casual and relaxed atmosphere and is open for lunch and dinner seven days a week, plus breakfast for large groups by prior arrangement.
If you are looking for great accommodation at a reasonable rate in a superb location, you cannot go past their three providers. They offer two to three-night (or longer) package options. These play and stay packages can be booked through Amooran Oceanside Apartments, Surfbeach Holiday Park or Narooma Golfers Lodge. Large groups are welcome
Narooma is a four to five-hour drive south of Sydney or three hours by road from Canberra and about eight hours from Melbourne.
Narooma can tailor any package to meet your own needs. Simply let them know what you need and they will do the rest. Starting from $220 per person, receive two nights' twin share accommodation, two rounds of golf per person, motorised golf cart use for each round plus a club welcome pack which includes complimentary drink vouchers and a club discount card.
FACT FILE

Narooma Golf Club
Address: Ballingalla Street, NAROOMA NSW 25465
Phone: 02 4476 2522
Website: www.naroomagolf.com.au
Email: enquiries@naroomagolf.com.au
 
Sapphire Coast Golf School / Eden Gardens Country Club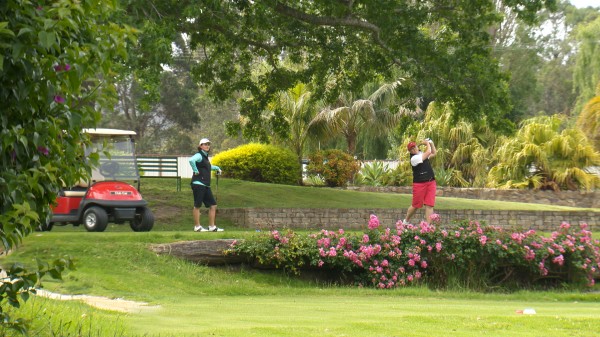 Golf is a complex game. That's why the teaching philosophy at the award-winning Sapphire Coast Golf School is to keep the game simple and enjoyable.
If you're frustrated with your golf and would like some help to better understand the fundamentals of the game, the experienced team at Sapphire Coast Golf School can help. They have a genuine enthusiasm to see you improve.
Run by AAA rated PGA Professionals Lisa Newling and Loraine Lambert, the school is located at the stunning Eden Gardens Country Club and offers the perfect way to combine golf tuition and a holiday rolled into one.
"We have a diverse range of people who attend our schools as individuals, couples or a group of friends," says Lisa.
"Individual lessons, group lessons, full and half-day schools are all available. You will leave our school feeling like you know what to work on to improve your scores. You'll understand how the fundamentals of golf work for putting, chipping, pitching, bunkers and shot shaping and anything else you want to know. You will become a more confident golfer."
Eden Gardens Country Club is one of The Sapphire Coast's real hidden gems, and is a very friendly and relaxed environment to play golf. You could easily spend a week in this part of the world, playing golf, bushwalking, lazing on the beach, surfing, bike riding and fishing. Eden is well known for its local produce and fresh seafood.
While there is no questioning the quality of the golf course, the tuition and advice you will get from Lisa and Loraine while you're at the school will make your playing experience more enjoyable. Lisa and Loraine also have a fully-stocked Pro Shop, and are both Certified Club Fitters.
"The great thing about our Golf Schools and Instruction is we have easy access to the golf course; we like to see you take the new techniques you've learnt from the driving range to the golf course to improve your scores," says Loraine, who along with Lisa can tailor a package to suit your needs.
The Sapphire Coast Golf School was recently awarded Best Trades and Professional Services, Business or Individual in the 2014 Eden Chamber of Commerce Business Awards; a feat of which the team is very proud.
"We have had wins on the golf course, which feels great. But to be recognised for our Business achievements was just as exciting and rewarding," Lisa says.
Eden is only a 15-minute drive south of Merimbula airport, and is easily accessible from Sydney and Melbourne. The team can also pick up and drop you off at the Airport.  Canberra is just a three-hour drive.
There is plenty of accommodation available in Eden, Pambula and Merimbula from four and a half star Motels, to B&Bs, to very modern Caravan Parks close to the Eden Gardens Country Club.
Lisa and Loraine are now offering their Heritage-listed home as a Bed and Breakfast.  Built in 1845, Roan Horse Inn is a unique heritage listed property overlooking rolling hills and paddocks close to the historical Pambula village and is just a quick 12 minute drive north of Sapphire Coast Golf School.
FACT FILE

Sapphire Coast Golf School
Eden Gardens Country Club
Princes Highway
Eden NSW 2551

www.sapphirecoastgolfschool.com.au
www.edenfishermens.com.au
www.roanhorseinn.com.au

Lisa or Loraine on 02 6496 1054
Calderwood Valley Golf Course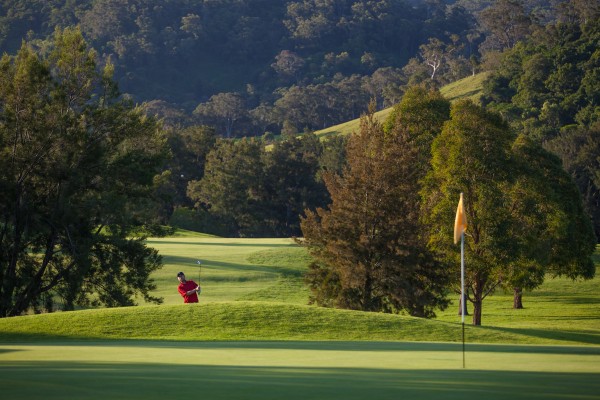 IT'S little surprise that Calderwood Valley is so popular with social golfers. Nestled in the picturesque valley only 50 minutes drive from southern Sydney and 20 minutes south of Wollongong, the course offers a relaxed friendly and welcoming atmosphere.
Each of the 18 holes has stunning features, combining clear creeks, native plant species, wildlife and magnificent scenery with the Illawarra escarpment as a backdrop. The course is always immaculately presented with well contoured fairways and true greens.
The completion of some wonderful upgrades on the course is sure to make your next round more appealing and challenging.
With no competition days, the course is available to the public 7 days a week. Calderwood welcomes social players, group, charity and corporate days. Groups are welcome to use the BBQ area and carts can be booked in advance.
The golf shop carries a good range of great value golfing products, clothing, hire equipment, accessories and snacks.
Calderwood Valley offers several specials/deals throughout the week. Green fees for Terrific Tuesdays are only $15 all day; Their Weekday Deal is only $28pp for 18 holes with a cart, from 12-2pm. Twilight starts at 2pm every day. Senior, Uni/Tafe and school student discounts are available on weekdays, while all groups of 12 or more players receive an 18-hole gift voucher.
Visiting golfers and social clubs are very welcome at Calderwood and you will be treated like the valued patron you are. Be sure to book ahead, and follow them on Facebook for regular updates on their offers.
FACT FILE
Calderwood Valley Golf Course
532 Calderwood Road
Calderwood NSW 252
02 4256 3055
www.calderwoodgolf.com.au
Bega Country Club
THE Bega Country Club is one of the truly great courses on the South Coast of NSW.
Set among the splendour of towering gums, surrounded by lush pastures and forests hugging the escarpment, the 18-hole course offers a golfing experience hard to match.
Founded in 1922 the club began as a 9-hole sand green course. The original clubhouse, built on the site of the current
11th tee, was opened in 1925. In 1957 Bega opened its new 18-hole grass green course and was, at that time, the only 18-hole course on the coast south of Nowra.
Visitors are welcome to play in weekly competitions, while social players are welcome at all times. Green fees are set at
$28 for 18 holes and just $20 for nine holes.
The Club has four squash courts and offers a wonderful facility for social functions and Conference needs, just 2km from the Bega town centre. Facilities include Keno, Bingo, Raffles and a Courtesy Bus.
Friday nights, bring the family along and enjoy the Country Club bistro, which offers an excellent range of great value meals.
FACT FILE
Bega Country Club
Tarraganda Lane, Bega
Phone: (02) 6492 1570
Functions: (02) 64921 055
www.begacountryclub.com.au
Merimbula…a golfing experience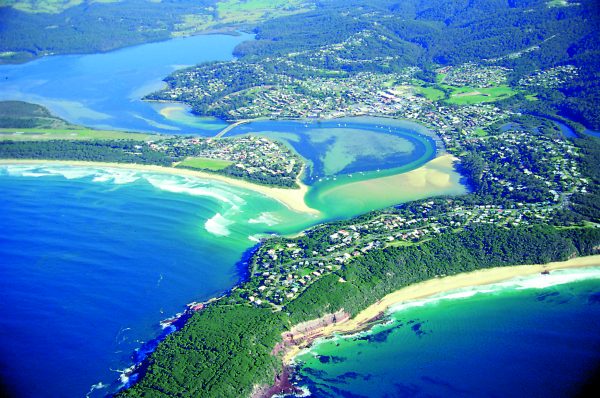 Combine the family vacation with a true golfing experience on a spectacular holiday in Merimbula…jewel of the Sapphire Coast.
Located on the south coast of NSW, Merimbula is home to two superb championship golf courses – the garden-like, 27-hole course of Pambula Merimbula Golf Club, and the challenging 18-holes of Tura Beach Country Club where spectacular ocean views accompany golfers throughout the course.
By all means pack the golf clubs, but don't forget the fishing tackle and swimming gear – Merimbula has top fishing facilities and, we very modestly claim, the best of beaches.
While dad or mum wanders the fairways in pursuit of lowering the handicap, let the family run free on pristine stretches of golden sands, or enjoy the thrills at Merimbula's popular Magic Mountain and Top Fun.
Restaurants and eateries are plentiful with superb views of Merimbula Lake. The popular Merimbula Wharf and Aquarium is yet another feature of this magical township.
But back to what matters most ….golf!
While the two previously mentioned courses provide all the golfer could desire, there's an additional four championship courses on the Sapphire Coast.
Eden, Tathra and Bega are within 30 minutes drive while Bermagui is a picturesque 45-minutes distant.
For the true golf enthusiast, reserve a week to sample the unique character of each of these courses while accommodating yourself centrally in Merimbula.
Pambula Merimbula Golf Club is one of the most popular golf courses in regional New South Wales. The facilities include 27 beautifully manicured golf holes cut through natural bushland. The natural environment boasts an abundance of native wildlife providing an outstanding golfing experience for everybody, including the inexperienced social golfer.
Featuring the spectacular Peter Thomson/ Michael Wolveridge designed 18-hole championship golf course – rated in the top 100 public courses in Australia.
The golf course, with its panoramic views of the Sapphire Coast and adjoining headlands, weaves its way down to the beach and back again through mature eucalyptus forest with undulating and challenging terrain.
Don't forget to check out the golf facilities at the privately owned Mandeni Fun Park which, among other activities, provides water-golf driving range, 9-hole golf course and nine-hole pitch 'n putt course.
Also, be sure to book your spot for the Lake View Hotel Merimbula Charity Golf Day, Friday 17th April. 12.30 shotgun
start, Ambrose 4-man team event. Pre- Tournament dinner at 7pm on Thursday 16th April, Charity Auction during dinner.
Register now: Merimbula Information Centre: 02 64951129.
For further information, or to book your accommodation visit www.merimbulatourism.com.au or Freecall 1800 150 457
Pambula Merimbula Golf Club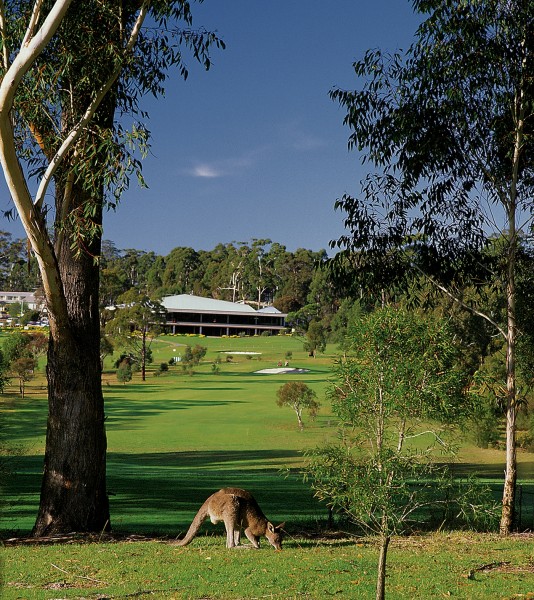 The Pambula Merimbula Golf Club is one of the most popular and successful golf clubs and golfing destinations on the Far South Coast of New South Wales.
Located just a few minutes from the centre of town in Merimbula, the 27-hole golf facility is widely regarded by amateur
and professional golfers alike. The Club hosts over 70,000 rounds of golf per year, with over half of these being visitors to the Far South Coast.
The club held the NSW PGA for several years, and continues to host a number of major amateur competitions. The club
also hosts two major golfing tournaments each year: The Ace of Clubs is held in June and is played across four different courses on the Far South Coast, while the Week of Golf in October has been held for 35 years and is one of the largest amateur golfing events in Australia. It is widely regarded as one of the best tournaments for golfers in Australia with visitors from every state, and several groups from overseas each year.
The event should be on every golfer's calendar, with approximately 800 players playing a variety of competitions over eight days in a tremendously friendly, carnival atmosphere.
The Pambula Merimbula course offers a good test for any standard of player. The facilities include 27 beautifully  manicured golf holes cut through natural Australian bushland, with modern clubhouse facilities that provide commanding views over the course toward the pristine Merimbula Lakes and beautiful Merimbula township beyond. The Club recently spent a quarter of a million dollars upgrading their bunkers, presenting a course that would rival the standard of any city course.
The natural environment boasts an abundance of native wildlife, and provides an outstanding golfing experience for everybody, including the relatively inexperienced. The course is a relatively easy walk, or motorised carts are available.
The Club's Glasshouse Restaurant delivers some of the best food in the area, with seasonal menus and an extensive wine list. Live entertainment is regularly available throughout the year.
Play and stay packages as well as weekly green fees can also be arranged through the club directly.
PMGC is now the home of Big Hole Golf and the Flash 9-Hole Short Course. The 9-Hole short course is the only short
course on the south coast and plays in just over an hour. The holes are made up of the course's first nine holes, played in a different order with different tees. They also have the ability to play Big Hole Golf, the game that has taken the US and New Zealand by storm. The cups are 8 inches wide, making putting a much easier exercise! Both of these courses are played at certain times only, so check out the club's website for more details.
FACT FILE
Pambula Merimbula Golf Club
173 Arthur Kaine Drive, Merimbula.
NSW 2548
Phone: (02) 6495 6154
Email: info@merimbulagolf.com.au
Web: www.merimbulagolf.com.au
Mollymook Golf Club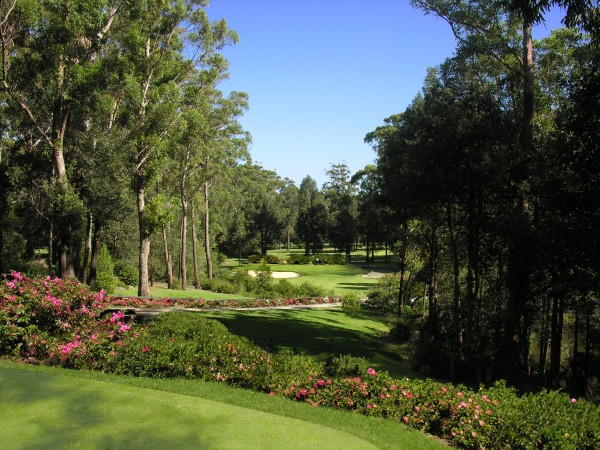 Mollymook Golf Club is situated at one of Australia's most iconic tourist destinations; the South Coast of New South Wales. The club features two unique courses with the 18-hole, "Hilltop" course set in a natural bushland environment, with each hole providing its own amphitheatre with tree-lined fairways. The Hilltop championship course is affectionately referred to as 'the ultimate challenge'. The 9-hole, "Beachside" course cut along the ocean provides breathtaking views and interesting challenges.
Mollymook Golf Club has two separate club houses to accommodate to both courses at Hilltop and Beachside. The Beachside clubhouse open for lunch and dinner 7 days and nights a week and features majestic ocean views of Mollymook Beach, TAB, Gaming facilities and two bars boasting popular bar items, boutique beers and wines.
Both courses are available to for the public to play 7 days a week with bookings essential for the Hilltop Course. Mollymook Golf Club is the perfect destination for couples, large or corporate groups from beginners through to accomplished players with the choice of two different courses and multiple tee options. The latest fleet of golf carts, buggies and clubs are available for hire at both courses.
Mollymook Golf Club is surrounded by motels, holiday units and apartments providing several accommodation options to suit any budget.
Troon Golf, the worldwide leader in upscale golf course management, has been managing golf course operations at the Mollymook Golf Club. Members are able to enjoy the Troon Rewards whilst receiving preferential rates and bookings at any of the 200 Troon courses around the world.
FACT FILE
Mollymook Golf Club
Beachside – Golf Ave, Mollymook
Hilltop – Clifford Ave, Mollymook
(02) 4455 1911
www.mollymookgolf.com.au
Pacific Heights Holiday Apartments / Munn Tower House Merimbula
Join the growing number of golfers experiencing the fantastic golf packages provided by Mike McGuire and Yumi Yoshida at the centrally located Pacific Heights Holiday Apartments, only 350 metres from Merimbula's coffee precinct and restaurant strip.
All packages provided by Pacific Heights include motorised carts, green fees, and accommodation you can choose one of the advertised packages or Mike will quote on personalised packages.
For groups of four or more, Big Mike's Breakfast is provided outdoors in the BBQ area adjacent to the swimming pool area. The lake and village views are spectacular, as the sun rises in the East and Mike personally cooks up a storm on
the BBQs; bacon, eggs, sausages, fried tomatoes, toast, tea or coffee and plenty of choice on the cereal table, with a little
fruit thrown in are all inclusive in Big Mike's Breakfast.
Being a single-figure golfer for 40 years, Mike knows what the avid golfer wants; local knowledge, the weather forecast,
the latest copy of Inside Golf on the coffee table, complimentary cold beers in the fridge greets you on arrival, with
ample parking and 20 units available.
But don't just take our word for it. Check out these reviews from a pair of recent guests:
"Myself and four mates came down for a golf weekend and it was superb. The owner Mike greeted us after our first round of golf at Bega, thoughtfully putting some beers into the fridge (complimentary). Rooms great, views brilliant. Service magnificent.
We had a great cooked breakfast and it was quiet. I would definitely stay here again and would highly recommend it."
And…
"Went to Pacific Heights with friends for a golfing weekend from Canberra. Very easy to get to, only 2 hours from Canberra.
Excellent accommodation – roomy and very well set up, great hospitality from Mike (including excellent breakfasts by the pool), and Mike did a super job of organising our golf at 3 local courses. Highly recommended."
Pacific Heights caters for larger groups as well as the husband and wife couple enjoying Merimbula and the Sapphire
Coast. Their units are two and three bedroom apartments all with en-suites for each bedroom, which is great for the
golfing groups. Play Pambula/Merimbula Golf Club, Eden Gardens Country Club, Tura Beach Golf Club, Bega Country Club or Bermagui Golf Club. The longest drive is to Bermagui about one hour; the other clubs are between 6 – 25km from Pacific Heights.
Courtesy buses can be arranged for Tura Beach Golf Club, Pambula/Merimbula Golf Club and Club Sapphire (Bowling Club) for transport to their restaurants for evening meals. Fishing charters and restaurants can all be organised by Pacific Heights.
For your complete golfing package in Merimbula, call Pacific Heights Merimbula and select one of their packages or
arrange an individual quote for your personal golf tour.
FACT FILE
Pacific Heights Holiday Apartments
From $485 per person
1-7 Ocean View Ave, Merimbula.
NSW 2548
(02) 6495 2366, 0437 801 270
www.pacificheights.com.au
info@pacificheights.com.au
Tura Beach Country Club

Tura Beach's 18-Hole Championship Golf Course has, over an extended period, been a mainstay in the Top 100 Public Courses in Australia. Renowned for its brilliant design and unparalleled scenery, it was Australia's first Dedicated Golf Course Community. Hosting the celebrated Bega Cheese Pro-Am and Rated No.1 by playing professionals on the country NSW Pro-Am circuit, Tura Beach Country Club is the true golf gem of the far south coast of NSW.
With its inspiring views over the Sapphire Coast and adjoining headlands, the Course weaves its way down to and along the beach and back through mature eucalyptus forest. Designed by Peter Thomson and Michael Wolveridge, the Course abounds with memorable holes. The daunting water carry on the Par 3 (181m) 5th and split fairway on the 6th are just two examples. But it's perhaps the classical "risk and reward" par 5's that are most memorable; all six of them, each with its own unique bunkering and water challenges.
So while visiting the area, don't miss the opportunity of playing this unique and challenging Course. Its reputation is growing daily and, with the clubhouse renowned for its "Million Dollar Views", it's fast becoming one of the most popular Golfing and Tourist destinations on the NSW coast.
FACT FILE
Tura Beach County Club
4 The Fairway
Tura Beach NSW
Phone: (02) 6495 9002
www.turabeachcountryclub.com.au