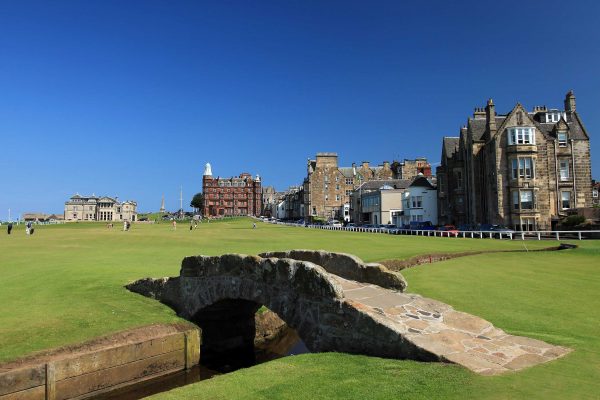 There are about 150 golf links in the world and Great Britain has the best of them, with the most exciting dunes and exhilarating golf designs matured through the years. A links is the oldest style of golf course, first developed in Scotland. The word "links" comes via the Scots language from the Old English word hlinc: "rising ground, ridge" and refers to an area of coastal sand dunes and sometimes to open parkland. Golf on the links is by far the most exciting form of the game.
The Open Championship is always played on 'Links' and on the Great Links of Britain Cruise you will play five 'Open' venues and cruise  between rounds on the luxurious Royal Princess.
The tour begins with a three-night stay in Canterbury playing Royal Cinque Ports and Princes Golf Club before boarding the five-star Royal Princess. After tackling Royal Guernsey and Cork Golf Clubs your game will be thoroughly examined at four Top-100 golf courses – Portmarnock, Royal Lytham and St. Anne's, Royal Portrush and Turnberry. After traversing the northern tip of Scotland you will play Peter Thomson's favourite traditional links course at Brora before a pilgrimage to St. Andrews and a game on the Jubilee course. The final competition on tour is at the Omaha Beach Golf Course where you will contemplate golf and life with views from the fairways overlooking the beaches of the allied landings on '-Day. The golf cruise begins on 1 August and continues to 18 August 2018.
There are limited spots on the golf cruise so call Travelrite on Toll Free: 1800 033 436, Web: www.travelrite.com.au, Travelrite International Pty Ltd, 182 Canterbury Rd, Heathmont, VIC.