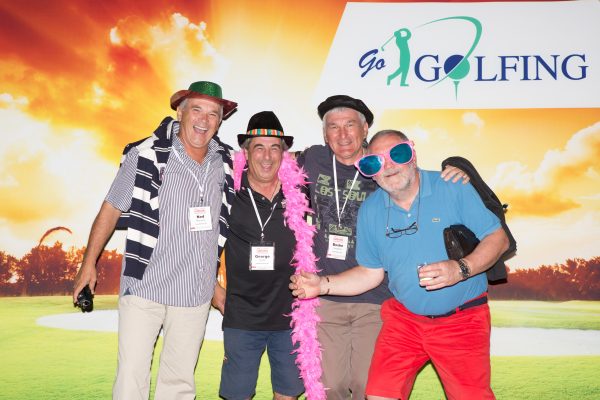 Few events have stood the test of time like the World Masters Golf Championship on the Gold Coast each October. This event for club golfers aged 35 years and over has attracted big numbers from all over Australia, New Zealand and around the world for more than 20 years. This month, we go behind the scenes to see what makes this tournament so popular and what's in store for the 21st annual tournament this year.
Hosted by Gold Coast-based Go Golfing, we chatted with Peter McCarthy, the tournament founder who is still at the helm. What comes as the biggest surprise is that Peter started the tournament some 13 years before he was even old enough to play in the tournament.
"Fresh out of university I secured a contract with the World Masters Games in Brisbane. There were 30 sports and golf was one of the sports I managed. We budgeted for 400 golfers and had more than 1,700 compete. It was massively challenging and working through solutions for all of the challenges and putting on an amazing event, well there's no better feeling. What can I say, it's in my blood and I love what I do."
Peter's first World Masters tournament was on the Gold Coast in 1996 and attracted 340 players. Tournament numbers peaked at more than 1,000 players about 10 years ago, however this year, entries are being capped at just 600.
"For a long time my primary focus was on making the event as big as it can be. But then I had players who come every year telling me the event was too big. One guy approached me on stage to put a call out to his wife as he had spent 15 minutes looking for her. So now my team are firmly focused on how we can make the tournament better and better for players and their partners."
The event has a loyal following with 65% of players returning from one year to the next. More than 90 golfers have played 10 or more years and  two players, Dennis Childlow and Glenn Dodds have played all 20 years. Newcomers and singles are made to feel welcome with a cocktail party style catch-up before the welcome dinner.
"With so many repeat players, we are always looking at ways to refresh and enhance the event experience. Marcia Hines, Little River Band and Jerry Lewis have performed at the event. In recent years Australia's top comedy acts have been the feature entertainment on opening nights. We have had functions on the beach, Skydeck on the 71st floor and palatial ballrooms."
To celebrate the 21st running of the World Masters, held 23-28 October, Go Golfing has fine-tuned an event program inspired by what golfers have most enjoyed over the past 20 years.
BROADBEACH AS THE TOURNAMENT BASE
82% of participants prefer to stay in Broadbeach, which has accommodation to suit all budgets. It offers the ultimate coastal resort experience just metres from the Gold Coast's best beaches, restaurants serving every cuisine, casino, bars and shopping with the all new Pacific Fair and Oasis shopping centres. It has accommodation to suit all budgets. Three years ago more than 300 golfers stayed at Meriton and gave it the thumbs up, so Go Golfing have secured a great deal for golfers to stay there again. Another property secured is the beachfront property, Air on Broadbeach.
TOP RESORT COURSES
The private and exclusive The Pines at Sanctuary Cove was a host course for the first time last year. 71% ranked it as their favourite course so it is on the four course rotation this year.
Graham Marsh's complete redesign of RACV Royal Pines Resort was finished in time for the PGA Championship in December and Ladies Masters participants have given the course a big thumbs up. While most will recognise the former layout, the new course features more risk and reward holes and massive undulating greens.
Palm Meadows is arguably the best layout on the GC. Under new management, course conditioning has returned to the glory days when it hosted Australia's richest tournament – the Palm Meadows Cup. It has been 6 years since Palm Meadows hosted the World Masters, but with new bunkers, new carts and those fantastic greens, Go Golfing welcomes Palm Meadows' return this year.
The Glades is always a favourite at the Masters. With the completion of new bunkering and upgrades to the practice facilities, it will again be a premier course at the Masters.
Hope Island and The Colonial will host optional events in conjunction with the World Masters.
OPENING NIGHT AT AUSTRALIAN OUTBACK SPECTACULAR
In 2013 the welcome dinner was at Australian Outback Spectacular. 94% listed that night in the top 3 things they enjoyed at the tournament. 2016 participants will enjoy a 3 course dinner, drinks and their all new show – Legends of the High Country.
19th HOLE EACH NIGHT IN BROADBEACH
A classy venue in the heart of Broadbeach, East Restaurant and Bar ticks all the boxes. $6 beer, wine and basic spirits. Players will be able to order snacks or sit down to a gourmet meal. There are booths and lounges for those who prefer to sit. It's perfect for the nightly get together and presentations!
GALA PRESENTATION DINNER
The gala presentation dinner will be at the brand-new Events Centre. Arrive on the red carpet, sip on champagne before enjoying a delectable 3-course menu prepared by award winning chefs and a dance band after the presentations.
NON-GOLFING PARTNERS
Go Golfing are committed to making sure non golfing partners have a fantastic week on the Gold Coast. Some of the activities for non golfers include High Tea at The Old Tea House Gallery & Springbrook Day Tour, Personalised shopping tour to Harbour Town outlet stores and a Gold Coast Cruise and Lunch
SOUTH AFRICA GOLF SAFARI THE MAJOR PRIZE DRAW
Top Prize this year will be a trip for two on Go Golfing's award winning 17-day South African Golf Safari including return airfares. See the Big 5 on safari in Kruger National Park, Sun City – South Africa's Kingdom of Pleasure, 8 rounds including the #1 ranked Gary Player Course – host to the Nedbank Millions. Capetown, the Garden Route, wine regions of Franschoek and Stellenbosch and Knysna.
More than 1,000 golfers have travelled on Go Golfing's hosted tours to South Africa. Total prize value $21,480.
Other prizes include overseas golf holidays including flights.
DAILY GOLF PRIZES
Daily winners will receive a beautifully designed tournament winner's shirt. This commemorative, limited edition shirt will feature ALL 4 golf course logos. An extensive range of gift vouchers will also be offered, providing a great choice for winners.
EARLY BIRD BOOKING BONUSES
Book before 15 June and receive: $100 voucher redeemable for Srixon or Cleveland product; 10 bonus entries in major prize draw (includes South Africa trip); $50 Broadbeach restaurant voucher and a $40 discount off Wednesday Skins Golf at Hope Island.
More information: www.gogolfing.net.au.  Email: info@gogolfing.net.au. Call: 07 5508 2250