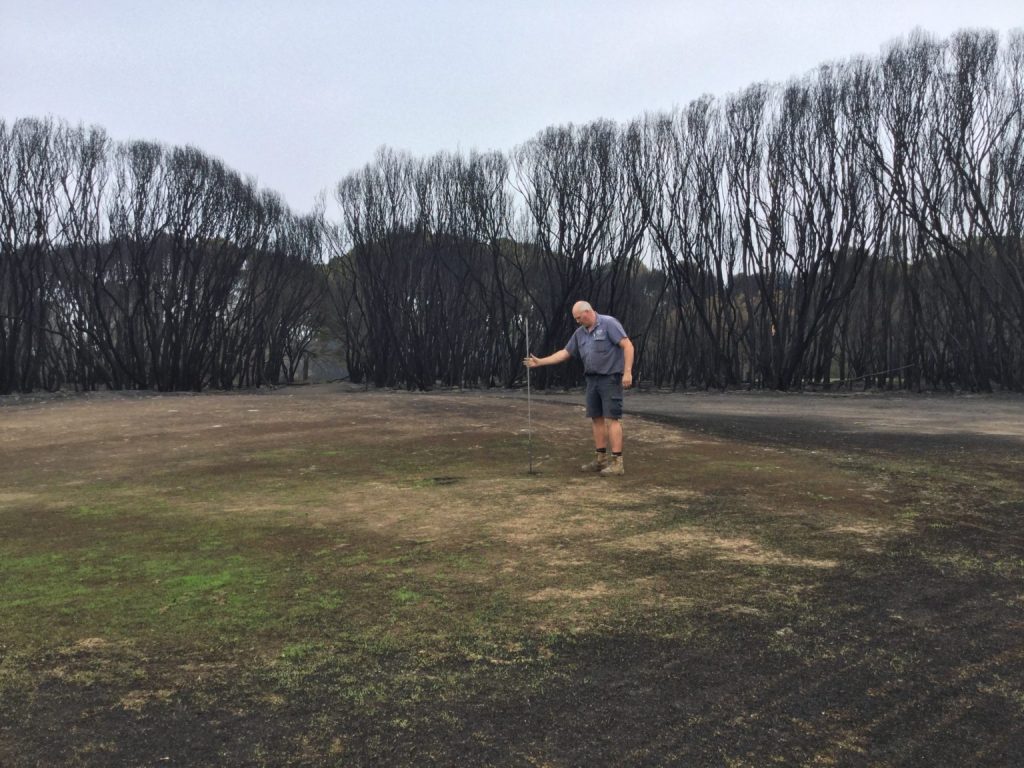 It's been a challenging few months for Australian golf, especially for those clubs and communities affected by this summer's catastrophic bushfires.
Though the fires are now out, the struggle continues, as clubs and their communities along both the NSW South Coast and Victoria's Gippsland region are facing an uphill battle to rebuild their facilities and tourist numbers.
And they are putting out the call to everyone: "Please come visit!"
To try and do my bit to help, in February (Pre-Covid-19 lockdown) I embarked—with my family in tow—on a long-weekend escape to Lakes Entrance, in Gippsland, to offer a tiny boost the region's local economy. A couple of nights' lodging, a few meals and drinks at local restaurants and pubs, and some sightseeing/chartered excursions by one family may not seem like much, but every little bit helps the local business owners to pay their bills and feed their families.
And from what we saw (and heard from the locals), many businesses in the area need (and welcome) the help, as the low tourist numbers in the past few months have severely affected the region.
Encouragingly, on the weekend we visited, there was a definite "bustle" by visitors—indicating that many Aussies were beginning to heed the call to help out their country neighbours. Additionally, Mother Nature seems to have begun her own renewal process, with greenery starting to emerge from the charred remains in the surrounding bush.
One club we visited, Buchan Valley GC, is a 9-hole/18-tee, volunteer-run club which features sand greens, an honesty box and lovely views. While the course lost some of the fairway grass (and one tee marker!) during the fires, the grass has recovered (thanks to a heap of rain), and golfers are once again enjoying the course. It's a quaint little club that certainly deserves a look-in when you are visiting the area. As does the town of Buchan itself (and a visit to the magnificent Buchan Caves).
Further east, near the NSW border, the Mallacoota Golf and Country Club is in repair mode, and receiving some much-needed support from various clubs.
Run entirely by volunteers, the club's treasurer Leigh Cockburn said the club was making slow progress following the devastating fire that also destroyed many of the town's dwellings.
"The clubhouse, machinery sheds and the machinery are unscathed, but the golf course was smashed," he said.
Two-thirds of the golf course is taken up by melaleuca tea trees and almost all the trees were burnt beyond recognition.
"The trees that burnt will not regenerate so we have a forest of black sticks on the edges of the fairways on 13 of the 18 holes," Cockburn said.
Still, the front nine holes remain open for play while the back nine were set to open last month (exact date/status not available at press time).
Cockburn estimated the cost of removing the dead melaleuca trees, including stumps and roots, at $1m.
"If we just cleared 10- 20 metres either side of the fairways it would probably be half a million dollars."
Clubs like Strathallan GC in Bundoora (Victoria) and others as far away as Hervey Bay in Queensland have rallied to support Mallacoota GCC, whether via generous donations or fundraising golf days.
"So far around 15 clubs have held special events to benefit us," Cockburn said.
"Some of them have been able to raise as much as $18,000 and all up we have received about $50,000 in gifts, which is really heartening."
"Our next step is applying for grants though the state and federal governments and anyone else who would like to give us a hand."
Mallacoota has 60 playing members and many more social members who enjoy the club's offerings and atmosphere.
"We might not have the best golf course in Australia, but we have the best atmosphere," Cockburn said proudly.
"A lot of visitors like coming to the club because of the wonderful country atmosphere."
For the record, more than 100 of the town's homes, some owned by members of the club, were razed by the fire.
If you would like to support the club or view more photos of the fire-damaged course, go to www.mallacootagolfclub.com.au
Across the border, a variety of NSW courses were equally ravaged by fires, but many are now ready for an increase in visitors and bookings to play and stay.
The NSW South Coast, which was featured in the February Issue of Inside Golf, was especially hard-hit, but is now seeing signs of recovery, especially in tourist numbers.
Club Catalina General Manager Guy Chapman said the support from all Australians, especially the golfing community and industry has been overwhelming.
"We are simply in awe of the number of people asking us what they can do to help, and the short answer is to simply come back or book a holiday, stay in our towns, dine in our restaurants and of course play the South Coast Golf Trail," Chapman says.
Narooma Golf Club's General Manager Dominic Connaughton added to the call for tourists to return to help small businesses who continue to count their losses.
"This extraordinary and heartbreaking event is a serious blow to many businesses and by extension all families in the area. Australia is a nation of mateship, and right now we are in need of this camaraderie and support, more than ever because our communities simply will not survive without the support of our fellow Australians," he said.
And like their Victorian neighbours, NSW clubs far and wide are rallying to help these fire-affected clubs.
At the time of writing, Tumut Golf Club (inland, near Gundagai) was in the planning stages to host a coach-load of Concord Golf Club members who were heading to the area for a weekend adventure of golf, wine and dinner, etc. This is a great example of how clubs can help one another during these trying times. The Tumut/Batlow/Tumbarumba area is a major softwood timber district and the recent fires will mean a tough time for the towns for the foreseeable future. To offset these tough times, golfers are encouraged to visit Tumut and the surrounding areas to partake in some good old country hospitality and enjoy the beautiful golf course.
There are heaps of clubs along the NSW South Coast (as well as inland) which offer great value for money, and some excellent golf to boot. These include Mollymook, Moruya, The Grange, Calderwood Valley, The Links Shell Cove, Shoalhaven Heads, Tathra Beach, Bega, Narooma, Tuross Head, Bermagui, Eden Gardens, Pambula Merimbula, Tura Beach and many, many others. See the February Travel section—available on our website—for more details.
The recently-launched #SouthCoastGolfTrail is another great resource when looking for clubs to visit. Contact Sheryl on (02) 4472 4022 for bookings and enquiries or email info@golfsouthcoast.com.au
Of course, there are many, many other clubs in other regions of Australia that have been affected by bushfires, and we simply don't have space to mention them all. So we encourage you to take a moment and look them up (and pay them a visit). For a bit of help in finding local clubs, be sure to check out the free Inside Golf Australian Golf Course Map