YOU'VE got a bucket list, right?
Let's face it, most of us do.
Well, give some serious thought to adding to it.
You just have to include a golf expedition to the famous Mission Hills in China somewhere on that list … and mark my words, you're doing yourself, and your golf experiences, a dis-service if you don't.
List me as one who never dreamt I'd be heading there to play some of the best courses – and best-conditioned layouts, that I have encountered in more than 40 years of writing and playing golf around the world.
China's Mission Hills really is out of this world – actually it's the best of two worlds.
Unless you've been there you probably wouldn't know that there are actually two Mission Hills locations – 10 courses at Mission Hills Resort Haikou on Hainan Island and 12 more layouts, which help form part of the world's largest golf club – Mission Hills Dongguan and Shenzhen, on China's mainland, only two hours by car from Hong Kong.
I began sending photos to my golf-mad sons almost the minute I set eyes on the place…and that continued for most of the week I was there.
We visited Hainan first, a short one-hour flight south of Hong Kong and with 10 courses to choose from, the sights and scenes never stopped – and the experiences grew with every day.
I'm not joking … Mission Hills is something you really must bite the bullet and see for yourself.
With limited time to see all of it, I can only offer a brief summary of some of the places and courses I visited – but I have vowed to return and see more – and return to the layouts I did enjoy the most.
Near the top of the list was the much-heralded Blackstone – one of Mission Hills Hainan's showpieces.
Don't miss this golf course.
And put your ego aside for a moment and consider playing it off the white markers as even the likes of Rory McIlroy and a fit Tiger Woods found it a tough test off the back tees …and we ain't them (even though certain members of this publication might think they are).
I don't think I've seen a course anywhere with as many marvellous and quite remarkable vistas from the tee. So a camera is also a must.
The choice of golf courses at this Mission Hills resort is quite staggering, but put Blackstone down on the list of the ones you have to experience for yourself.
The last four holes are as good a finish as you'll find anywhere and the designer deserves a huge pat on the back for producing three classic risk-and-reward 'closers' that would match any layout anywhere in the world.
It's a par four-four-five finish and if the driver is your friend by then these holes might turn out to be a piece of cake.
On the other hand…well, let's just say don't go looking for lost balls and feel quite satisfied if you can walk off with a bogey on a few of these 'character-builders'.
Built in the shadows of the mighty Mission Hills Resort at Haikou, some of the developments that are taking place on the outside of this course and beside it, are quite mind-blowing.
Let's just say the Chinese don't dilly-dally when it comes to expansion.
While the health spa and mineral springs are also a great enticement, there is a water park being built by Australian connections as well as a Hard Rock Hotel nearby that are due open in 2018.
A Ritz Carlton and Renaissance Hotel are also owned by Mission Hills and are nice additions for dining or a drink at their beautiful bars.
Mission Hills Haikou opened in March, 2010.
It cements the brand's unique place among the world's leading resorts, and is central to a government-led initiative to make tropical Hainan the sports and leisure capital of Asia.
Just 15 minutes from Haikou's international airport, the resort occupies a vast, lava rock-strewn landscape of undulating terrain punctuated by ancient trees and sweeping wetlands.
Besides the 10 courses there's also an outdoor water-theme park; a natural mineral springs reserve featuring 160 thermal pools; 12 delectable dining establishments; state-of-the-art recreation centre; flexible function and meeting rooms; shopping arcade centre carrying the world's finest brands and esteemed spa facilities.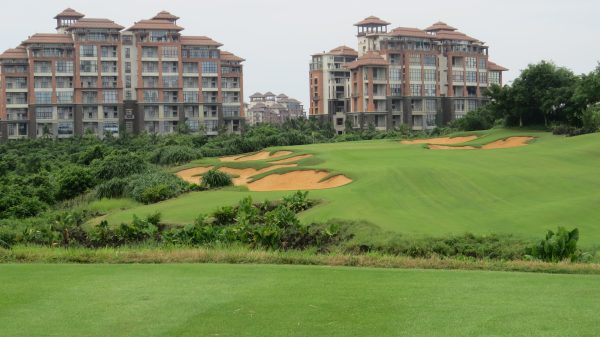 But back to Blackstone, which boasts 147 bunkers and they are consistent, which is something the club can be proud of – I know because I found at least a dozen of them.
The surrounds of the course are a mix of jungle and black lava rock.
I also played Lava Fields which actually boasts more bunkers, although they don't come into play as much as Blackstone, with interesting angles and carries off the tee.
Still the fairways are wide and there's no real excuse for missing most of them.
Stone Quarry was also interesting – a Pete Dye inspired design with a rock quarry and railroad theme. There are pot bunkers and also long areas of sandy wasteland. Stone Quarry's six par-threes, six par-fours and six par-fives are also a feature.
The old railways lines and even a few old sugar cane trucks are a truly unique feature of this course and again something unlike anywhere else I have played.
Shadow Dunes was also fun with some long walks through sand dunes and some absolutely massive greens where even a three-putt can be quite satisfying.
After a few days on Haikou, we headed for Mission Hills Dongguan, just a short drive from Hong Kong and if I was blown away by the 'island' version of Mission Hills, the courses here were even more impressive, if that's possible.
Just walking in the footsteps of Tiger Woods and Rory McIlroy, who played a head-to-head match at Blackstone was special. But now we were trying to hit shots like some of the world's best players did when the World Cup was played at Mission Hills in 1995, when China hosted its first-ever international golf tournament.
"Here's where Tiger hit it into the water, twice! This is where McIlroy putted for eagle," are typical comments you might hear as your round unfolds… it's all pretty special when you learn what the champions have done on these superlative layouts.
Mission Hills was actually founded in 1992 when the owners selected about 20 square kilometres of wasteland between Shenzhen and Dongguan to launch its prestigious business and create Mission Hills Shenzhen, the world's largest golf complex with 12 courses featuring a total of 216 holes accredited by the Guinness Book of World Records.
Its 12 signature masterpiece courses are designed by golf legends from around the globe: Jack Nicklaus, Pete Dye, Greg Norman, Nick Faldo, Annika Sorenstam, Jose Maria Olazabal, Ernie Els, Vijay Singh, Justin Rose with Ian Poulter, David Leadbetter, Jumbo Ozaki and Zhang Lian Wei.
I was lucky enough to play the Olazabal Course, site of many World Cup events, which must be close to the best of a marvellous group of layouts.
Despite not having my greatest day with the driver, I played a couple of my best shots on the 18th to be beside the green and managed to get up and down for a satisfying par that gave me something to boast about in the clubhouse afterwards.
My playing partner also struck two superb blows on the tough 507-yard (539 off the black tees) par-five 15th to have an eagle putt. He missed it, but it gave us plenty to talk about afterwards and he was able to boast that he "took it on" despite the chance of a disastrous result should he miss on the double water carry.
It is worth noting that Mission Hills Shenzhen is the world's only club featuring designers from five continents.
Now listed as 'the world's No.1 Golf Club', it offers a wide range of first-rate facilities for golfers and non-golfers alike.
Mission Hills Shenzhen can now boast that it has hosted more than 100 major international tournaments.
That 41st World Cup of Golf in 1995 went down in history as China's first globally-significant golf championship and was broadcast across the country.
Then, in November 2001, Mission Hills invited the then world No. 1 Tiger Woods for his first visit to China.
That visit helped established a new era in golf development.
In 2007, Mission Hills signed an unprecedented agreement to host 12 consecutive editions of the Omega Mission Hills World Cup
During its 25-year existence, no-one would disagree with the revelation Mission Hills has evolved into a world-class conglomerate of hotels and resorts; golf and country clubs; international residential communities; award-winning spas; Mission Hills Centreville; golf academy, tennis academy (Asia's largest tennis centre with 51 courts), and pro shops to create a comprehensive set of unparalleled, luxury lifestyle experiences.
Mission Hills Group is now rightly regarded as the leading leisure, sports investment and management firm in not only Asia-Pacific, but the world.
Oh, and don't forget to take a stroll down Mission Hills' equivalent of Hollywood Boulevard where superstars, film stars and golfing stars from around the world have left their handprints.
I gained great delight from discovering my hands were the same size as Rory McIlroy's but exactly half the size of American actor Rick Yune's gigantic 'bats' he has for hands. You might remember him from Olympus Has Fallen (he was the bad guy).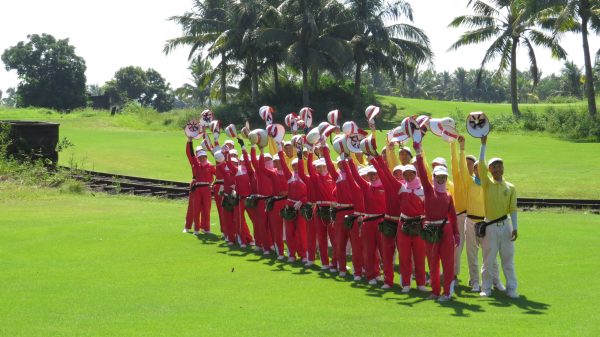 THESE CADDIES ARE SPECIAL
THE caddies in China really are something special … especially when it comes to club selection.
Sure, they have to battle one of the most crowded countries in the world.
Yet the serenity of these golf courses offers a strange escape from the 'rat race' and at times the only company you have are the remarkable caddies who work so hard to make your game a memorable one.
I had the good fortune to use five different ones during my week to remember and they were all good at their jobs and had enough English to not only keep you hydrated, entertained … amused and on target for a decent round.
While there are quite a few male caddies at Mission Holls Haikou, the majority are young women between the ages of probably 19 and 28 and they sure do know their stuff.
On a few occasions they might arrive at you and your golf ball with three clubs as you assess your shot to the green – because they like to cover all bases.
Take my advice and use the middle of those three clubs, because that's usually the one they recommend and they are almost always right.
And it doesn't take them long to work out the strong – and weak points of your game either.
I'm happy to report that on several occasions I was in two minds about a club and whether or not I had the game to take on a certain water hazard or lengthy carry.
That's when they seem to get it right when they hand you the club that your golf game, not your ego, requires.
Certainly decisions and suggestions such as this help you enjoy the experience, post the best score possible and inevitably you leave the course with positive thoughts about the experience and the golf course itself.
And you'll soon be plotting a return round.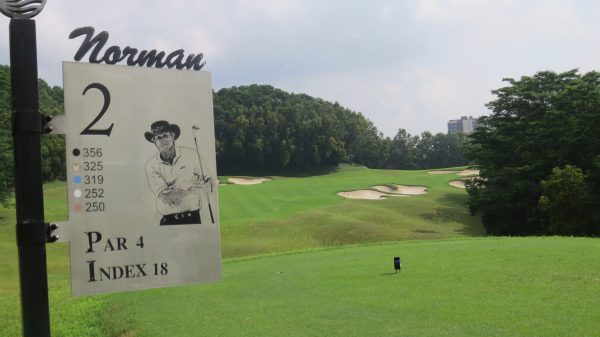 A DOZEN CHALLENGES
HOW do you challenge the best golfers and course designers in the world to go that extra yard: to come up with something even they hadn't thought of doing before?
Pitch them against each other, that's how.
How else could you explain the extraordinary golf courses that some of the biggest names in golf have come up with at Mission Hills Dongguan?
Even Group Vice-Chairman of Mission Hills Tenniel Chu agrees.
"I guess they couldn't help sticking their heads over the fence, so to speak, to see what the other guys, or in Annika Sorenstam's case, ladies, have come up with," says Tenniel.
They say that Greg Norman's course is the toughest of the 12 at Dongguan, from a field of big names like Jumbo Ozaki, Justin Rose/Ian Poulter, Annika Sorenstam, David Leadbetter, Pete Dye, Nick Faldo, Zhang Lian Wei, Vijay Singh, Ernie Els, Jose Maria Olazabal and Jack Nicklaus.
And they also say that Annika decided the Shark's course was so tough on women that she'd get square, so to speak, and make her first design just as difficult for the men to master.
Of course that could be just an old wives' tale made up by someone after a double bogey, indeed the two may have even colluded because these two layouts, plus Olazabal's first design are the three that seem to draw the most comments from Mission Hills' visitors.
And don't expect Tenniel to name his favourite either.
"That would be like asking a father did he love one of his children more than the others," he says with a smile.
"They are all pretty special, as far as I am concerned."
And while Tenniel has obviously played them all, many times, he's also way too busy to play anywhere near as often as he would like … even though these classic courses are right on his doorstep.
"Just because you have a swimming pool in your backyard doesn't necessarily mean you go swimming every day," he grins.
His duties with the Royal and Ancient at St Andrews as Asia's only representative also draw him away from Mission Hills quite frequently.