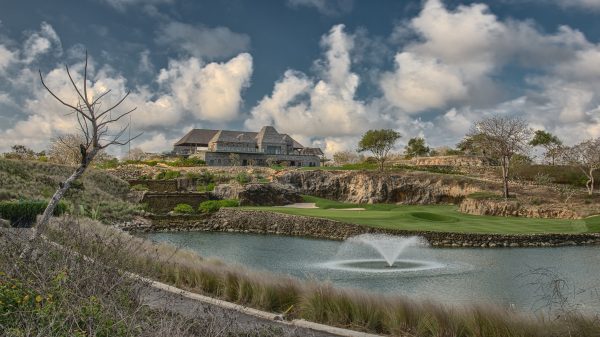 Situated on a limestone cliff-top overlooking the world-famous surf breaks of Bukit Peninsula, Bali's Bukit Pandawa Golf & Country Club has quickly established itself as one of the world's unique golfing venues.
Opened in October 2016, the club is the centrepiece of an expansive development that will eventually include several luxury five-star hotels, including a Waldorf Astoria, Mandarin Oriental and Swissotel.
Playing to a par of 54, the Bob Moore-designed, 18-hole par-three course is routed through dramatic rock outcroppings, around terraced rice paddies and across a cliff-top that offers stunning vistas of white sandy beaches and the Indian Ocean. No fewer than 12 holes feature ocean views.
The Signature Hole is the 148-yard 13th, which is framed by three bunkers and features curved stone walls in the foreground and a traditional Balinese kul-kul tower in the background.
In total there are three tee-boxes on each hole with the time limit to complete 18 holes set at two hours and 30 minutes.
Bukit Pandawa's burgeoning reputation was enhanced when it was named as 'The Best Par-3 Course in the World' at the 2017 World Golf Awards, widely considered the Oscars of the golf course industry.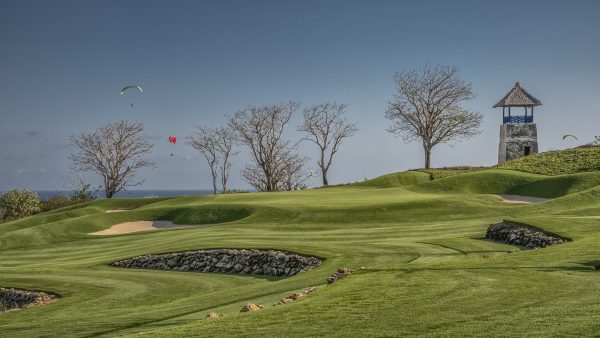 It was the first time in World Golf Awards history that voters could select the world's top par-three course.
"Bukit Pandawa is an example of beautiful golf design applied to a non-traditional layout. In large part, I think the appeal of Bukit Pandawa is in the quality of the golf course. It was designed and executed just as we design and execute championship courses. It is visually beautiful, strategic golf with numerous tee boxes to provide a broad range of challenge," said JMP Golf Design Group's Moore.
Djie Tjian An, Bukit Pandawa's General Manager, added: "It's just a tremendous accomplishment for such a young course. We couldn't be more proud of the job everyone who has ever been affiliated with the project has done. It takes dedication, passion and commitment across the board to even be in a position to receive an award."
As with the golf course, the clubhouse blends into its surroundings thanks to the liberal implementation of local materials (such as stone and wood), native grasses and, above all, water, which flows seamlessly through just about every part of the architectural masterpiece.
While half of the building houses a well-stocked pro shop and restaurant/café, the other half is a labyrinth of impressive and substantive spaces within both locker rooms.
The Spike Bar and the adjacent terrace offer a stellar collection of champagne and cocktails. Meanwhile, the open-air, rooftop Kul Kul Restaurant, seating up to 120 guests, boasts breathtaking views of the golf course and the Indian Ocean. It's an ideal venue for an intimate celebration.
The changing rooms are fitted with electronic lockers and include secluded VIP areas and sauna. The water features that run throughout deliver a feeling of serenity, tranquillity and a sense of belonging.
PLAY GOLF BALI
Bukit Pandawa Golf & Country Club is one of the partners of Play Golf Bali, a group that also includes Bali National Golf Club, Handara Golf & Resort Bali and New Kuta Golf along with Baltic Tour and Travel, Indonesia's foremost golf travel operator.
For 2018, the consortium has put together a series of events designed to attract golfing tourists to Indonesia's 'Island of the Gods'.
Teeing-off this year's special activities is the Bali Hai Golf Week (April 10-15) to be followed by the Bali Golf Festival (May 14-June 15), Bali Carnival Golf Week (September 23-28) and the Bali Golf Extravaganza (November 1-December 20).
Bali Hai Golf Week is being staged in collaboration with two four-star hotels – Wyndham Garden Kuta and the newly-opened The Elements Ubud Hotel by Westin.
The six-day, five-night package includes rounds at all four of the Play Golf Bali member clubs. To register, please visit www.playgolfbali.com or contact info@playgolfbali.com