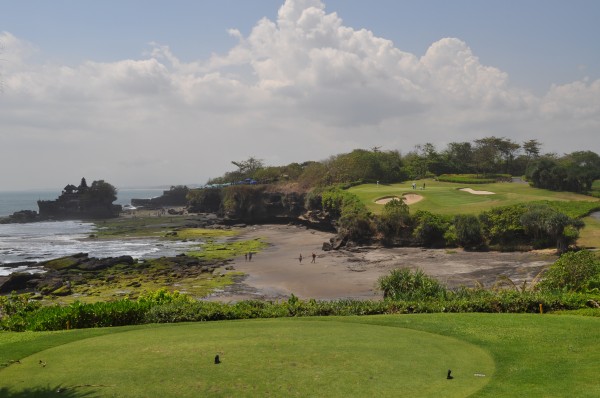 Unlike many Australians, I had never been to Bali. I'd seen and heard plenty about it in the news – most notably the good (surfing & beaches), the bad (Schapelle Corby) and the ugly (loud and obnoxious Aussie travellers in Kuta).
But I'd also recently heard some exceptionally great things about the golf. And that is usually enough to get my attention.
So when my wife alerted me to some very cheap airfares to Denpasar (and informed me that she'd gone ahead and booked tickets for the family!) I was keen to check out this tropical paradise once and for all.
Arriving in Denpasar, we were immediately struck by the sheer number of people everywhere. The hustle and bustle of the airport was matched only by the frenetic traffic on the roads. In truth, Denpasar and the surrounding villages are a beehive of activity; safely navigating the roads can be a real trick.
Lucky for us, we did not need to do the actual driving, as we'd booked in at Club Med Bali Resort in Nusa Dua, and hence were treated to an air-conditioned courtesy shuttle, complete with a friendly and knowledgeable driver.
If you've never experienced a Club Med holiday, do yourself a favour and give it a go. Especially if you have kids.  The free Kids Club is an absolute dream, allowing parents to "Drop-and-run" throughout the day.  With a full schedule each day, the kids will have no trouble keeping busy. From archery, to beach/pool play, to Circus School, and even nightly stage shows and concerts, there is something for everyone, and our nine-year-olds made the most of every day.
For parents, there is also a full selection of activities, including watersports, snorkeling, tennis/squash, Yoga, aerobics and a fantastic spa.  Of course, you could also opt to just sit in a beachside recliner all day with a good book, cool beverage (like my personal favourite, the Mojito) and the gentle ocean breezes.
Of course, my ears perked up when I heard about the resort's very own 6-hole golf course, free for guests. The collection of six par-3s (ranging around the 60-100m distance) offer the perfect opportunity to work on your short game, or—better yet—get the kids involved with the game. Clubs and balls are all available for free, and there are even daily mini-tournaments if you're in the mood for some competition.  From Ryder Cup-style matches to "Beat The Pro" tourneys, you're sure to have some fun. While the holes are short (and you hit off mats) there is still plenty of challenge from the pesky bunkers, thick rough and leafy palm trees guarding most of the greens.
The food selections at Club Med were surprisingly good — with a different theme each day ranging from French, to Chinese, to Italian and countless other regions.  And, of course, the kids were well catered for – with all the obligatory pizza/nuggets/burgers/fruit selections to guarantee they will find something they like. Best of all, Club Med is an all-inclusive resort, so all your food, drinks and activities are included. (The ability to leave your room without needing your wallet may feel quite foreign at first, but you'll get used to it.)
The rooms at Club Med Bali are spacious, comfortable and relaxing. They feature all the modern amenities like flat-screen TVs, amazing views and anything else your heart desires . There is even WiFi internet access (but hey, why not give the computer a holiday as well?).   Connecting rooms are available (to give your kids their very own room. Gold!).
THE GOLF
So, with the kids happily sorted at the resort, and my wife relaxing at the spa, I hopped in a taxi and made my way north to Bali Nirwana Golf Course, about 45 minutes from the airport in Denpasar (and a good 60-80 minutes from Nusa Dua, depending on traffic.)
Bali Nirwana GC has been voted one of the best golf courses in Asia. And while I have only played a handful of Asian courses, I would have to agree that this one is truly spectacular. The Greg Norman-designed beauty is world-class all the way.  Dramatic ocean views, lush Bali surrounds, and an extremely well-manicured course all add up to a great round.
The tone of the course is established from the first tee, as your very first drive of the day requires a shot over a terraced rice paddy (complete with farmers going about their work – they do pause prior to your shot, most likely to ensure their own safety!).  From there, you'll encounter a variety of other obstacles: from plentiful fairway bunkers to greens guarded by water and the menacing jungles framing the fairways, this course has it all.  Luckily, most of the fairways are very wide to allow you to enjoy yourself regardless of your ability.
Set on the coast, three holes run along the cliffs of the Indian Ocean.  The most notable of these is the 196m Par-3 7th, the signature hole of the course that requires a solid tee shot over the ocean (when the tide is in). Try not to be distracted by the magnificent view of the surf, or of the Tanah Lot temple on the left. This hole belongs on the "Must play before you die" list – for both the sheer beauty, but also the knee-knocking difficulty as you try and select a club amidst swirling wind. It's a cracker of a hole.
In truth, every hole on this course is special. And on my visit it was in fantastic condition – the fairways were like a soft carpet, the greens true and smooth, the bunkers full of fluffy sand and the rough was evenly manicured. It was a real treat.
The best piece of advice I can offer to anyone who wants to tackle this course: Play from the appropriate tees according to your abilities. There are plenty of teemarkers for all level of golfers, so don't bite off more than you can chew. Speaking of 'bite', be sure to at least view the course from the 'Shark Tees', as some of the views are breathtaking.
As per the norm in many Asian courses, you have both a caddy AND a cart, which can take some getting used to. The caddies are well trained and usually know exact distances, preferred landing zones and how the greens will break on any given hole. After every putt, they will mark your ball, clean it, and then line it up for you for the next shot.
Like many things in Bali, green fees are based in Rupiah and in US Dollars. During my visit, the rate was US$175 for 18 holes (Resort guests receive a discounted rate of US$100). Hire clubs (a quality TaylorMade set) were US$45 for the round. The caddy (and a customary gratuity) are extra. But it is well worth the price to experience one of the most beautiful and challenging courses in our region.
Luxury accommodation is also available at the course, via the 5-star Pan Pacific Nirwana Bali Resort.
EXPLORING BALI
While many Australians would know the surfing/touristy town of Kuta, there is a lot more of Bali to be seen. We took a family trip up to Ubud, and sampled all the local offerings along the way. From Silversmiths, to wood carvings, to the paintings, tapestries and more, there are plenty of fun and interesting adventures to be had.
If you have kids (or simply like animals) then the Sacred Monkey Forest Sanctuary is a must visit. These monkeys are (for the most part) docile and gentle, and you can feed them directly from your hand (bananas are available for purchase at the front). If you're a bit adventurous/bold, you can get some corn from a local monkey keeper, put your hand out, and then watch as the monkeys climb up on your shoulder and eat out of your hand.
TIP: When going anywhere in Bali, consider hiring a taxi or driver for the entire day, as it will save you considerably in fares. A trip from Nusa Dua to Ubud, for example, ran us $70AUD on a flat rate (the good drivers will agree upon a price in advance).  It would have been well over $100 had we not secured a daily rate.
All told, our Bali adventure was pure bliss. And with airfares at a competitive rate, there has never been a better time to check it out!
Travel Notes
Club Med Bali Resort
The Nirwana Bali Golf Club
The Sacred Monkey Forest Sanctuary
www.monkeyforestubud.com
Getting There
A number of airlines can get you to Bali from Australia, whether via direct flight, or through a connector like Kuala Lumpur or Singapore. Flight time can vary depending on your airline, but can be roughly around 6 hours from Sydney/Melbourne.
A visa upon arrival is necessary (Cash only: $25USD). The visa is valid for 30 days.
Currency : Rupiah / Rp. / IDR
Electrical Voltage: 220 volt
Language: Bahasa Indonesia and English
Climate: Dry season (April – October), Wet season (November – March)