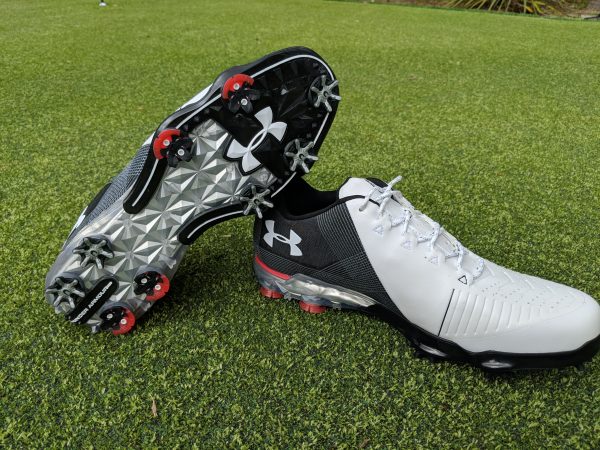 Last month, we tested out the latest golf shoe by Under Armour, the Spieth 2; the second signature shoe by golfing powerhouse Jordan Spieth.
Built with direct insights from Spieth, the shoe has a variety of features and upgrades that will no doubt put it right up there with some of the best golf shoes on the market today.
Right out of the box, the shoe was impressive. Sleek and stylish, the look of the Spieth 2 is all class. Indeed, the shoes drew a few envious looks from fellow players on my way to the first tee.
But golfing footwear is (really) all about performance under foot. And just like its namesake golfer, the Spieth 2 shoe rises to the challenge.
As luck would have it, I tested the shoes on a very cold, wet and rainy Melbourne day. This proved to be beneficial for the review, as the main features of the shoe are the waterproof construction, courtesy of GORE-TEX technology, as well as the improved traction via the Under Armour Rotational Resistant (RST) Spikes.
After the first hole, I was immediately impressed with the shoe. Despite the quite sloppy and slippery conditions on the course, I never once felt like I was going to slip during a swing. The high-tech Rotational Resistance Spike technology (which is designed to limit the shoe from rotating out during a swing) kept my feel firmly planted in the ground, and helped provide a very stable, supportive foundation, shot after shot. This proved to be a massive advantage, as it eliminated the distraction/worry of keeping my footing on the wet grass.
As I always do with shoe reviews, I had planned to play just nine holes in these, as I have often found that new shoes can take some time to wear-in (and can thus get uncomfortable on the back-nine). However, after nine holes in the Spieth 2, my feet were so dry and comfortable, that I pressed on for the back nine. And boy, am I glad I did.
As the rain persisted (and my playing partners continually eyed the warmth of the nearby clubhouse), the Spieth 2 shoe continued to impress, and it definitely lived up to the "100 percent waterproof" claim (it comes with a two-year limited waterproof warranty). Surprisingly, the material also proved to be extremely soft and breathable; following a great 18-hole round (one of my better outings in a while), my feet felt as fresh/energetic as ever, and were still bone dry (even though the rest of my body was soaked).
Overall, the Spieth 2 is a remarkable, comfortable and stylish shoe that ticks all the boxes – especially in the wet climates.  So go ahead, walk a mile (or a few) in Jordan's shoes. I did, and loved every step.
RRP:  $279
1800 656 968
www.wsports.com.au/underarmour