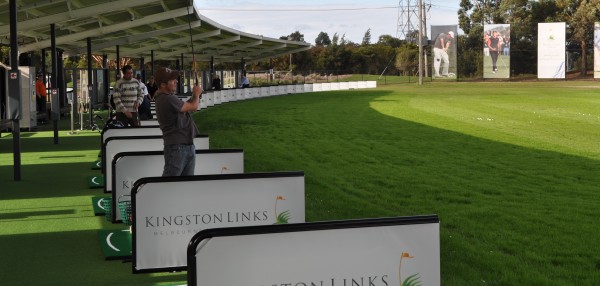 A brand-new practice facility in Melbourne 's east is ticking all the boxes for golfers looking to improve their game.
Opened in May, the new Kingston Links Driving Range & Improvement Centre in Rowville marks an important step in the rejuvenation of the Kingston Links facility. Dubbed "The People's Course" for its friendly staff and welcoming attitude, Kingston Links can now boast one of the top driving ranges in Melbourne; one that is setting the benchmark for future Australian driving ranges.
Featuring a 40-bay, undercover, floodlit range, excellent short-game practice area and a cutting-edge multifunction learning centre, the facility is a one-stop-shop for golfers of all levels.
"When we set about to design this facility, it all came down to one question: What does the golfer want?" explains Paul Benbow, AAA Professional at Kingston Links. "The answer: they want to improve, regardless of age or skill level. So we set about making a facility that is firstly comfortable and inviting, but secondly we want to make them feel like they are on the course."
One of the key features to that end is the strategic placing of target greens and bunkers on the range. These give golfers something to aim for when they practice; thus encouraging them to think about each shot in an on-the-course scenario.

"One of the problems that golfers always face is, you go to a range, and you're just whacking balls. You're not thinking," says Benbow. "But here, no matter where you are on the range, you have specific targets and markers, and you have to think about the shot, use the right club. Just like when you're on the course. You can practise hitting an approach shot to a well-guarded green from a variety of distances, using a variety of clubs. And with the curved layout of the range, they can practise controlled fades or draws to specific targets. This brings the learning into play."
Every aspect of the carefully-designed facility serves an important purpose. The top-quality practice mats, for example, include high visibility alignment lines, a key instructional and practise tool.
"When a practise mat is blank, the golfer can feel a bit unguided," says Benbow. "But with these lines, it helps the player to check their alignment, and it helps their instructor to teach them about lining up, where the body should be, where to pivot, the arc of the swing, etc., and that has been received hugely by the patrons that come in. They love it."
Another clever feature is the strategic placement of full-length mirrors behind many of the bays, which allows a golfer to check their form during the backswing, etc.  In addition, golfers are surrounded by giant banners adorning the facility, featuring some of the world's best golfers like Tiger, Rory, Phil and Ernie. More than just "window dressing", these help golfers to visualise their own swings in a way that emulates the world's best.  It also helps for inspiration.
"We wanted to make it feel like a Hall of Fame area, like famous sporting arenas like the MCG and Lord's," says Benbow. "We wanted golfers to be excited about coming here to hit balls, with images of the world's best players around them."
For golfers wanting to work on their chipping and putting, there is a great short game area with a quality putting green, a massive bunker to work on those tough up-and-downs, and other sections to work on different short game shots.
If a golfer needs assistance or instruction to improve even further, then they can turn to Benbow and his state-of-the-art Multifunction Room – an impressive "Indoor/Outdoor" simulator/training bay.
This Multifunction Room is truly unique, as it not only allows a golfer to experience all the clubfitting/instruction benefits of an indoor golf simulator (complete with sophisticated launch monitor and computer-based swing statistics, virtual rounds at world-class courses, etc) but it also allows, with a simple slide of the giant bay doors, a golfer to hit outside to the range, and see the actual flight of a ball in real-world conditions. This represents the best of both worlds for clubfitting and instruction.
The prices at Kingston Links Driving Range & Improvement Centre are very reasonable for a facility of this quality, with a bucket of 35 balls just $7; 70 balls for $10 and 105 balls only $13. The short game area is $5 for 30 minutes, with a limit on the number of players at any one time (to ensure it never gets overcrowded, and to give players a comfortable environment.)
Overall, we were very impressed with the new facility, and we highly recommend you check it out.
Kingston Links is located at 14 Corporate Avenue, Rowville. Hours: M-F 9am – 9pm, Weekends: 8am-8pm
www.kingstonlinks.com.au.