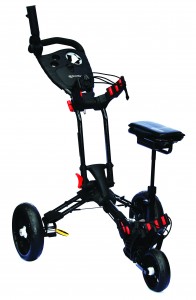 This innovative, unrivalled buggy has all the latest features and benefits of any buggy released in the market. The Smoothy brand, which has been Australia's No 1 selling buggy brand since 2005, has engineered the Micro Suspension buggy to satisfy every golfer's imaginable request in a manual golf buggy:
Its state-of-the-art Smoothy Suspension system glides over rough surfaces without transmitting any vibrations to the user. The Micro Suspension buggy will fold and unfold in an effortless 5 seconds, by simply releasing 2 ergonomic levers. Its compact design will fold to a mere 74 x 54 x 46 cms with the seat disengaged and front wheel attached, allowing for ample room in car boots for other golfing necessities.  The oversize polyurethane tyres provide a very a soft ride which is aided by the high modulus aluminium lightweight construction — which surprisingly only weighs 8.72 kgs.
Other exceptional features include the best quality soft sponge wide grip handle with an umbrella holder, integrated drink holder along with other golfing accessory internal compartments. The easily accessible foot brake can be effortlessly engaged to park the buggy when necessary. The high-tech upper and lower golf bag connectors simply and quickly attach or disengage within seconds compared to comparable types. The seat accessory, which connects to the right side of the buggy has a deep seat well providing extra storage for items such as score card, balls, tees, watch, mobile phone and car keys.
Micro Suspension Buggy comes in liquid paint Black, Blue, Red & Silver.
Contact (02) 9417 4055, www.underpar.com.au or email info@underpar.com.au