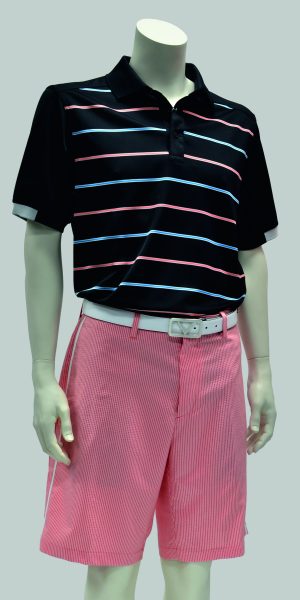 This season's Callaway line found inspiration in the natural beauty, advanced technology and industrial innovation of Scandinavia. The assortment combines the sophisticated style and superior performance that makes Callaway a leader in golf authenticity. Embracing simplicity and functionality, expect sharper lines, bolder colours and utilitarian design influences. Callaway apparel captures the brand's commitment to unmatched performance, comfort and style, from a new contemporary angle.
The Erland Polo is a roadmap-striped polo with solid detailing and 1/2-ribbed sleeve.  DTM-embroidered Chevron, inside placket with embossed Chevron on back collar, and Callaway and Chevron on right sleeve. 100% polyester, antimicrobial wicking material with UV protection.
The Johan Polo is a Raglan polo with wicking material and colour-blocked graphics. DTM-embroidered Chevron, inside placket.
Both shown with the Harwood Short a seersucker technical short with utility detailing and mechanical stretch. Contrast embroidered Chevron above back right pocket. Moisture management fabric. 100% polyester with Moisture Management, UV protection and Comfort stretch. Available in even sizes 30-42".