"How far is it to the pin?"
It's a simple question, but absolutely critical to success on each and every hole. Get it right and you're looking at a tap-in. Get it wrong, and you could be in that cavernous greenside bunker. Or the water hazard. Or in the thick cabbage behind the green.
Determining distances on a course can be one of the most important activities in golf. But it can also be the most frustrating, time-consuming and mind-bending lesson in futility. While sprinkler heads, course guides and yardage markers can be helpful (when available), they don't often tell the whole story. What if you are just trying to carry a fairway bunker? Or lay up short of a lake? Or play an approach from the wrong fairway?
Without an accurate distance, you're just playing a guessing game. And if you're not 100 per cent confident with your club selection, the uncertainty in your mind can often translate in to an uncommitted swing, resulting in a poor golf shot.
Distance-measuring devices like GPS units and laser rangefinders are a perfect solution. With a click of a button, you gain absolute confidence of your exact distances; taking the guesswork out of the equation and allowing you to focus solely on your swing (or simply concentrate on the other 1000 swing thoughts bouncing around in your head).
And yes, they are legal. Approved for use in 2008 by the USGA and the R&A (change in Rule 14-3b), distance-measuring devices can be used on the course, provided that your club/committee allows it (check with your Club Captain for more on this).
Best of all, they can speed up play immensely. In fact, that's the reason why they were invented! But more on that later.
Let's dive in to the technology behind these units, and have a look under the bonnet.
There are primarily two technologies in use for golf distance-measuring devices: GPS and Laser Rangefinding. Here is how they work.
LASER RANGEFINDERS
Laser rangefinders are small, handheld units that resemble a pair of high-tech binoculars. In essence, a laser rangefinder uses a laser beam to determine the distance to an object. By sighting an object through the scope (like a flagstick, bunker or tree) and then pressing a button, the unit sends a laser pulse in a narrow beam towards the object and then measures the time taken for the pulse to be reflected off the target and returned to the sender. This gives a true line-of-sight distance to any target, in any conditions at any time.
Laser rangefinders are extremely accurate and can work on any course in the world, without the need to configure a computer or use any extra hardware. This makes them ideal for a player who travels often, or who may not have regular access to computers.
In general, many professional golfers and their caddies rely on laser rangefinders to give them precise measurements in practice rounds when preparing for tournament play. You will often see caddies walking the course in the days before a tournament, sighting distances with the rangefinders and then marking the distances in their player's yardage book.
GPS UNITS
GPS stands for Global Positioning System, and it uses a global network of 32 satellites that provide accurate location and time information, anywhere on Earth. It works in all weather conditions, at all times where there is an unobstructed line of sight to the GPS satellites. Created by the U.S. Department of Defence in 1973, the GPS Network is now used for activities like surveying, mobile phone operations, bushwalking, vehicle tracking, etc.
HOW DOES GPS WORK?
Each GPS satellite sends continuous signals to Earth, including the time, its unique orbital information and details about other GPS satellites in orbit. A GPS receiver – usually a hand-held or vehicle-mounted unit — collects signals from four or more GPS satellites, calculates its distance to each satellite (via measuring the transit time of each signal) and then determines its exact position on the Earth. From here, it easily determines its distance in relation to a series of fixed points on a map (like streets, landmarks, etc).
HOW DID GOLF GPS COME ABOUT?
Back in 1991, business partners Darryl Cornish and Chad Huston envisioned a way to take the GPS boxes that were being used by the military, and transform them into a tool that could help golfers speed up play.
"Chad was a fighter pilot in the reserve, and we were doing a project to track fighter planes via GPS units," Cornish told Inside Golf.
"One day, Chad was playing golf behind this group, and every time the guy ahead made a shot, the guy would step off the distance from the yardage marker to his ball. It took him forever. After a 6-hour round, Chad was sitting at a table with me and said 'wouldn't it be great if GPS was accurate enough to measure the distance to the centre of the green and hazards — so you just have to press a button and know the exact distance?'."
At that time, GPS systems were too large for handheld use. They were also too expensive (tens of thousands of dollars), and were only accurate to about 100 yards. Sensing an opportunity, Cornish and Huston patented the use of GPS for golf, and then pioneered the industry, making a number of ground-breaking golf GPS technologies and products over the years, including their current GURU product, joint-developed by GPS Golf Guru and On-Pin.
HOW ACCURATE ARE GOLF GPS UNITS?
With recent advances in technology, golf GPS units are extremely accurate, and are more than sufficient for even the most experienced of golfers. But like most gadgets, accuracy is largely due to the quality of the receiver unit itself.
"If the product is designed and manufactured properly, accuracy can be between plus-or-minus 1-2 metres, which is ideal for advanced golfers. In other GPS-enabled technologies, like those used in mobile phones, the accuracy can be plus-or-minus 10 metres," says Cornish.
GPS accuracy can be affected by a number of factors. Radio 'noise', interference and large objects like mountains or trees between the satellite and the receiver can all affect accuracy by a few metres. This can be minimised, however, via a variety of technologies like AGPS, DGPS and WAAS, which use surface-based information (like phone towers) to supplement to satellite signals.
In addition, the quality of the course maps/data is also important for accuracy.
A GPS unit compares its position to a pre-mapped series of "fixed point" data. When it comes to golf, the fixed points include the front/middle/back of each green, edges of bunkers, hazards, etc. And as these points are not automatically registered in a Satellite/Google Map, they usually need to be mapped manually.
There are basically two ways that course data is mapped for golf GPS units.
A "professionally-mapped" course usually entails a manufacturer's representative walking the course with sophisticated GPS mapping equipment. This is generally accepted as the most accurate method, though it can be expensive and time-consuming for a company. Other professional mappings are done via computer on maps (like Google Earth), or other geotagging software. While this is cheaper, it relies on the accuracy and currency of the satellite maps (new or recently renovated golf courses may not be accurately represented on the map).
"Player Mapped" courses are the alternative. This usually entails a player using their GPS unit to map or update a course while playing. While this can be more cost-effective for a company, the potential downside is that the data itself can be prone to user error or differences in opinion (i.e. determining the exact front edge of a green can be open to interpretation).
USING GPS UNITS ON THE COURSE
Golf GPS units are extremely user-friendly, and offer heaps of information.
Most units require you to first download the course map prior to playing. This is usually done on your home computer (but some units vary). All units allow you to store multiple course maps on the unit at one time.
When you arrive at the course, you simply turn the unit on, wait a few moments for it to determine your location (the unit can recognise which course you are near, based on your GPS location), and you're ready to play.
When you're faced with a shot, you simply press a button and look at the screen. You are given the exact yardages to the front, middle and back of the green, as well as (on some units) distances to hazards or even lay-up zones. Some units show a map of the hole (useful if you've never played that course before), while others even give a video "flyover".
One of the more useful features on GPS units is the ability to track the distance of shots hit. After hitting a mammoth drive, for example, you simply hit a button and then travel to your ball. The unit measure precisely how far your drive went (great for boasting to your mates later). More importantly, it will help you track distances for every club in your bag; so you'll know with certainty, for example, just how far you regularly hit your 8-iron.
Most units offer scorekeeping and stats tracking. Fairways hit/missed, GIR, sand saves, putts, penalty shots…it's all there for post-round analysis. Synchronise it with your computer, or upload it to a website, and you can see detailed stats for all your rounds, and then identify areas of your game where you need improvement.
CART GPS SYSTEMS
Many courses are beginning to offer electric carts with built-in GPS units. These can be extremely beneficial to both the player and the course, as some systems offer the ability to order food & drinks, view a live leaderboard of the current competition (very cool!), check scores on a PGA TOUR event, receive weather alerts or even see the distance to other carts in the group ahead (helpful when determining if it is safe to tee off). In addition, a course can use the unit as a revenue generator by inserting advertising or specials. With some systems, the course can track a group's progress and even initiate automated "speed up" alerts if the group is playing too slowly.
WHICH TECHNOLOGY/UNIT IS THE BEST?
This is always a difficult question to answer, as there is really no single technology or unit that is perfect for everyone. They are all unique in their own way, each offering market-leading features that can be more suited to your own personal preferences or playing styles.
Here are a few pros & cons to consider:
GPS units offer much more than just distances: with heaps of analytics and scorekeeping available, they can help identify faults in your game, and actually improve your play.
GPS Units often require a computer, and the downloading course maps (in some cases a subscription/membership fee is required). Laser rangefinders, on the other hand, are ready to use at any course, at any time.
Battery life on GPS Units is also an important facet, as many units will require a full recharge after a round or two. In contrast, Laser Rangefinders have a very long battery life.
Laser rangefinders show the exact distance to the pin/target. GPS units only show distances to pre-mapped areas/points.
Laser Rangefinders require line-of-sight. So if you are stuck with a blind tee shot, dogleg or an obstructed view of the green, then your laser rangefinder won't be able to accurately measure your distance to the target. They also require a steady hand, especially at longer distances.
Not all courses in Australia have a GPS map for all units. Before you buy any GPS unit, check their website to see if your favourite courses are in their database.
With those points in hand, here are some of the latest and greatest golf GPS and laser rangefinding technologies available in Australia.
GPS Units
GolfBuddy GPS World and World Platinum
The GolfBuddy GPS World and World Platinum units are powerful, interactive, touchscreen GPS rangefinders with an impressive array of new functions designed to give golfers the ultimate game management tool.
There are no golf course download fees or annual subscription charges. The unit comes pre-loaded with 33,000+ global course maps, so there is no need to spend hours at a computer screen choosing courses or changing the places you want to play. Just switch on GolfBuddy, and in seconds it automatically recognises which course you're playing – and even gives an instant visual guide to the hole you're on. Courses are mapped on foot — and by aerial photography with GPS-embedded technology —to give precise distances to hazards and greens – and you can even add or map your own targets.
Its innovative Pro Play system allows golfers to track, record and analyse their own playing statistics, including greens and fairways hit in regulation and number of putts per hole. The unit displays full hole layouts, with distances to and from any point on the course shown by touching the screen. Touch bunkers and water hazards for precise distances to reach and carry them – or identify yardages to safe spots on the fairway and plot your way around the course. You can even move the Touch 'N' Move flag to any position on the green with your fingertip or a tee.
SPECS
RRP:
World: $349
World Platinum: $499
Rechargeable lithium-ion battery
No annual fees: Free lifetime access to worldwide golf course maps.
10+hour battery life
Automatic course recognition
40,000 course capacity (33,000 Pre-loaded global courses)
Direct overhead Imaging for complete hole layout views
Multiple languages
High-Resolution Colour, Outdoor Visible, Full-Function Touch Screen
Shock and water resistant case
TouchPoint instant distance measurement
Pro Play game statistics recording & Stableford scoring
email: contact@gpsgolfbuddy.com.au
Phone: 1300 379 755
Bushnell neo+
Pre-loaded with 20,000 golf courses worldwide (including 900 Australian courses), The Bushnell neo+ works straight out of the box, automatically recognising the course you're on. Simply turn it on in the carpark and it instantly knows where you are. Giving precise distances to front, centre and back of green, as well as up to four hazards per hole, the neo+ features an easy-to-use interface, low button press, shot distance calculator and up to 16 hours of battery life. The auto hole advance will automatically progress to whichever hole you're playing, thus giving you your distances quickly and easily.
Best of all, there are no additional membership or course download fees. The unit is small enough to fit in your hand (or clip it to your bag) and is also rainproof.
Specs
LCD Sunlight Readable Display
Rechargeable Li-ion Batteries
Up to 16 hour battery life
No membership fees
Auto Course Recognition
Auto Hole Advance
25,000 Golf Courses worldwide Pre-Loaded (Includes 900 Australian golf courses)
Distance to Key Points
Shot distance calculator
Easy to use, low button press
1 year warranty
RRP $169.00
Email: sales@championsports.com.au
Email: sales@globalsportsinternational.com.au
Phone: 08 8239 1122
(Note: the neo+ unit is not to be confused with the original neo unit, which only holds 10 courses, and requires one-by-one downloads)
(Editor's Note: with all Bushnell products, it is highly recommended that you purchase the units directly in Australia. By purchasing from an overseas location, you will NOT get the Australian courses pre-loaded)
GolfBuddy Voice
GolfBuddy Voice heralds an exciting new generation of audio GPS rangefinders. As small as a golf ball yet light enough to be clipped comfortably on the peak of a hat or visor, GolfBuddy Voice gives spoken distances to the centre, front and middle of the green, simply by pressing a button.
Weighing just 30 grams and measuring only 4.3cm wide, the multi-lingual GolfBuddy Voice uses GolfBuddy's Auto Course & Hole Recognition technology – which means it always knows exactly which hole you're playing. It has a 40,000 course memory, is preloaded with thousands of worldwide courses and connects to a PC via a micro USB port for synching when new courses are added to GolfBuddy's global database. No subscription fees or course download charges.

RRP: $225
www.gpsgolfbuddy.com.au
I'm Caddie
The latest in "Talking" GPS units, I'm Caddie is a small, light and sophisticated unit that simply clips to your cap or belt.
Inside Golf tried this unit on the course last month, and we found that it does everything as advertised. Simple to use, it gives the distances you need at the touch of a button. A great little unit that looks good as well.
Simply push the button and a friendly voice speaks out the distance to the centre of the green. It also has shot distance measurement and auto-hole recognition, so it always knows exactly where you are on the course.  The long-lasting battery gives you up to 36 holes on a charge, while the unit supports up to 50,000 golf courses globally (with course database updated bi-monthly). The unit speaks nine different languages (English, Japanese, Chinese, Spanish, French, Korean, Italian, Dutch and German) and even comes with a magnetic ball mark. The Tour model also features a spoken "course guide" to each hole of selected courses, and a variety of changeable colour covers.  Corporate packages available to get a personalised company logo on the unit, and voice intro to your course/company.
RRP: $169.90 (GST, P&H Included)
www.iamcaddie.com.au, Phone 0406 869 853 (10am – 5pm, M-F)
Bushnell Golf Neo+ Golf GPS Rangefinder Watch
The lightweight watch is simple to operate and comfortable to wear, giving golfers accurate front/back/centre and shot distance measurements on 25,000 preloaded courses with no membership fees.  The long-life battery allows golfers to play three rounds or over 14 hours without needing a recharge (when the product is functioning solely in watch mode, the battery can last over 12 months).  The neo+ Golf GPS Watch is capable of instantly recognizing courses and has an auto hole advance feature which automatically changes from one hole to the next. The watch also includes an odometer, timer and alarm.
Specs
Front/Center/Back distances with large, easy-read numbers
Shot distance calculator
Over 14 hours battery life in GPS mode
Over 12 months battery life in Watch mode
25,000 preloaded courses
No membership fees
Waterproof to a depth of 30m
RRP: $229
Email: sales@championsports.com.au
Email: sales@globalsportsinternational.com.au
Phone: 08 8239 1122
Sureshotgps SS9000X
Sureshotgps SS9000x features a unique sunlight-readable Touch screen interface with and zoom in & out capabilities. The unit provides a bird's eye view of every hole on every course in Australia, and is pre-loaded with the renowned Sureshotgps Australian database with free membership, no annual fees and life access to the worldwide database wherever you play.
Never guess on your distances again, as the Sureshotgps SS9000X follows your position on the course to display lives distances to all hazards and greens or choose your own point-to-point targets. Its extreme lightweight design is waterproofed to IPX6 rating for use in all conditions, while the interface is extremely intuitive with friendly font size for all golfers.
The Sureshotgps Company is Australian owned, operating within the Australian Golf Industry since 1993. As Australia's leading GPS company and official measuring device to the PGA of Australia, you can be confident to 'Know the Distance' with the new Sureshotgps SS9000X in hand.
Specs
3" Transflective, sunlight readable screen
Highly sensitive Touch control
Extreme clarity, high resolution screen
Preloaded with Australia's largest & most accurate exclusive Sureshotgps database of golf courses
No annual fees or membership fees
Waterproof XPI6 rating
Sporty, light and designed to fit perfectly in the hand
Automatic hole recognition
Automatic course recognition
Golfer position on the course displayed
Point to point measurement anywhere on the hole
2 year warranty and Australian based, friendly technical support
RRP: $429
Sureshotgps SS8850X
To get you on the course faster, the new SS8850X comes preloaded with the largest
database of Australian courses, covering all the courses you'll actually play at. Easy to use software displaying live distances on a sunlight-readable screen is only the beginning of what is key to the best-selling golf GPS in Australia.
The unit is lightweight, ultra user friendly in an ergonomically designed case. It features a high resolution sunlight-readable colour screen with back light, and unique full colour icons representing all hazards and greens in large clear format.
Working from GPS points, the unit displays the distance from you to the front, centre and back of the green, and displays distances and carry for up to 15 hazards per hole including bunkers, doglegs, run-out and lay-ups.
Players can personally map a course or edit any registered mapped course in the world. The unit allows you to record the score of each hole, including fairway hit, greens and putts, and then analyse results and statistics via computer upload.
Specs:
Free lifetime membership to access worldwide map database
Advanced scoring and statistical analysis
Sunlight readable screen
Maps updated regularly
High-performance lithium-ion battery (rechargeable)
Map capacity- Holds up to 100 courses
(subject to membership)
RRP: $369
Note: Sureshotgps prides itself on its exclusive database of the Australian golf courses privately mapped by their professional mappers who walk every course. No Google maps are used, only sub-metre accurate GPS mapping which can only be achieved by walking the course. If a course changes, Sureshotgps can update maps and upload for immediate use with no delays waiting for new Google maps to be created.
Sonocaddie V500 Golf GPS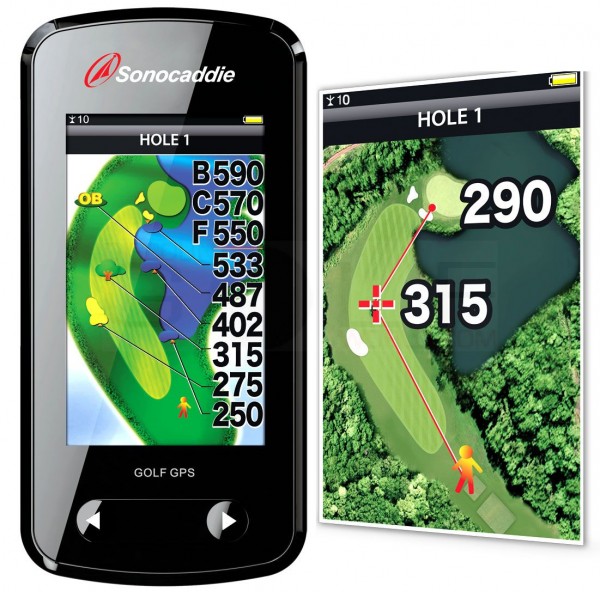 Sonocaddie V500 is preloaded with 3D colour course maps, showing course hazards, targets and their relative position on the hole. No fees or downloading required. It provides golfers with precise distance information from any spot on the course. As you move to the next stroke location, your position is shown, and the distances to each critical target are continually updated.
The Digital scorecard automatically calculates the total score with the simple touch of a button, while the unit presents a summary of your round to analyse statistics and the score with calculated rational and percentage.
Specs
Over 1150 Australian Golf courses
No annual fees
Stores up to 30,000 golf courses
Stores up to 100 scorecard reviews
Automatic Course Finder and hole recognition
Displays the distance to the green from any point on the course
Revolutionary user interface actually shows YOUR position on the golf course in real time
3″ Sunlight Viewable Touch Screen with Touch Point Positioning
Satellite Imagery &  Video Flyover (Available in Australia on selected courses)
Records locations for each shot right on the screen, and can automatically trace waypoints during the round.
RRP: $489
Laser Rangefinders
Bushnell Hybrid
The ultimate distance measuring device –a laser rangefinder with built-in GPS.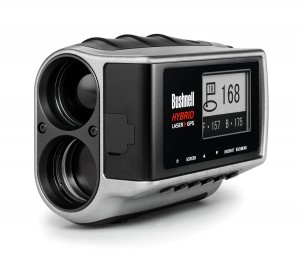 The Bushnell Hybrid ticks all the boxes in a distance-measuring device, giving you laser accuracy with GPS convenience. In essence, it is the best of both worlds.
As a laser rangefinder, the Bushnell Hybrid's Pinseeker Technology lets you zero in on the flag, giving you accuracy to +/- 1 metre. You can also get distances to bunkers, hazards, trees or even the players in front of you (to ensure they are out of range).
For those times when you cannot see the flag (like when you're in the wrong fairway, around a corner or on the wrong side of a mound), simply refer to the built-in GPS unit for your exact distances. Just like the Bushnell neo+, you get all of the precise GPS measurements to front/centre/back of the green, auto course/hole recognition, shot distance calculator and more.
Specs:
5 x Magnification
3V Lithium Battery & Premium Carry Case
Up to 16 hours battery life
No reflective prism required
No membership fees
Auto Course Recognition
Auto Hole Advance
25,000 Golf Courses worldwide Pre-Loaded (Includes 900 Australian golf courses)
Distance to Key Points
Shot distance calculator
Easy to use, low button press
Warranty: 1 year
Email: sales@championsports.com.au
Email: sales@globalsportsinternational.com.au
Phone: 08 8239 1122
(Editor's Note: with all Bushnell products, it is highly recommended that you purchase the units directly in Australia. By purchasing from an overseas location, you will NOT get the Australian courses pre-loaded)
Bushnell V2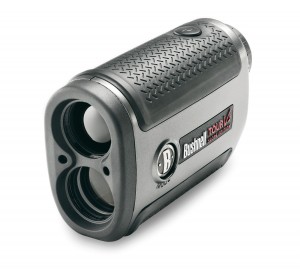 The biggest selling rangefinder on the market worldwide, the Bushnell V2's Pinseeker Technology lets you zero in on the flag, giving you accuracy to +/- 1 meter. You can also get distances to bunkers, hazards, trees or even the players in front of you.
Specs:
5 x Magnification
3V Lithium Battery & Premium Carry Case
Up to 16 hours battery life
No reflective prism required
No membership fees
Rainproof
Easy to use, low button press
Range: 5-900m; 270m to flag
RRP: $349
Email: sales@championsports.com.au
Email: sales@globalsportsinternational.com.au
Phone: 08 8239 1122
Sureshotgps Laser PIN LOC 1000
Launched in Australia this month, the Sureshot Laser gives you precise distances to the flag, at the speed of light.
SureshotLaser uses an infra-red laser to accurately capture distances to the target selected.
An outbound laser is sent out, hitting the target and the most accurate distance is beamed back to the SureshotLaser. Lock in the target and the distance displayed will lock on the screen to be viewed again later. SureshotLaser instinctively locks onto the nearest target among multiple objects in the backgrounds. Pin Loc technology ensures even the smallest target is locked in from the longest distance.
The unit displays a continual update of distances across a panoramic area, allowing you to scan the area for the average distance.
Specs
Priority Loc, Pin Loc, Scanner and Display Loc
6 x Magnification
Wide objective aperture of 24mm
Multi-coated optics for extreme clarity
Shock proof and lightweight at only 190g
Two year warranty
Adjustable focusing dioptre for all levels of vision
Measurement range to 625m
Measurement to the pin 325m
Automatic battery saving standby mode
Long life lithium battery
Low battery indicator
LCD display
RRP: $349
CONDOR – LASER RANGEFINDER
With pinfinder function, the Condor laser Rangefinder locks in the closest object during a scan to make finding the exact distance to the flagstick a breeze. Just set the mode to SCAN, push the power button and hold it down as you move the rangefinder viewer across the flag, to the trees in the background, etc.  Then just release the button and the distance of the nearest object (i.e. the flagstick) will be displayed and remain on display for you to record it.  This is what sets the Condor Rangefinder apart from the rest.
The unit also has standard scan and 'point and press' basic functions. Just push the power button (without scan) and the distance to the object will be displayed once. The unit features a range from 5 metres to an incredible 1.5 kilometres (obviously for purposes other than golf!)
Compact and lightweight, the Condor comes with a hard case for complete protection.
SPECS:
7x Magnification
Accuracy: +/- 1M
Field of view: 105m/1000m
Water resistant
Weight:180g
Warranty: 12 months
Dimensions – 118x82x44mm
Battery: AAA (1.5v x 2)
Golf Flag measure range: 300M
RRP: $199.00 including freight.
Contact Condor Golf at sales@condorgolf.com.au or call on (03) 97691477
Bushnell Z6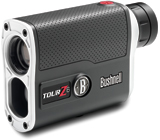 Instantaneously acquire flags up to 450 yards away with the extreme speed and incredible range of the Tour Z6.  Vivid Display Technology™ ensures accurate target acquisition by shutting out background hazards and isolating your target, and dramatically improves the display for rapid, positive target identification in all lighting conditions. Includes PinSeeker Technology to zero-in on the flag, total range of 5 yards-1,300 yards, Waterproof (IPX7) and RainGuard HD lens coating.  Vivid Display TechnologyPinSeeker Technology™ ensures accurate target acquisition by shutting out background hazards and isolating your target.
* Tour Certified
* Up to 1/2 yard accuracy
* Vivid Display Technology (VDT) for all lighting conditions
* 6x Magnification (objects appear 6x closer)
* Premium lens coatings for superb optical quality
* Adjustable diopter setting
* Rubber armoured metal housing
* Posi-Thread™ Battery Door
* 3-Volt Battery and Premium Carry Case are also included
* 2 Year Warranty
RRP: $449
Email: sales@championsports.com.au
Email: sales@globalsportsinternational.com.au
Phone: 08 8239 1122
BUSHNELL PRO 1M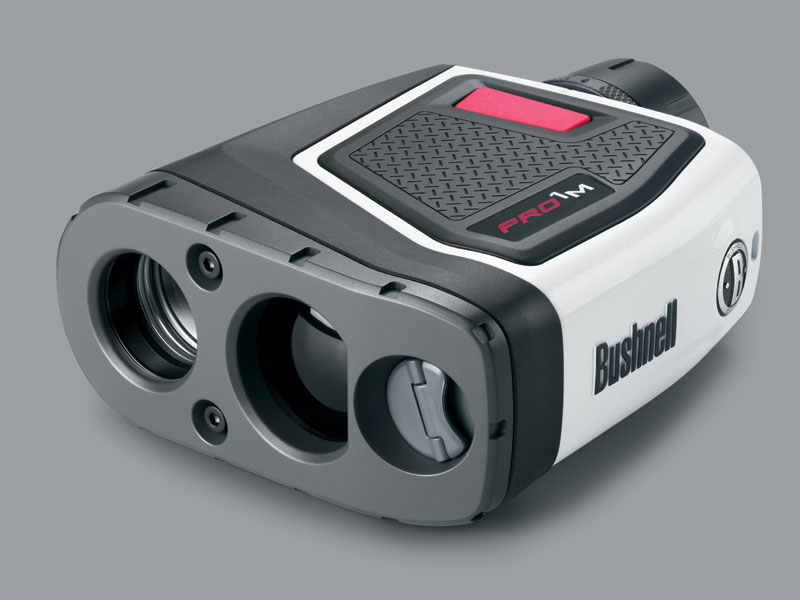 New for 2012. With incredible ranging capabilities of up to 1 mile (550 yards to flag), Vivid Display Technology for all lighting conditions and unprecedented accuracy, the PRO 1M is the ultimate laser rangefinder for avid golfers and tournament play.
Vivid Display Technology Vivid Display Technology(tm) dramatically improves the display for rapid, positive target identification in all lighting conditions. PinSeeker Technology ensures accurate target acquisition by shutting out background hazards and isolating your target.
Re-engineered circuitry to maximize battery life, PowerBoost provides 35% more aquisitions.
* Tour Certified
* PinSeeker Technology to zero in on the flag
* +/- 1 yard accuracy
* 7x Magnification (objects appear 7x closer)
* Slope Technology which provides compensated distances for elevation changes
* Posi-Thread(tm) Battery Door
* Waterproof construction
* RainGuard HD lens coating
* 3-Volt Battery and Premium Carry Case are also included
* 2 Year Warranty
RRP: $549
Email: sales@championsports.com.au
Email: sales@globalsportsinternational.com.au
Phone: 08 8239 1122
CART-MOUNTED GPS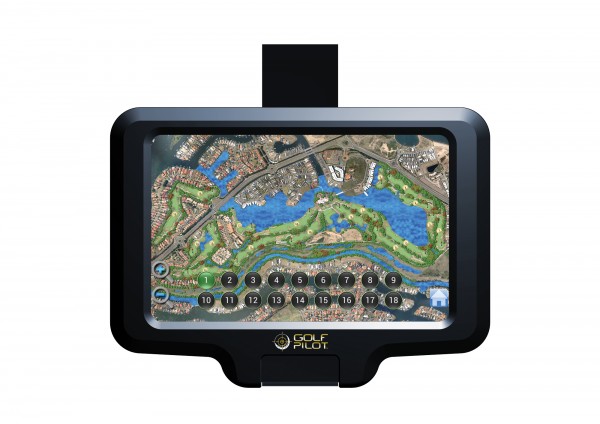 Golf Pilot™ GPS System
THE new Golf Pilot™ GPS system is a unique, cart-mounted touchscreen system with a full set of features for both golfers and club managers.
The system gives the exact distance to the pin (not just the front, centre and back of the green), as well as distances from the tee to fairway bunkers, hazards and OOB including the lay-up distance to any hazard. The "interactive crosshair" technology also allows a player to drag the crosshair to any part on the course and determine exact distances to the pin from wherever they are. There is even a Pro Tips feature that assists golfers wanting to know the best way to play each hole, weather radar and more.
Golfers can even have the option to place food or beverage orders, which can be routed to a beverage cart or the kitchen.
For the Club Manager or Pro, the golf club can run adverts/specials, or even show broadcast quality radio, TV, banner or print ads. Every golf cart has two-way communication with the clubhouse and the pro shop can view every cart on the course (this helps speed up pace of play) and send messages to the carts. Golf carts can be prevented from entering "no-go" areas or confined to cart paths via geo-fencing.
Other optional features include:
More than 30 available native languages
Live leaderboard for corporate and specials events
scoring for  up to four players including stroke, stableford and par games;
tee time bookings;
local rules including event rules;
pre-event tags and cart assignments for corporate outings and more
Crash sensor to indicate when a cart has been in an accident
Social Media capabilities
Contact: info@gpsgolfsolutions.com,  0411 110 119, www.gpsgolfsolutions.com
INDUSTRY GPS
DSG's TAG Fleet Management and Geofencing system
(A cart/vehicle solution for clubs and courses)
Golf managers know how difficult it can be to enforce cart path rules – after all, you can't be watching everyone all the time, can you? Issues can arise almost daily: accidents, lost carts, joy riding, free rounds, even carts damaged whilst driving on the course. And in adverse weather conditions —like those seen in Australia this year–allowing carts on the course can cause severe damage to the turf.
Imagine having the power to control these things and monitor it all from the pro shop.
Using GPS and Cellular technology, the TAG Fleet Management and Geofencing system delivers real time information that is accessible from any computer, allowing the course operator to track buggies, turf equipment and potentially diffuse problems that could become big headaches. The flexibility of the Tag allows the club to protect sensitive areas, greens, tee boxes and enforce cart path rules with state of the art Geofencing which tells the club when a zone is breached.
Monitoring pace of play is another one of the many capabilities of the TAG, giving the pro shop a clear picture of the state of play on the course, allowing them to send the food and beverage vehicle to bottle necks or the course marshal to speed play up.
www.dsgtag.com
0417 070 345
Units from 2010
GURU 4 from On-Pin GPS Golf Systems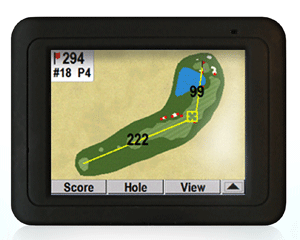 On-Pin has provided golf GPS solutions to courses for over a decade. Their new GURU 4 model is the world's first multi-function golf GPS device, and is the result of years of experience in what is important to golfers.
The engineering mandate for the GURU 4 was to develop the most advanced golf GPS available. It features a 20-channel GPS receiver that quickly locks on to satellites even in low reception areas, as well as an ultra-bright full-colour touchscreen.
With a 14-hour battery, the GURU 4 enables two or more rounds in the same day without having to recharge. Up to 200 courses can be stored in memory, and the user can select downloads for free from over 22,000 courses worldwide and 600 in Australia. An enhanced AerVu © aerial view map is available for a nominal charge. Or, if you prefer, you can map your own course, including the actual layout of greens.
The GURU 4 is much more than just golf: the optional road navigation software with the latest AUS & NZ 2010 maps powered by industry leaders NAVEVO, makes the GURU 4 a full-function car GPS navigation unit. It can help you find the golf course, and then help you play it!
GURU 4 also plays MP3s, views photos, and plays movies via the user-friendly interface – the perfect travel companion! Software is compatible with Windows XP, Vista, Vista 64, and the new WIN 7. There are no annual subscription or user fees for the standard course maps, making the Guru 4 a good value proposition.
RRP $399, including AC Charger, 12V Car Charger, and Car Windscreen mount.
Available at leading Proshops and www.on-pin.com
GURU 4 ™ AerVu ©and On-Pin © all rights reserved.
SureshotGPS 8850
Developed at the Heritage Golf & CC in Victoria, the SureshotGPS is arguably the most "Aussie" GPS unit around, and offers the most Aussie-mapped courses of any unit. The high-resolution, sunlight-readable colour screen (with backlight) ensures clear visibility in all weather. The SureshotGPS displays the distance from your ball to the front/centre/back of the green or any mapped hazards. The distances are displayed in real time and they update with your movements towards to the green or hazards. The measurements to the front of the hazard and the carry are displayed as well as the left, right or centre position on the fairway. The unit can also record several key statistics as you play, including fairways, greens, putts & bunkers hit on each hole. A summary of information is displayed after each 9 holes and a can be saved on the unit for future reference.
Specs
Battery: Rechargeable Lithium-Ion
Battery Life: 7+ hours
Course Capacity: up to 100 courses (Depending on membership level)
Hazards: up to 15 per hole
Screen: 2.2"
Weight: 13.9 ounces
Mapping: Players can personally map or edit any mapped course
Golf Course Database: 12000 worldwide (including 1000 Australian courses)
RRP: $449
Membership: $29.95 – $99.95/year (Different levels available.)
Available in 4 antenna colours. Black , Silver, Blue and Green.
SureshotGPS Micro
The SureshotGPS Micro features the same technology as the Sureshot 8850, but in a more compact design. A smart GPS for golf, the SureshotGPS™ micro has intelligent auto-course recognition, individual shot distance and colour display in a waterproof-designed casing weighing less than 100 grams to fit perfectly in your pocket.
Specs
Battery: Rechargeable Lithium-Ion
Battery Life: 7+ hours
Case: Robust, waterproof casing to XP rating with colour screen
Course: Automatic course recognition
Course Capacity: Option to hold up to 20 courses
Mapping: Players can edit any registered mapped course.
Weight: less than 100 grams
RRP: $249
Membership: $19.95/year
Available in Black, Steel, Blue and Olive.
Sureshot units are available from OnCourse Golf Shops, Leading Edge, Golf World, House of Golf, Drummond Golf and other retailers Australia-wide.
For more information, visit: www.sureshotgps.com
Skycaddie SG5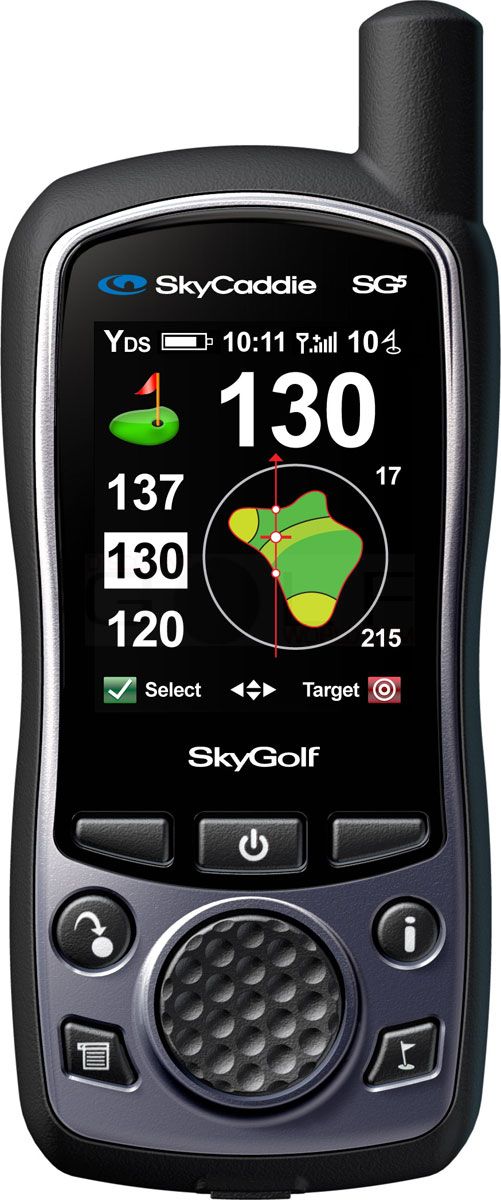 SkyCaddie® is the official range finder for all American, Canadian, European and New Zealand PGA tours.
SkyCaddie® GPS Is the most accurate GPS on the market, units offer Sub-1m accuracy 90% of the time and a selection of over 30,000+ golf courses worldwide.
This is because of Skycaddie's patented IntelliGreen® and Ground Mapping methodology. Which makes use of Industrial Surveying equipment used by professionally-trained mappers walking every course (which can take 4-6 hours), marking up to 40 critical targets for each hole, including distances to hazards, fairway targets and layups.No matter where you are on the golf course the true shape of the green turns to face you and gives you front, middle, back — and all distances in-between — from your specific angle of approach. No other brand does this. Others use user-mapped courses or outdated satellite images.
PC and MAC compatible.
Available at all leading Retailers and Pro Shops.
RRP Prices starting from $289.95 Skycaddie SG5 (Shown): $399.95
LASER RANGEFINDERS
Length Master LM 1000 CX
Designed and developed in Sweden using the latest technology – and marketed and sold by Robina-based Rangefindergolf–The Length Master LM 1000 CX has proven to be an extremely accurate and sophisticated Laser Rangefinder that is competitively priced.
The LM 1000 CX's scan mode allows you to get distances from multiple targets while panning the rangefinder across the golf course. Starting at the flagstick, for example, you could pan to the front edge of the green, then to the edge of a bunker, or to the back of the green, etc.
Its Target Flag Seeking function automatically seeks the target, locks it in and displays the exact distance. It can accurately measure distances between 15 to 900 metres, with an accuracy of +/- one metre over 270 metres.
The Length Master LM 1000 CX is supported by former Australian professional golfer (and current course designer) Michael Clayton, who says: "The Rangefinder units are laser devices, and that means they are very accurate and easier to use than the alternative GPS rangefinders. Lasers give golfers a simple point and click method of capturing accurate measurements."
Other features include a rotating eye cap providing perfect focus; a 'mode' button that changes units between meters and yards, and a display bar indicator for focus target accuracy.
Specs
Scan mode: Allows golfers to get distances from multiple targets while panning the course or green
Target Flag Seeking: Automatically seeks the target, locks it in and displays the exact distance
Weight: 200 grams
Dimensions: 124mmx24mmx82mm.
Battery life: 3,000 measures (One-minute automatic turn-off function to preserve battery life)
LCD display with flint glass lens
Class 1 laser
RRP: $299 (See advertisement for special price for Inside Golf Readers)
FREE protective cover case included (value $50).
For more information, visit: Rangefindergolf.com.au, or Email: info@rangefindergolf.com.au