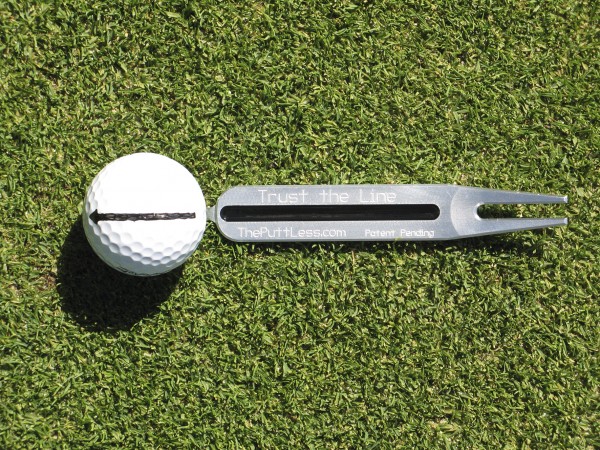 We love new inventions and gadgets at Inside Golf. Especially when they are Australian made.
So we were thrilled to hear about the Aussie-designed PuttLess, a unique golf tool that acts as a putting improver, ball-marker and repair tool all in one.
The principle is simple: when you're on the green, simply place the PuttLess behind the ball and look down the black line towards the hole. The tool is designed to help you 'pick the line' or 'visualise the correct path' to the hole.
For many of us who draw a line on our golf balls to aid alignment, the PuttLess takes this one step further, and visually extends your line dramatically, thereby helping you engrain the line into your brain. Adjustments are easy, as the PuttLess can swivel on the tiny pivot at the tip.
Once you are comfortable with the line, you pop the PuttLess back into your pocket and then make your putt. This simplifies the thought process and allows you to then focus solely on your distance, which is key to building confidence and consistency – no more indecision during your stroke!
Practising with The PuttLess will ingrain what correct alignment looks like, which will increase your confidence on the course.Practising with The PuttLess in place also promotes a slight upward strike, a skill of many of the game's greatest putters.
We really love this little tool, and found it quick, easy and very helpful on the greens.
NB: The PuttLess is currently being reviewed by the R&A and USGA.
RRP: $19.95 (includes free delivery)