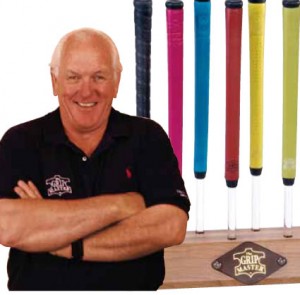 Australian Ian McConchie makes golf grips, with the not-so-little Aussie battler taking on the biggest golf companies in the US and beating them at their own game.
What started more than 15 years ago has now begun to prosper, with the 6'2", 280lb McConchie producing a range of quality and innovative leather golf grips which have taken the golfing world by storm.
McConchie, who with his brother Bruce had spent their lives in the leather industry, felt he could make a quality leather grip that golfers would want to buy.
Hence, the Grip Master was born. Armed with a patent and proprietary manufacturing process, and with former touring pro Ben Jackson as his connection to the leading players, McConchie and the Grip Master were on their way.
Persisting after some early setbacks, McConchie finally sold his grips to Porsche Design for use on their high end equipment, with Paul Heffernan heading up the design studio at Porsche Design his first customer.
Heffernan would join McConchie to help build the Grip Master brand.
While this struggle to get established was going on, the product was evolving, with the hard work banging on doors and talking to touring pros starting to pay off as the list of players who wanted the Grip Master product growing.
Introducing grips made of different types of leather — cabretta, deer and kangaroo — their following on tour continuing to grow.
They signed Retief Goosen, who had been using the grips for some time, to be their primary front man.
During 2010, the team worked on a new leather grip that was machine sewn, a grip more conventional in its profile, which was an immediate success when released to the Australian market.
With many players switching to the sewn Kangaroo grip, the company officially became the Number
One leather grip on all tours.
Geoff Ogilvy winning the Australasian Tour Order of Merit using the Grip Master grips capped off the company's rise to prominence.
The Grip Master 42grm sewn Kangaroo is the strongest lightweight grip available, and its unique wrap is now the choice of many of the world's best players, while the putter line is also rated amongst the best putter grips available.
The Grip Master is used on premium putters brands including selected models by Scotty Cameron, Callaway, TP Mills and Bettenardi.
The Grip Master is the result of Ian McConchie's dream and determination, a golf grip that has leading edge technology, the finest materials and a reputation for superior quality. It is the number one leather
grip on all tours, with requests from leading professionals coming into its Melbourne facility daily.