One of the most iconic names in golf equipment, the Big Bertha by Callaway has long been known to not only push the boundaries of golf club design, but also be one of the most innovative and best-performing brands in golf.
With the recently-launched 2019 Big Bertha Irons and Hybrids, Callaway is set to continue that long and storied reputation, with these exciting, snazzy clubs well positioned to be among the highest-performing irons and hybrids on the market today.
We always love testing new Callaway gear, so last month we raced to the course with these sleek, new sticks in tow.
First up in our test were the irons. Immediately, we were smitten with the clean, Smoked PVD Finish, which not only gives the club an unforgettable, high-tech look, but also adds in some "just a little bit dangerous" flair.  Our playing partners were noticeably envious of these new beauties (as usual!), while some passers-by at the range were conspicuously inquisitive.
Under the hood, Callaway has included an innovative "360 Face Cup"; a rim around the face that flexes and releases at impact to increase ball speed, while also utilising a super-thin face cup for increased speeds that promote longer distance. The irons also employ a new construction that "suspends the Metal Injection Molded Tungsten weight using proprietary urethane microspheres". Essentially, this jargon simply means that the club is designed to deliver an easy-launching, long-distance shot with incredible sound and feel.
And we are proud to report that these clubs succeed on all levels.
From the moment we struck our first shot with these irons, we loved them. Pure, soft and powerful, these clubs can really launch the ball, with a penetrating ball flight that yields plenty of distance. Sound, balance and feel were all exceptional, as was the overall performance. These are simply great irons, and well worth a test from your local Proshop or retailer.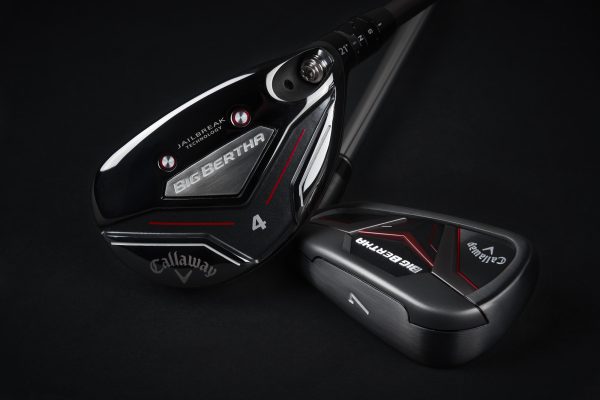 Next up were the new Big Bertha Hybrids.
For those of you who generally struggle to hit hybrids (and there are many of you out there), pay attention here, as it may be well worth your time to check out the latest offering from Callaway. Boasting Callaway's proprietary "Jailbreak" technology, as well as the benefits of adjustability, the new Big Bertha hybrids offer golfers of all levels a club that is extremely easy to hit, with plenty of ball speed to generate some significant distance.
Callaway's revolutionary Jailbreak Technology has proven to be a game changer for many golfers, as it incorporates a pair of internal bars that stiffen the body, and thus allow the ball to really launch off the face for more speed and long distance, even for the off-centre hits. In addition, Callaway have developed an entirely new hosel system that's shorter and lighter, allowing engineers to reposition weight to optimise the Centre of Gravity for easy launch and high, long-carrying flight.
Overall, we found these hybrids to be among the easiest we've ever hit, while the distances achieved can almost be classified as "jaw dropping" for a hybrid. Highly recommended.
CALLAWAY 2019 BIG BERTHA IRONS
Available with new Recoil ESX, Recoil ZT9, and KBS Max 90 shafts.
RRP: $219.99 (Steel) and $239.99 (Graphite)
CALLAWAY 2019 BIG BERTHA HYBRIDS
Available in premium Recoil ESX and ZT9 Shafts to provide excellent feel and control.
Available Options: 3H, 4H, 5H, 6H, 7H, 8H
RRP $419.99