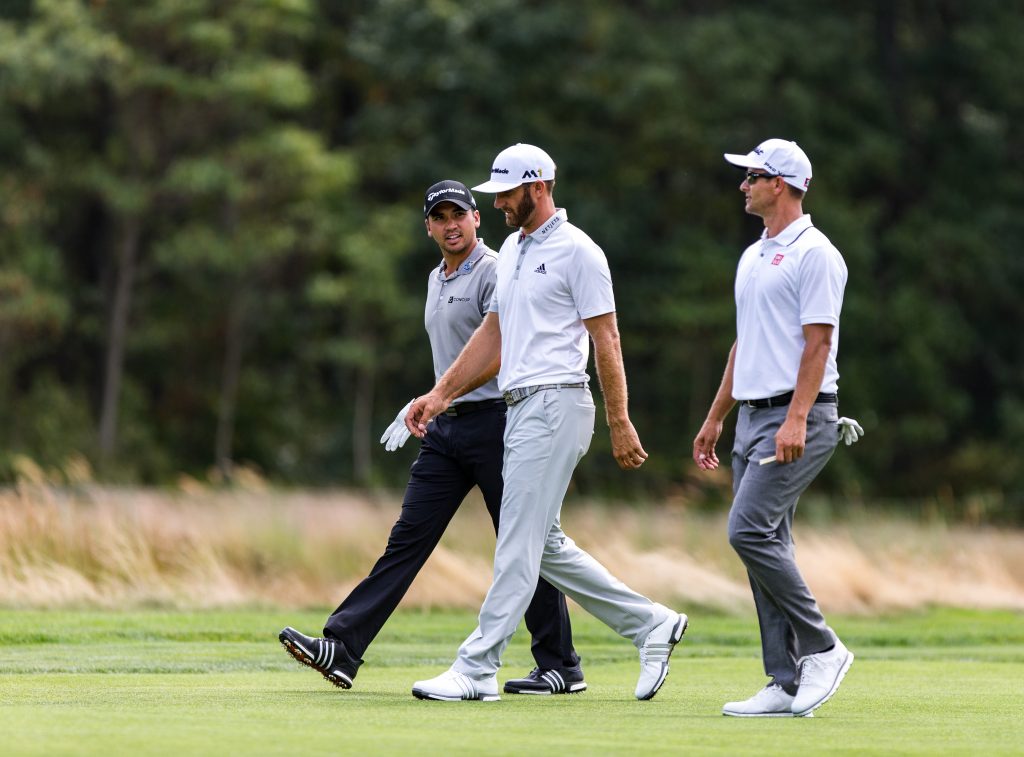 JASON DAY'S reign as golf's World Number 1 came to a close this morning, with Dustin Johnson taking the top spot courtesy of his win at the Genesis Open in Los Angeles. With the win, Johnson becomes the 20th player to achieve the Number 1 status.
It's been just over 30 years since the creation of the Official World Golf Ranking (formerly known as the Sony Ranking) and in that time 20 players, including three Australians, have reached the number one ranking.
The first to reach the summit was Germany's Bernhard Langer in 1986.
Since then, top spot has changed hands 66 times.
Of course, Tiger Woods holds the record for most consecutive weeks at number one.
The American stayed at the top from June 12, 2005 to October 30, 2010 – a total of 281 weeks.
He was world number one on 11 separate occasions and has a total of 683 weeks at the top.
Greg Norman is next best with a total of 331 weeks also accumulated over 11 separate occasions.
Other players who have held the top spot multiple times are Rory McIlroy (7), Seve Ballesteros (5), Nick Faldo, Luke Donald and Jordan Spieth (4) and Ernie Els, Vijay Singh and Jason Day (3).
Only three players – Woods, Norman and Faldo – held the number one position for at least 52 weeks.
Faldo remained the number one ranked player throughout 1993, the Shark (1996) and Woods in 2000-'01-'02-'03-'06-'07-'08-'09.
Tiger, at 21 years and 167 days, is the youngest player to reach the coveted position while the oldest is Fijian Vijay Singh at 41 years and 197 days.
Ten different nationalities reached number one including six Americans, three Australians, three Englishmen, two Germans, a Spaniard, a Zimbabwean, a South African, a Welshman, a Fijian and a Northern Irishman.
Between them, they have won 54 major titles.
Of the 20 players, only two have not yet won a major – Lee Westwood and Luke Donald.
American Tom Lehman is the only player to stay world No.1 for a solitary week in his career. Woods also made the "one week" list: he was in the top spot from June 15-21, 1997 before Ernie Els displaced him.
The list of top players who never held the top spot includes Phil Mickelson, who has won 51 professional tournaments including five majors.
Unfortunately, Phil's best years were played when Tiger was at his most dominant.
Others who never reached No.1 include multiple major winners Jose Maria Olazabel, Padraig Harrington and Curtis Strange.
Before the start of the Official World Golf Ranking (OWGR), unofficial world golf rankings were published in Mark McCormack's World of Professional Golf Annual from 1968-'85.
During this time, Jack Nicklaus was number one from 1968 to 1977, Tom Watson from 1978 to 1982 and Seve Ballesteros from 1983 to 1985.
As at February 19, 2017, the 20 OWGR number one holders, the total number of weeks at number one, major wins and career pro victories, are as follows.
Weeks at No1      Majors   Pro career wins
Tiger Woods (US)               683                        14           106
Greg Norman (Aus)            331                        2             91
Nick Faldo (Eng)                 97                           6             41
Rory McIlroy (N Ire)            95                           4             22
Seve Ballesteros (Sp)       61                           5             91
Luke Donald (Eng)             56                           0             16
Ian Woosnam (Wales)       50                           1             52
Jason Day (Aus)                  51                           1             15
Nick Price (Zim)                 44                           3             49
Vijay Singh (Fiji)                  32                           3             60
Jordan Spieth (US)            26                           2             11
Lee Westwood (Eng)        22                           0             42
Fred Couples (US)             16                           1             63
David Duval (US)               15                           1             20
Adam Scott (Aus)               11                           1             29
Ernie Els (RSA)                    9                             4             71
Martin Kaymer (Ger)          8                             2             23
Bernhard Langer (Ger)      3                             2             102
Tom Lehman (US)              1                             1             35
Dustin Johnson (US)          1*                           1             13