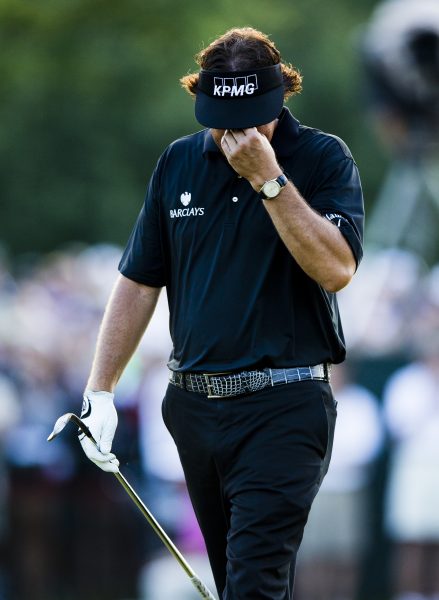 SATURDAY is moving day for professional golfers at tournaments around the world.
Well, it is for those who make the cut.
The 114th US Open at Pinehurst No. 2 in North Carolina from June 12-15 is no different.
Those who do play on the weekend will want to be there or thereabouts going into the final round.
That's a given.
But is being atop the leaderboard after 54 holes the best position to be in at the US Open?
Statistics tells us players who are close to the lead have a better chance of winning the US Open Trophy.
Over the years, most (55 per cent) of third round leaders – including Greg Norman, Phil Mickelson, Aaron Baddeley, Retief Goosen, Jim Furyk, Payne Stewart, Tom Lehman and Dustin Johnson – have let the tournament slip through their fingers.
Still, Goosen, Stewart and Furyk also have had the joy of leading into the final round and winning.
In 2004, the Goose led into the last round and won, but a year later he squandered that chance when he carded an inglorious 80 to finish in a tie for 11th.
Kiwi Michael Campbell, four off the pace, held off Tiger Woods to win his first major.
Furyk, who won in 2003, was co-leader entering the final round in 2012 but finished fourth and Stewart, in 1998, led into the final round only to finish runner-up.
Stewart didn't make the same mistake in 1999 strolling to victory with a final round 70.
In 1986, the Shark was at the peak of his golfing powers but he too failed to win the US Open leading into the last day.
He held a one shot lead over Hal Sutton and Lee Trevino with Raymond Floyd three back.
Floyd fired a final round 66 to win and Greg wound up with a 75 to finish six shots back.
In 2007, Baddeley held a two-shot lead over Tiger, but, like the Shark, tumbled down the leaderboard on the final day. His 80 left him in a tie for 13th.
No, Tiger didn't win.
Argentinean Angel Cabrera, tied for seventh going into the final round, edged out Woods and Furyk to win his first US Open crown.
Tiger has never come from behind to win the US Open, but he has won three titles (2000-'02-'08) leading after 54 holes.
Ernie Els (1994) and Rory McIlroy (2011), too, have led into the final round and won.
Australian golf fans who felt Norman and Baddley's pain must have some sympathies for American Tom Lehman.
Three times the former Open Championship winner led the US Open going into the final round and didn't make it to the winner's circle.
In 1995-'96-'97 he led but ended up finishing third, tied for second and third respectively.
Mickelson twice has led going into the last round and had to settle for a tie for second.
In 2010, American Dustin Johnson held a three-shot lead over Northern Ireland's Graeme McDowell, but folded quickly on the last day, triple-bogeying the second hole and then double-bogeying the third.
There was no way back from there and he signed for an 82. McDowell won the title with a final round 74.
So, what drama can we expect at this year's US Open?
Well, what we do know is scoring won't be easy at Pinehurst No. 2.
When the tournament was last played there (2005), winner Michael Campbell finished with an even-par score and Payne Stewart, in 1999, managed to win with a one-under par score.
The Pinehurst No. 2 course includes 51 fairway bunkers, 56 greenside bunkers and one, that's right, one water hazard. The only water on the course is a small pond off the 16th tee … and it won't, or shouldn't, come into play.
FOOTNOTE: Two Australians, David Graham (1981) and Geoff Ogilvy (2006) have won the US Open. In 1981, Graham, three behind George Burns entering the final round, shot a 67 to win by three and Ogilvy, in 2006, came from a shot back after 54 to beat Mickelson and Furyk by a shot.
US Open comebacks
There have been plenty of come-from-behind wins in the 118-year history of the US Open. These players made up the most ground.
Year  Winner                 Back           Finish
1960  Arnold Palmer      7                 65
1973  Johnny Miller       6                 63
1919  Walter Hagen        5                 *75
1928  Johnny Farrell     5                 *72
1939  Byron Nelson        5                 *68
1998  Lee Janzen           5                 68
1922  Gene Sarazen       4                 68
1936  Tony Manero        4                 67
1938  Ralph Guldahl      4                 69
1971  Lee Trevino           4                 *69
1975  Lou Graham         4                 *73
1990  Hale Irwin             4                 *67
2005  Michael Campbell 4                 69
2004  Angel Cabrera       4                 69
2012  Webb Simpson     4                 68
*Won playoff
US Open starts
A good opening round at the US Open is only the beginning as indicated by these good first round and ordinary second round scores.
Name                    Scores        Year
Ray Ainsley          76-96          1938
Lee Mackey           64-81          1950
Al Brosch              67-84          1950
Gene Littler          68-83          1966
Mike Reid             67-81          1976
Tom Weiskopf       70-83          1971
Joey Sindelar       66-79          1993
Jimmy Gullane     73-85          1926
Dutch Harrison    70-82          1941
Tom Weiskopf       63-75          1980
Ray Floyd             67-79          1980
Bob Murphy         69-81          1983
Fred Couples        66-78          1985
Bernhard Langer  66-78          1989
Justin Hicks         68-80          2008
Colin Montgomerie 65-76        1997
Payne Stewart      66-75          1989
Brett Quigley        65-74          2003
Nick Dougherty    68-77          2007
Kevin Streelman   68-77          2008
Michael Thompson 66-75        2012