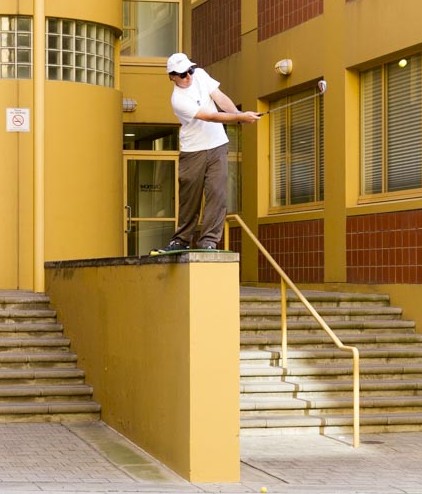 Golf has gone off the fairways and onto the streets of Adelaide in one of Golf SA's biggest-ever drives to promote the sport.
Golf SA held its first-ever Playgolf WEEK in November with 'Urban Golf' featuring as a major highlight. Adelaide's CBD was given a facelift with a seven-hole golf course breathing new life into the laneways of the University of South Australia City West Campus.
"We're bringing the golf course into the city so we designed a seven-hole course which (took) about 20 to 25 minutes to complete around the uni," Golf SA's Christian Puccini says. Four 'pitch 'n putt' style holes sat side-by-side in one of the university's major laneways while an extra three holes transformed nearby North Terrace. Synthetic mats and greens gave students and passersby a chance to try their hand at golf in an exercise geared largely towards beginners and first-timers.
"It's normal golf clubs with specially designed street balls, which are a little bit lighter than golf balls. It's just trying something different and having a bit of fun and getting clubs in people's hands," Puccini says. In November 2012, Golf SA held its first-ever Golf Month – an event aimed purely at raising golf's profile in South Australia.
Playgolf WEEK attempted to build on Golf Month's legacy in just one week as opposed to more than four weeks and Golf SA was chosen to run the pilot program.
"Golf Australia, with the good work that Adam Scott has been doing lately, thought that it would be an opportune time to run something similar but a week of golf," Puccini says. "(In 2012) we offered free clinics where we were based in North Adelaide. There was 16 nights, we held 16 clinics."
Playgolf WEEK featured 40 clubs – 18 in Adelaide and 22 in regional South Australia – from Mount Gambier in the east to Port Lincoln in the west.
"To consolidate into a week is probably resource-wise a lot easier for all of the clubs especially with course-time. One week of golf beginning at daylight saving is a great time to get out there."
South Australia has 26,000 golf club members, slightly down on figures a decade ago when the state boasted in excess of 30,000 members. That number is still a small fraction of those in the more heavily populated states of Victoria and New South Wales. But Puccini says events like Playgolf WEEK will bridge the gap.
"This is really also to get the beginner into the game of golf. We know that these things are sometimes a long-term campaign. If we get more younger people into the game, enjoying the game, trying for the first time, it's going to naturally increase membership numbers in the coming years."
Throughout Playgolf WEEK, a television commercial featuring Masters Champion Adam Scott was aired on Network Ten. While Scott didn't appear in person at Playgolf WEEK, the current Australian Boys' Amateur Champion did. 18-year-old Grange Golf Club member Anthony Murdaca helped launch the event and Puccini says he could soon inspire the next generation of South Australians golfers.
"He's an upcoming SA player. He was involved in our launch night. If he can do some good things in the coming years, hopefully he can be a local player that the SA kids can look up to."