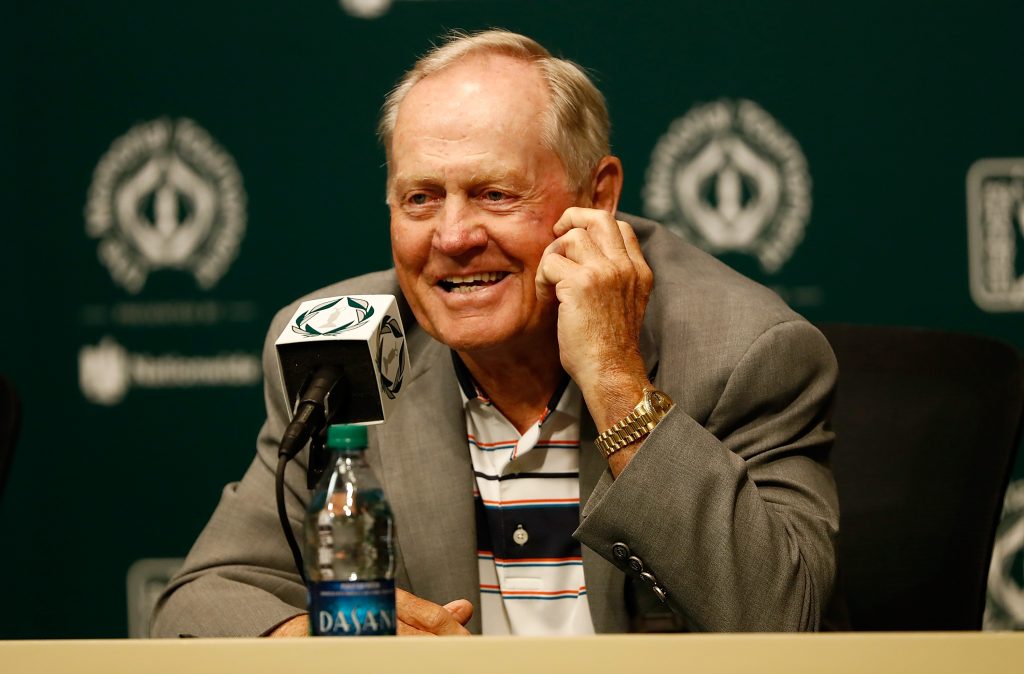 There are a lot of reasons the Memorial Tournament is such a significant event on the PGA TOUR calendar. Muirfield Village Golf Club in Dublin, Ohio, is the only course that has hosted The Presidents Cup (2013), the Ryder Cup (1987) and the LPGA's Solheim Cup (1998). It's also been the home of the Memorial Tournament since its inception in 1976, with numerous World Golf Hall of Famers taking home titles on this course just outside of Columbus. They are Tom Watson, David Graham, Raymond Floyd, Hale Irwin, Curtis Strange, Greg Norman, Vijay Singh and Fred Couples. Oh, and Tiger Woods won there five times.
There is also a two-time winner of the tournament, a World Golf Hall of Fame member, a guy who has made a pretty large impact at the Memorial Tournament.
If there is one reason—or, better yet, one person—why the Memorial Tournament holds such a significant place in the PGA TOUR's stratosphere, it is Jack Nicklaus, the owner of the place. While still relatively young in his career, Nicklaus dreamed of building his own course and staging a tournament patterned in many ways after the Masters Tournament, which he would win six times.
That dream became a reality when Nicklaus created Muirfield Village and the Memorial Tournament, with the first tournament contested in 1976. Nicklaus didn't win that year. Well, actually he did win. Big. It's just that this particular victory doesn't show up on his PGA TOUR career win total of 73. Nicklaus' actual tournament titles would come later—in 1977 and 1984. Forty-one years later, the Memorial today is one of the bright lights on the PGA TOUR schedule.
Today, and for the rest of the week, Nicklaus will, as always, be the consummate host as the best players in the world descend on Dublin to play in his tournament. He's long since put away his clubs, last playing in the Memorial in 2005, but Nicklaus' passion for the game, for this tournament, remains.
"The golf course is good. I think the golf course is going to play nicely. And I think we're going to have a great tournament," Nicklaus said at his annual press conference Tuesday afternoon. "[I'm] looking forward to watching the guys play." He sounded just like a fan, which, come to think of it, he is.
The "guys" to whom Nicklaus referred are the best players in the business, including the world's No. 1-ranked player Dustin Johnson, Columbus resident Jason Day, currently No. 3, fourth-ranked Hideki Matsuyama, the highest-rated Japanese player in history, and a pair of recent Masters champions, Jordan Spieth (2015) and Adam Scott (2013). Back hoping for a repeat performance is William McGirt, the 2016 Memorial champion who won his first PGA TOUR title 52 weeks ago and is ranked 50th in the Official World Golf Ranking, his same position at the end of 2016.
One player who isn't here is Tiger Woods, a five-time Memorial champion. Woods is still sidelined after back surgery and was in the news following his arrest earlier this week for driving under the influence. When asked about Woods' situation, Nicklaus, who won 18 major championships, the most in history and four more than Woods' 14, said, "I feel  bad for Tiger. Tiger is a friend. He's been great for the game of golf. And I think he needs all our help. And we wish him well."
Fourteen major wins behind Woods is McGirt, who nonetheless is thrilled to be back at the site of his most significant triumph.
"It's great to be back here. This is such a fun place. The first time I came here was 2012. I was second alternate," McGirt explained. McGirt said that five years ago, he was so excited to go to Muirfield that he attended the event and played practice rounds "just in case" players dropped out and he was able to play. McGirt didn't make it into the field that year, but Muirfield Village had an effect on him. "I fell in love with the place as soon as the guard opened the gate," McGirt remembered. "It's one of those places—it's kind of like Augusta to me—[where] I get giddy when I come here. It's such a cool spot. And they take great care of us here."
In 2016, McGirt broke free from a 54-hole tie with Matt Kuchar and Gary Woodland, made it into a playoff with Jon Curran and then defeated Curran in sudden death, shaking Nicklaus' hand after the win.
Matsuyama won the 2014 tournament for his first PGA TOUR title. Since then, he's added three more wins—including titles at the World Golf Championships-HSBC Champions and the Waste Management Open this season. Like McGirt, Matsuyama won his initial Memorial in a playoff, against Kevin Na.
"It always feels good to be back in Dublin. Coming to the course, Muirfield Village, gives me energy," Matsuyama said. "It's been an up-and-down year. Hopefully I'm on the upswing. But to be honest, my swing isn't where I would like it to be, and I'm not putting very well."
For many players, this will be their final tune-up before the second major of the season, the U.S. Open in two weeks in Wisconsin.
As a four-time U.S. Open champ, Nicklaus will be watching that tournament with interest, just as he will be this week.
(Story and photo courtesy of The PGA TOUR)