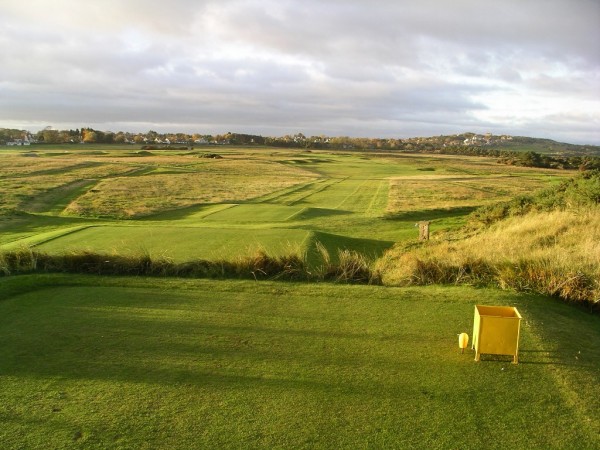 The Open Championship is very close and after many months of preparation, my first Major Championship has arrived. Therefore, I thought I would provide an overview of my preparation as we countdown to the D-Day. Hopefully this gives the average golfer an idea as to the life of a golf professional living the dream and the biggest moment of his life so far.
It was Sunday 7th July when I arrived in London and I had purposely allowed a couple of days to relax, acclimatise and get over the jet lag. My first feeling of how the poms love their sport came when my caddy, Jeff Lloyd, and I walked past a pub that evening and heard a heap of yelling and screaming, it was the final of Wimbledon with Andy Murray having the weight of an entire nation on his shoulders. He did win, as we all know, though it gave me a sense of feeling like Adam Scott would have had playing the back-nine of last year's Open Championship and it was just then I realised I am only one of 12 which Australia may be hanging their hopes on this year. A pressure I would be hoping to relish in, rather than see as a burden.
I then headed down to a friend's place in a little town called Nairn in the North West of Scotland in order to get some exposure to the kind of golf course which has made Scotland so well-known. I decided to come a little early knowing that for the last five months the Gold Coast has been wet and quite calm in comparison to Muirfield where I will be playing. I took the chance to play three different golf courses being Nairn, Tain and Nairn-Dunbar Golf Clubs, which were old traditional Scottish courses. Bunker faces were tall and the wind was pretty stiff though it was the different shots that I had to play which was the real eye opener. 40-metre putts, low runners, high bouncers and it started to show me why the cream always rises to the top in the Open Championship – experience is key.
I feel prepared. My body is in good shape, my game feels good but more importantly my head is in a good space trying to convince myself that it is just another week on tour….. who was I trying to kid?
I made the trip down to Muirfield on Saturday night and booked into the apartment that we will call home for the week, knowing that tomorrow could arguably be the most exciting day of my life thus far, my first practice round at Muirfield. There is not much more you can say but that the whole setup was amazing. The size of the grandstands, the enormity of the merchandise tents, the length of the car park, not to mention the array of corporate facilities. And then we talk about the course – what a great track!
I quickly learnt that you had to keep it on the 20 metre-wide fairways. The rough was about two-foot deep and the long grass just wanted to grab your club, though it made me feel like the kind of setup that could see me play well–with driving accuracy certainly one of my strengths. To go with all that though, there were about 15,000 spectators out there, on a Sunday practice round! The highlight of the day was playing the 18th hole—and what an unforgettable feeling walking down with grandstands both sides of the fairway about 150m long and about four stories tall, not to mention the large leader boards staring you in the face.
After an amazing day, my first at a major championship, the question would be what did the rest of the week hold in store. After going through a bit of course strategy using the yardage book in the evening, I woke the next day and played another practice round this time with three Aussies in Marc Leishman, Brendan Jones and Marcus Fraser – three pretty handy players I'm sure you'd agree. Sometimes practice rounds can be boring but not at The Open. We had a great day and although there was not too much chat about strategy on the course or weekly routines etc, losing £20 in a money match was good preparation and helped me to stay grounded.
One of the highlights of my week thus far though was saying g'day to Adam Scott that afternoon and congratulating him for winning The Masters. I still believe that the Monday after The Masters should have been a national holiday though I'm not sure he will truly see what the win meant to Australian Golf until he returns later in the year. Although I have had a bit to do with him over the recent years it never ceases to amaze me just how humble he is and despite him having plenty of attention on him given 2012, I don't think he will be far away come Sunday afternoon.
Tuesday was another practice round and although I thought being around the world's best would be great to get a yardstick of my game, I didn't necessarily think playing with a former world number one and a former PGA Tour Money winner was really where I would be at, though that's exactly what I did. I managed to tee up a game with Luke Donald and Matt Kuchar, which was unbelievable. Yeah, sure, they may have won collectively about $60 Million in career earnings ,though it seemed that just being around those guys helped to breed confidence. I am going to guess that there was about 20,000 people out on Tuesday and plenty following our group which was great. People obviously mistook me for someone else as I signed about 100 autographs that day hopefully plenty more to come by week's end.
Well it's time to sign off from this month's Tour Talk and I hope everyone can enjoy the journey with myself and the other 11 Aussies as we try to lift the Claret Jug.